Hi friends! Hope you're having a lovely morning. We're just taking it easy here and looking forward to another tie dye blitz this afternoon. The girls have gotten so good at tie dye lately and have been dyeing pretty much any white article of clothing in the house.
For today's post, I thought I'd share a WIAW-style post. To be honest, my eating hasn't been very stellar since we've started this whole "stay at home" thing a few months ago. We've been cooking even more of our meals at home, which is a good thing, but I find that because I'm juggling so much more – it was even more intense when we were doing the distance learning thing – I'll sometimes go for dips into the chocolate chip bag instead of real meals. When I feel stressed, I tend to feel pretty blah about food. I make the girls delicious and balanced meals, but when I need to put something together for myself, it just doesn't sound as appealing.
I'm a believer in giving ourselves grace, especially during such an unprecedented time. In the future, I'm sure I'll be back to my meal prepping and organized ways, but I'm just over here flying the seat of my pants most days. 😉 I probably should have taken pictures of the kids' meals because they were a bit more exciting lol but here we are: a full day of eats.
8:30am: We all sleep until 8 (!) so I eat a few Enjoy Life protein balls while I start the coffee maker and make the girls their favorite fluffy pancakes with scrambled eggs and strawberries.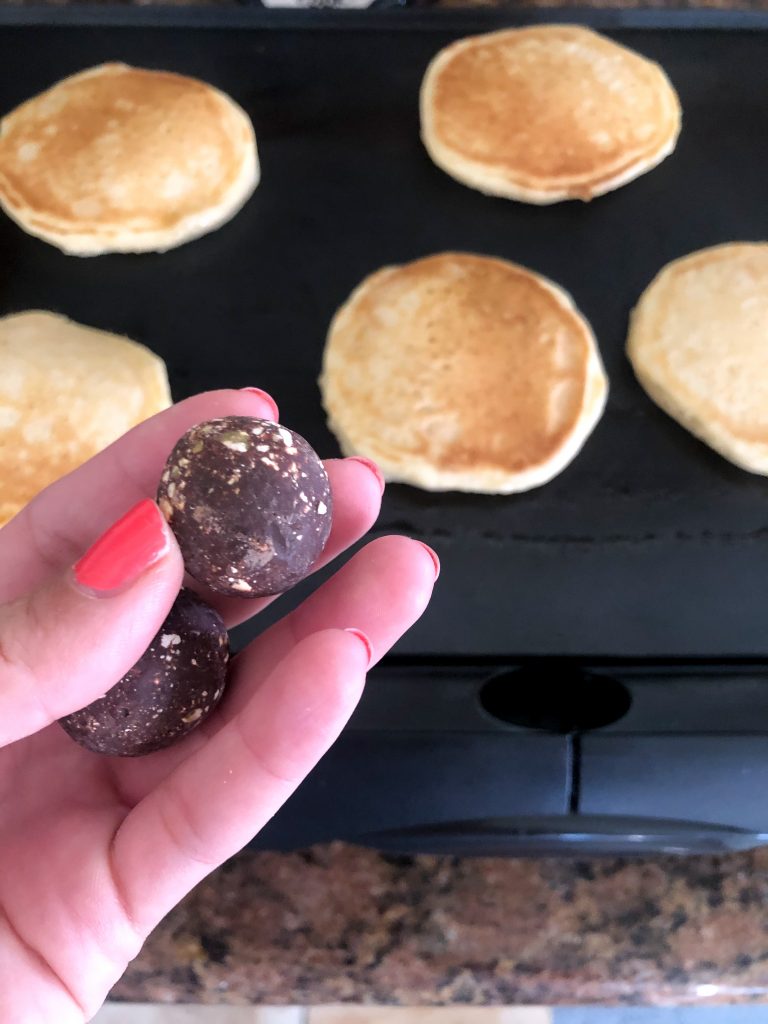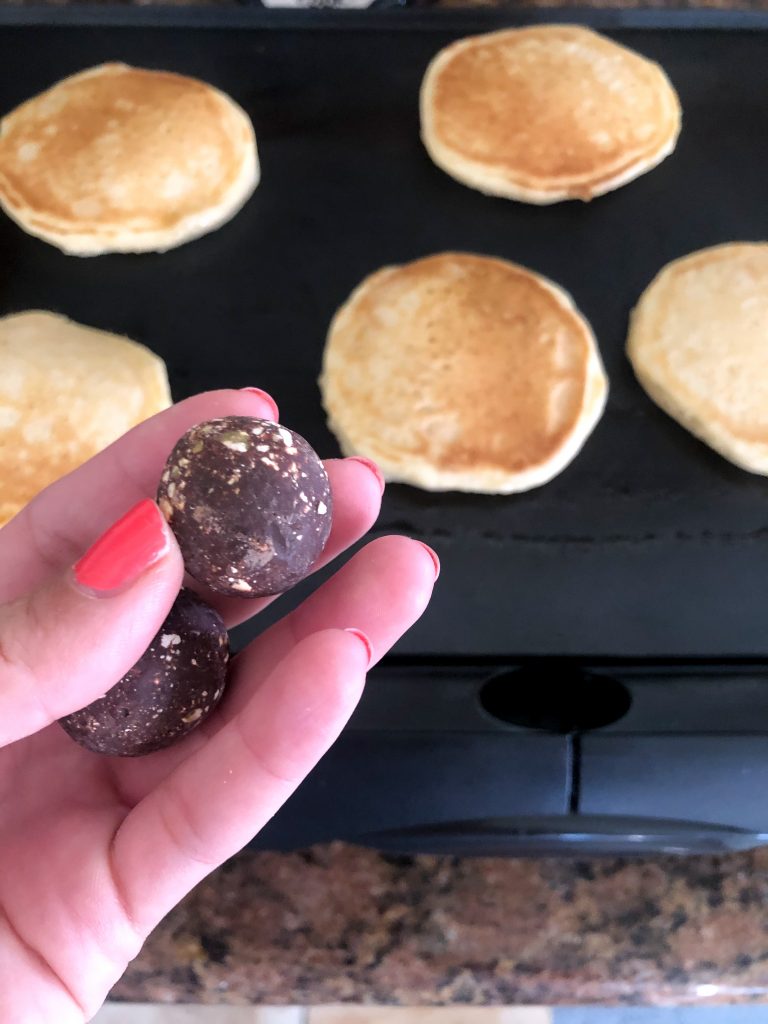 The Pilot is telecommuting today (wahoo!) so we sit on the patio and drink coffee together while the girls eat their breakfast inside.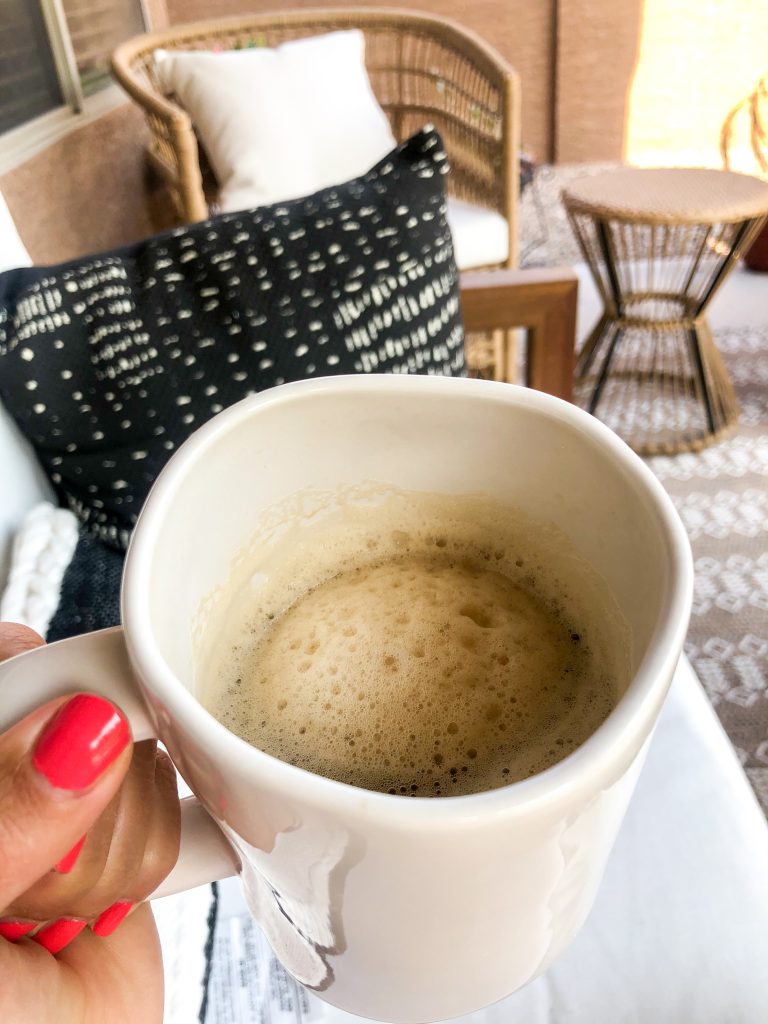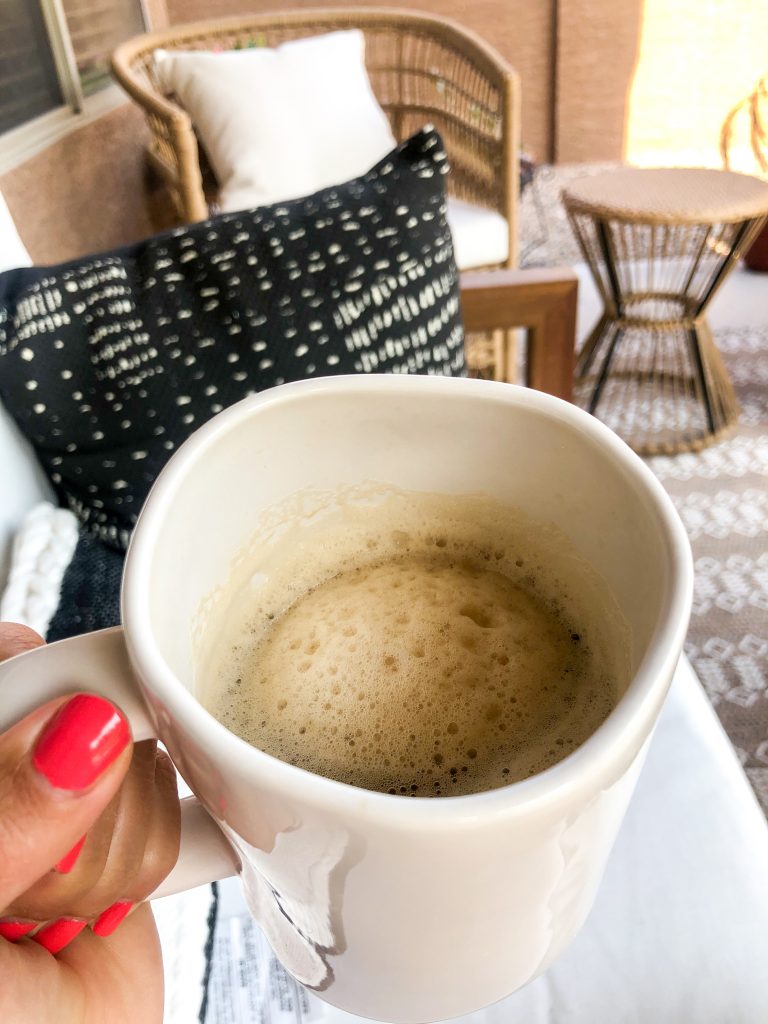 (Decaf coffee with monk fruit, almond milk, and a scoop of Vital Proteins collagen)
10:00am: The downstairs is cleaned up, beds are made, and all of the animals are fed, so I head upstairs to catch a quick obé fitness Dance HIIT workout.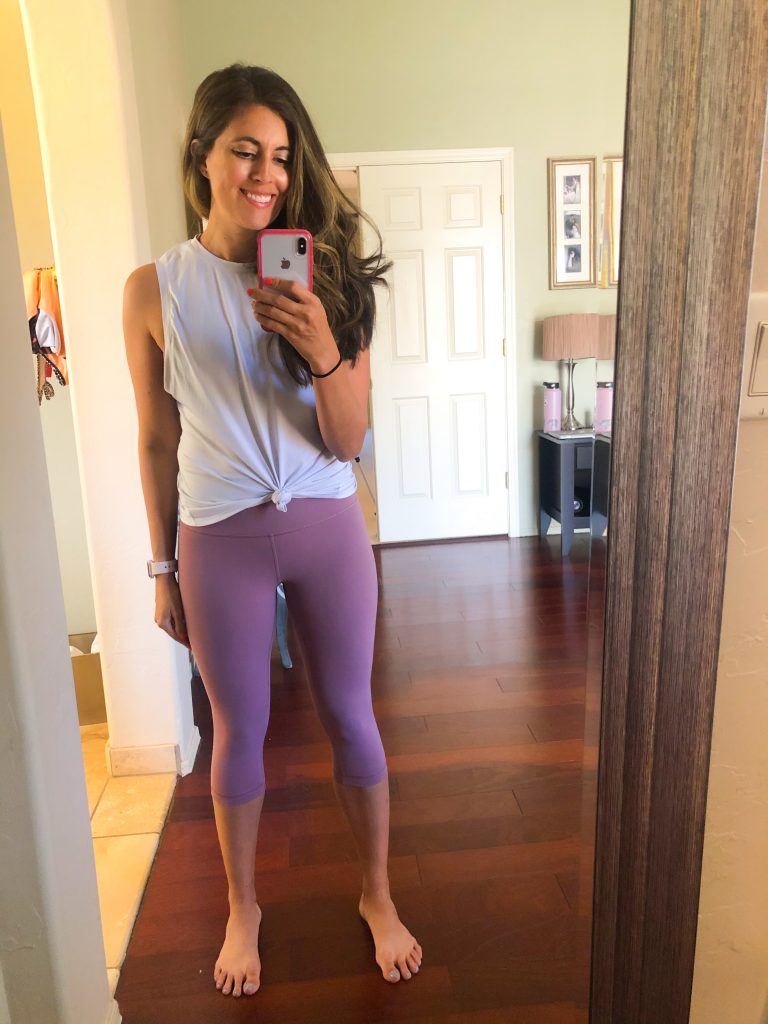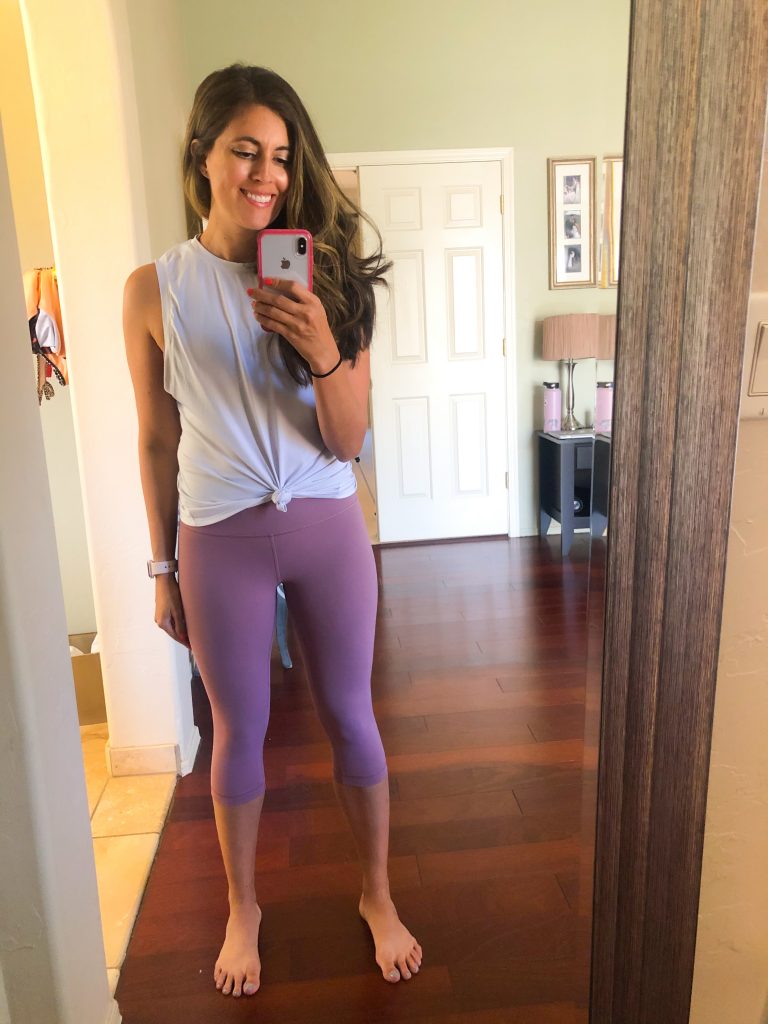 The girls are playing with their dolls and having fun together, so I get in a quick work blitz: I answer emails, respond to Beautycounter skincare surveys, respond to blog comments, and schedule four podcast interviews for the next month.
11:30am: I have official breakfast while I make the girls lunch. This is a smoothie with the girls' leftover breakfast strawberries (I hate tossing fruit, so I just put their leftover breakfast fruit in the fridge until I make a smoothie at some point during the day), almond milk, chia sees, almond butter, frozen cauliflower rice (you can't taste it but it gives it a great texture and nutrient boost), cocoa powder, maca, spinach, Truvani protein powder, and monk fruit.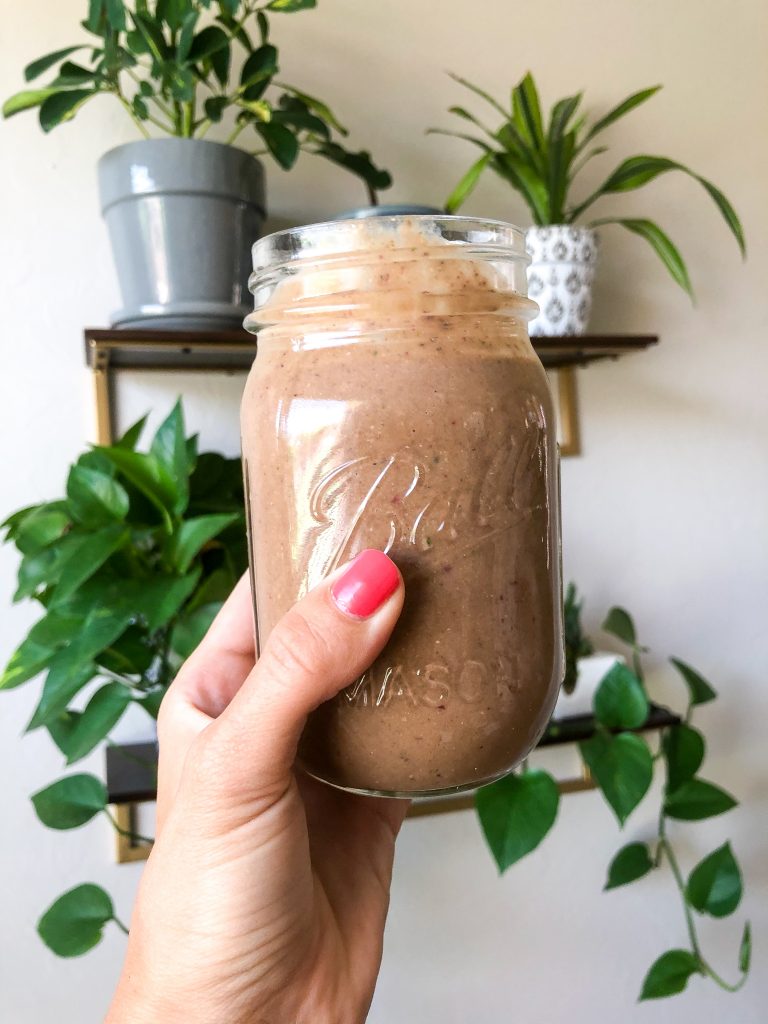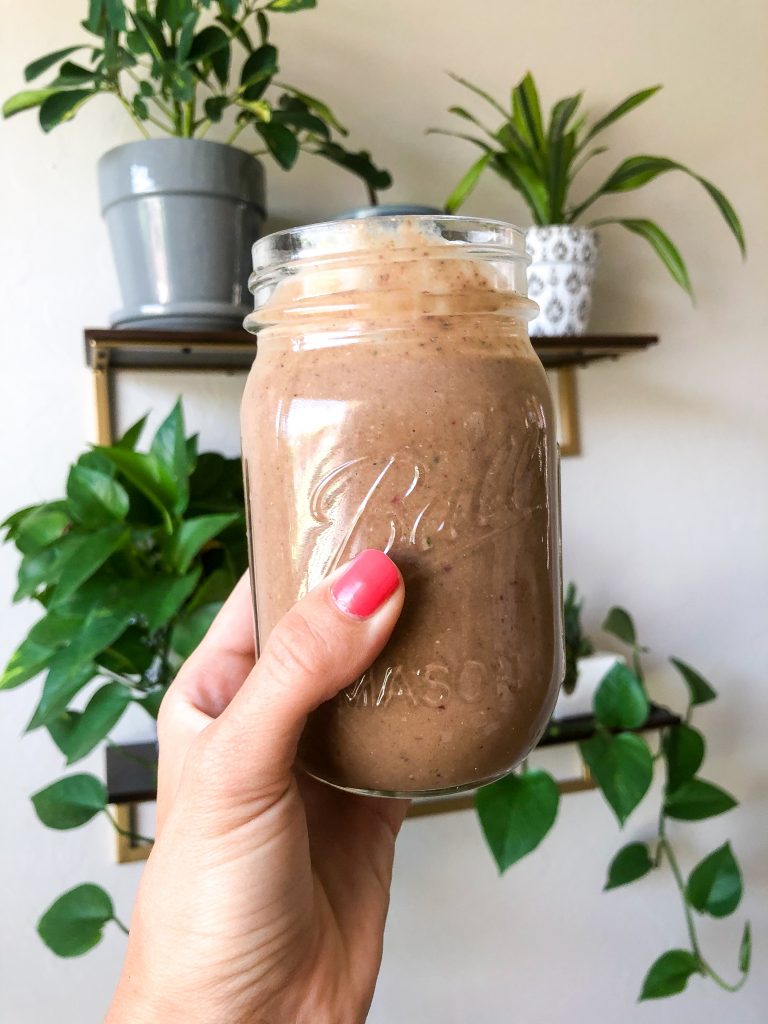 For the girls' lunch, they have avocado toast with a side of cotton candy grapes, hummus, and carrots
I also start the sourdough for the following day and let it rest.
12:30pm: We head to the pool and take our giant inflatable donut with us. We meet up with some friends and the girls all play in the water wearing mermaid tails, while my friend, the Pilot, and I chat in the tanning ledge area. I also practice a bit of swimming with P – she's getting so good at swimming without her puddle jumper!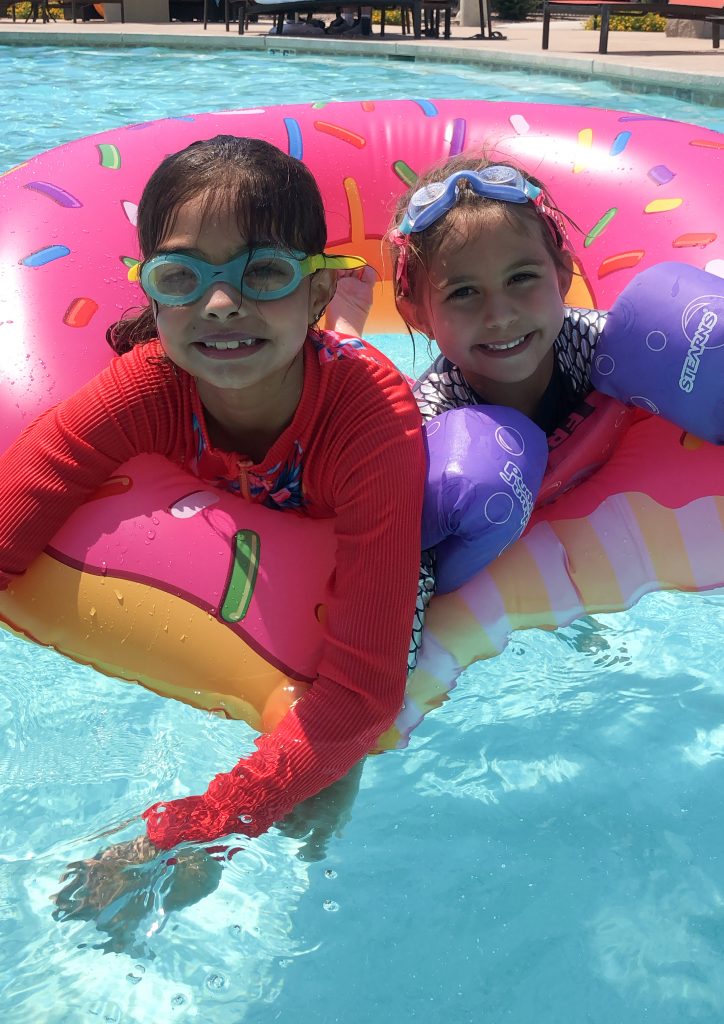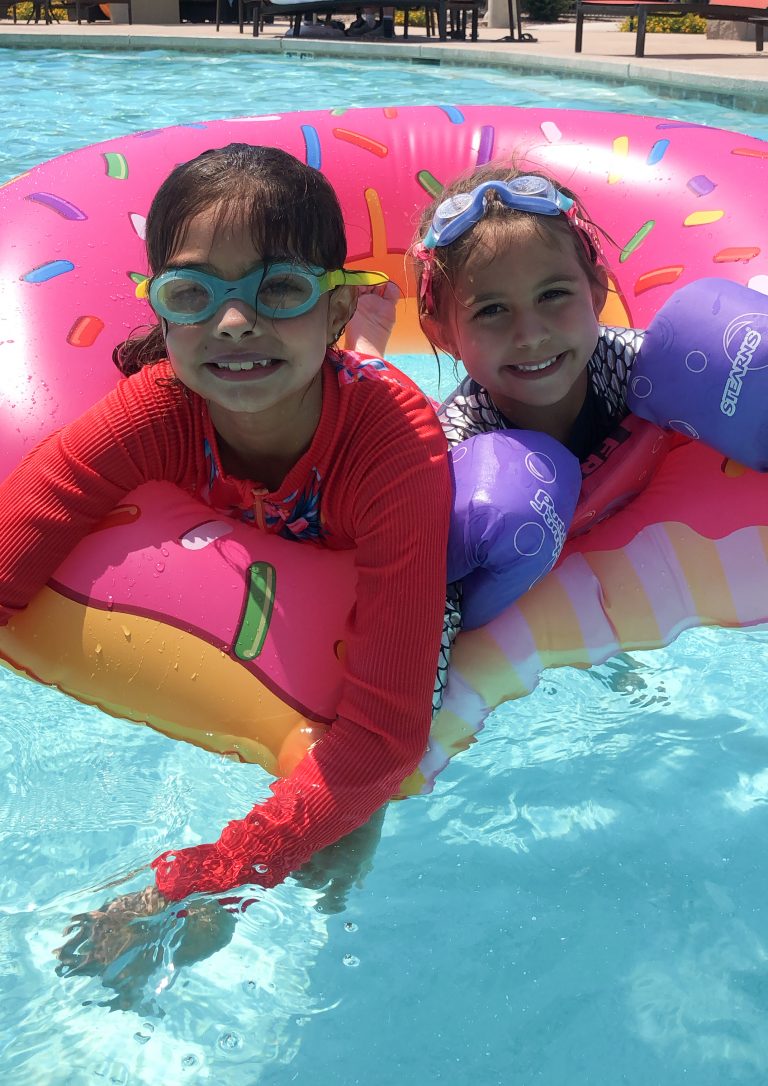 3:30pm: We're at the pool for a few hours and since I haven't officially had lunch yet, I'm getting pretty snacky and so are the girls. They split a cheeseburger with fries, while we all share chicken wings and jumbo shrimp cocktail. (The shrimp are the size of my hand and SO good.)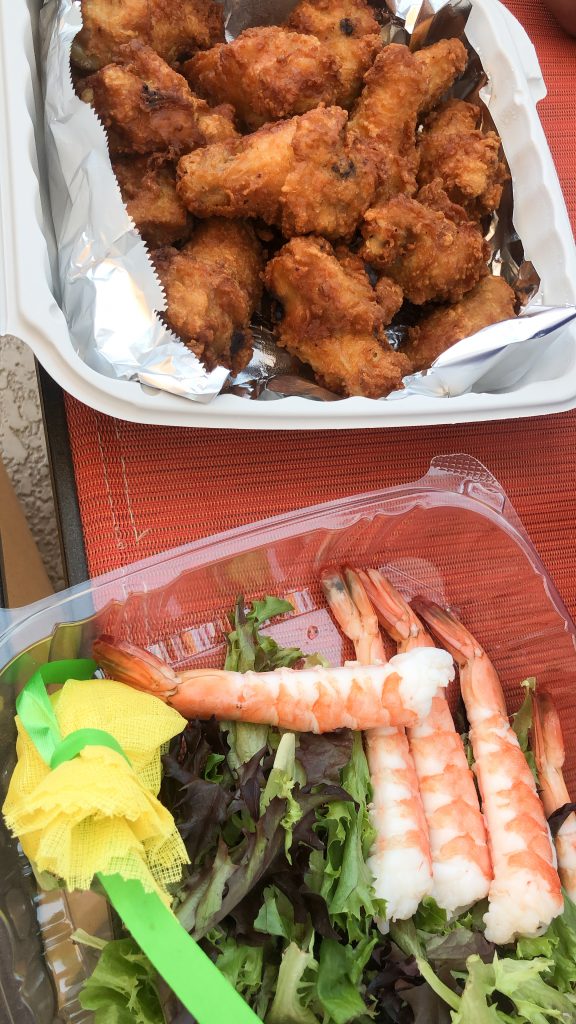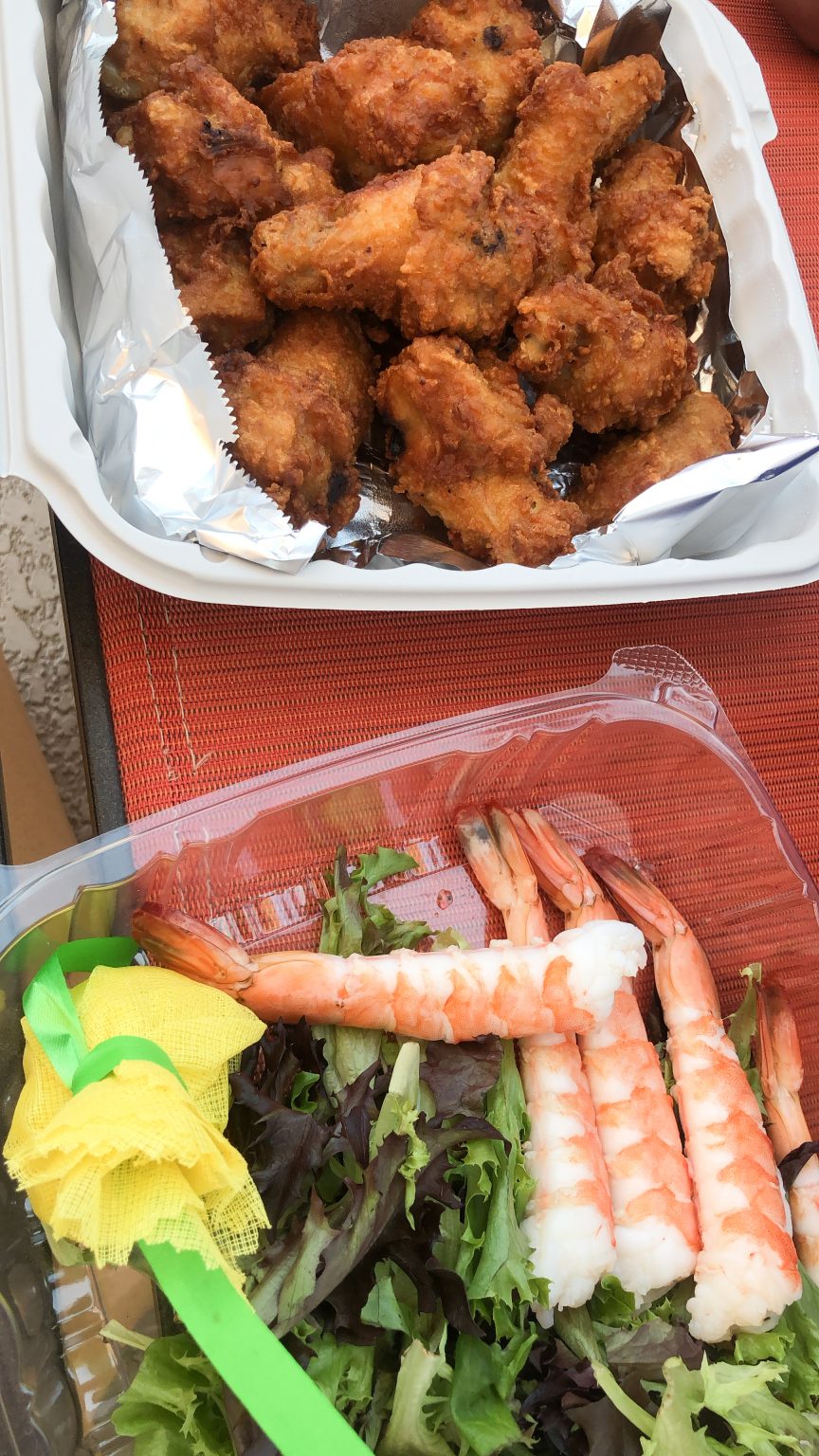 I originally planned to make a giant salad for lunch but when we get home from the pool, I know dinner will be pretty soon and don't feel like chopping anything, so there ya go.
4:00-6:00pm: Another quick work blitz while the Pilot hangs out with the crew downstairs. I have a conference call, pre-write the meat of this blog post, answer emails (my inbox is a black hole of sadness), make a couple of quick workout graphics, schedule my coschedule content for the week, and brainstorm content for the following week.
6:00pm: Mexican food takeout from El Charro. I order the chicken tacos on corn tortillas with rice and beans.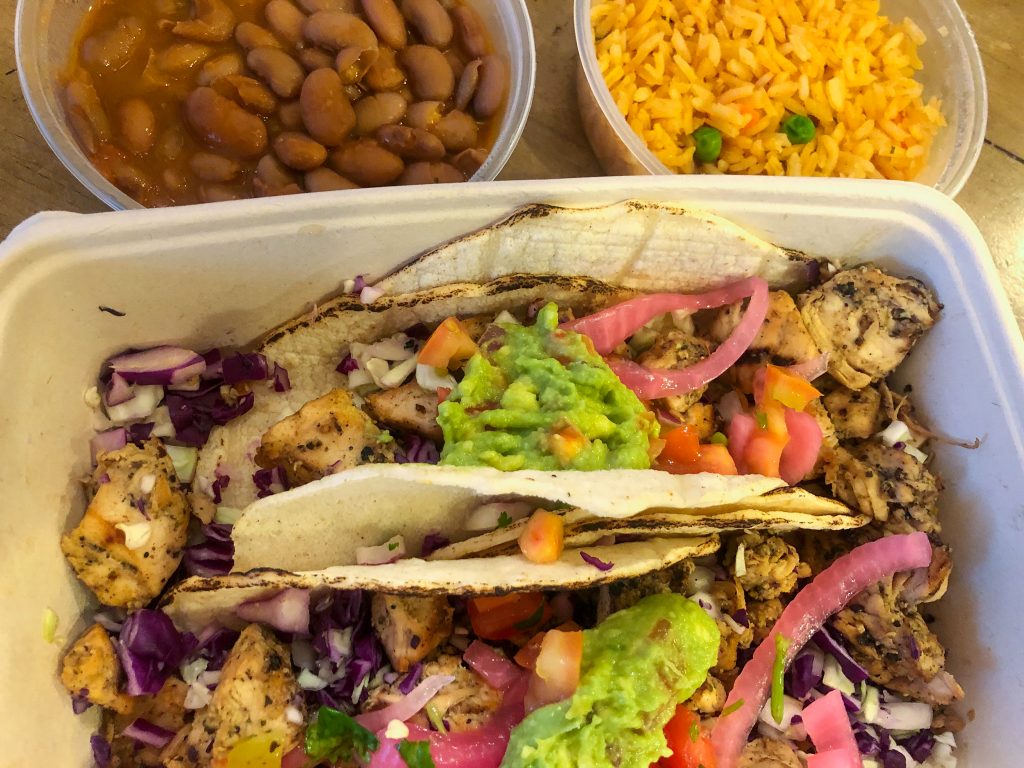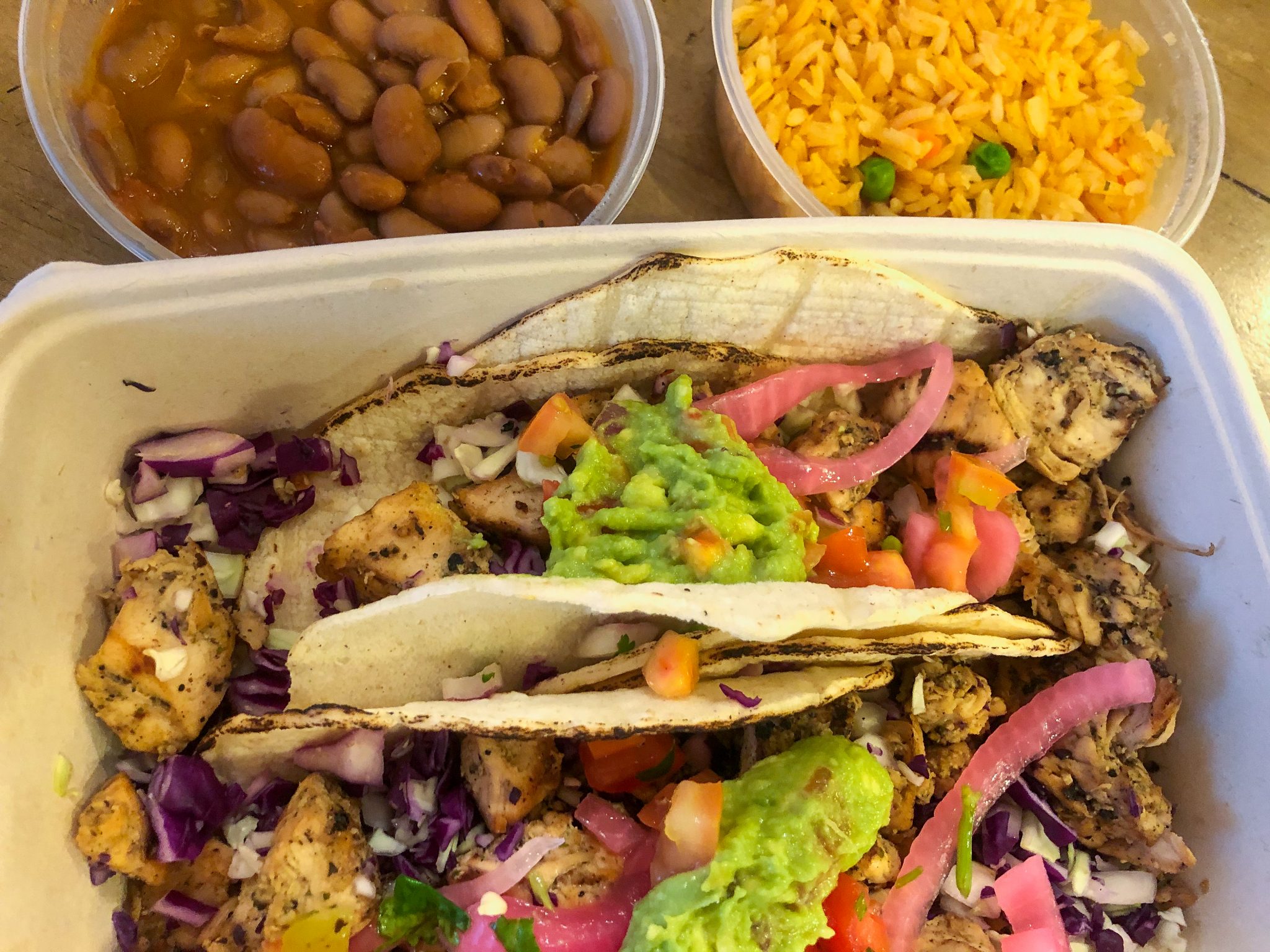 and eat approximately 1400 chips with salsa.
We take a family walk, give the girls baths and do the nighttime routine, and they're both crashed by 9pm.
9:00-10:30pm: I watch Tombstone with the Pilot while typing up the rest of this blog post and getting everything to go for the following day. Before bed, I sip on a golden milk latte and shape the sourdough loaves and pop them into the fridge.
We also go out to the balcony to take pictures of the fire. It's moved east but has grown exponentially and isn't even a quarter contained.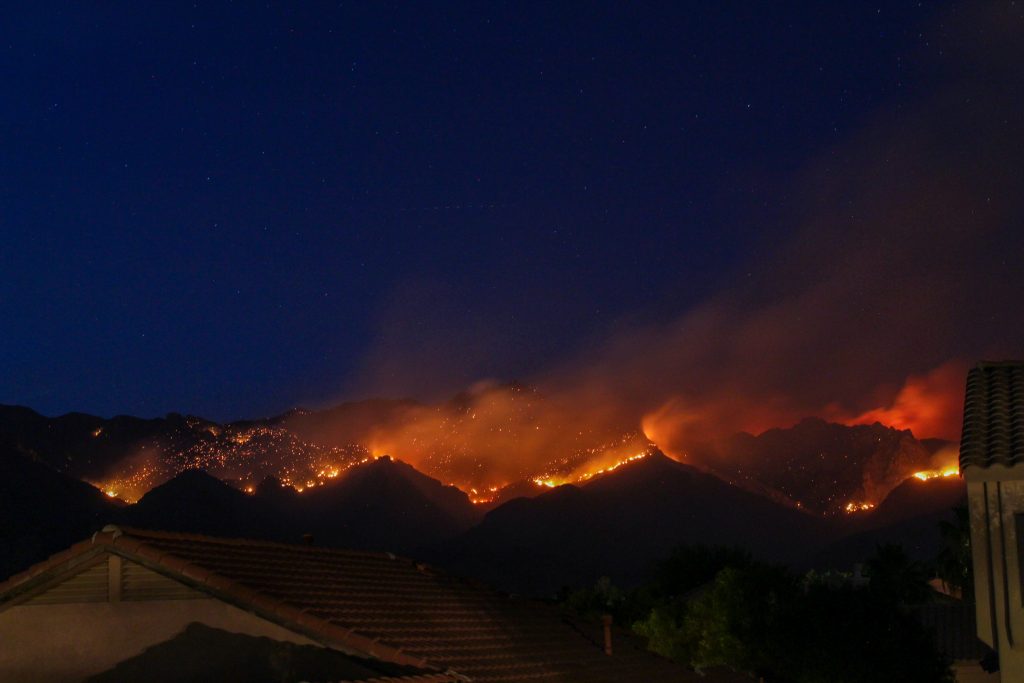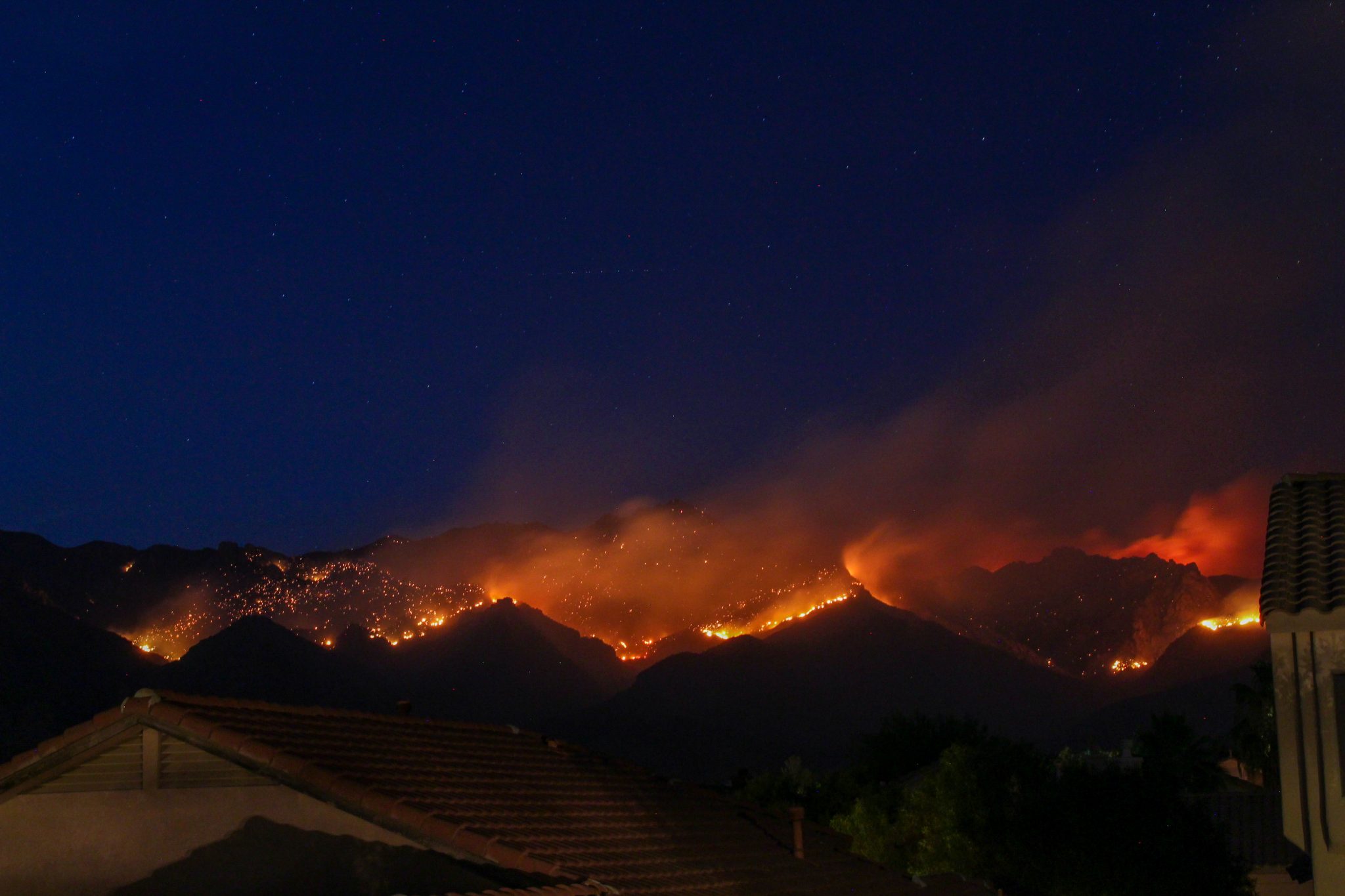 11:15pm: Lights out and ready to do it all over again.
What I liked about this day of eats: I really love the shrimp cocktail at the pool, so any day that includes that is a win. Also Taco Tuesday = another win. Even though I kind of skipped lunch in favor of snacks, I definitely would have hit my protein goal for the day. (I stopped tracking macros a while ago, but still try to make sure I have protein in every meal and snack.)
What I didn't like about this day of eats: It was a bit lower on the veggies and nutrient front that I would have liked. I usually try to get in some type of fresh fruit and/or veggies with every meal, but lately, this hasn't been happening as often. I'm just rolling with it and waiting until inspiration strikes again. Every week I say I'm going to make more of an effort, but some weeks have felt pretty blah, ya know? If you're feeling the same way, please know you're not alone.
What was the best thing you ate yesterday? Favorite place to get takeout right now?
xoxo
Gina
More:
More WIAW posts here, here, here and here.