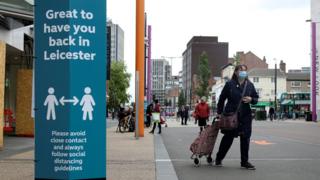 Local authorities are to be given access to postcode-level data about the number of people testing positive for coronavirus in their areas after it was agreed with the Department of Health.
It comes after Leicester became the first city to have a local lockdown imposed following a rise in cases.
Labour leader Keir Starmer said there had been a "lost week" due to city officials not having full testing data.
The prime minister said the figures had been shared with all local authorities.
But, at Prime Minister's Questions in the Commons, Sir Keir said officials in Leicester had only received full figures on Thursday.
Until now local authorities have not routinely had full access to the data on people who are tested for the virus in the community.
But the agreement, signed individually with councils over the past week, now gives them access to a digital dashboard which shows test results down to a postcode level.
Dr Jeanelle De Gruchy, president of the Association of Directors of Public Health, welcomed the news and said "timely, high quality and consistent data" would be key to combating local outbreaks.
But Prof Azeem Majeed, from Imperial College London, said the country had been slow in areas of its Covid-19, response and said the data-sharing agreement "should have been in place some time ago".
On Monday, it was revealed Leicester's seven-day infection rate was 135 cases per 100,000 people – three times that of the next highest city.
The city's mayor, Sir Peter Soulsby, also criticised the government and PHE for being too slow to share testing data with the city's officials – saying city officials had been trying to get figures "for weeks".
The British Medical Association said also called for the government to provide data to local authorities to help them deal with Covid-19 spikes in their areas.
The union, which represents doctors in the UK, said providing local leaders with up-to-date information was "vital" in containing outbreaks, particularly as a contact-tracing app is not yet in place.
BMA council chair Dr Chaand Nagpaul said the prime minister had talked about a "whack a mole strategy" to tackle local outbreaks but this would be no use if the people leading the response "are not given the most accurate up-to-date data possible".
Labour MP Yvette Cooper tweeted it was "incomprehensible" that health authorities in Wakefield, West Yorkshire, had also been trying to get hold of local data on swab test results of the wider population but had not been able to.
Sir Keir also criticised the speed of the government response, saying it took 11 days from the announcement that cases were rising in parts of the city for the lockdown to be tightened.
PM Boris Johnson said the government had started taking action on 8 June, but "unfortunately it did not prove possible to get the results seen elsewhere", referring to another localised outbreak at a meat plant in West Yorkshire.
He added that "where necessary we will put on the brakes" by introducing local lockdown measures.
Across the rest of England, the lockdown is set to ease further on Saturday with the reopening of bars, restaurants and hair salons, but the BMA said it wanted the government to set metric "trigger points" for when action will be taken to reintroduce local and national restrictions.
The BMA said this metric should consider not only the regional reproductive number or R rate – the number of people that one infected person, on average, will pass the virus on to – but also the proportion of the population currently infected.
A government spokesperson said it had been working closely with local partners, providing the resources and tools needed to take swift action to deal with any new local spikes in infection.
It remains one of the most baffling aspects of the current approach.
Local authorities have not routinely been given information about their residents who test positive.
Even though they are intrinsically involved in the system as the local arm of the contact tracing service, councils have only been getting what the national system deems appropriate.
They have been asked to chase up the so-called complex cases – where people test positive in care homes, prisons or schools – so they get that information quickly.
But they have not been given real-time information about individual residents who test positive.
Local directors of public health say it has hampered their ability to look for patterns and clusters developing. In theory, the national system should do this, but why not have a second pair of eyes? Especially one that knows the local situation much better?
This is beginning to change – data sharing agreements have just been signed with local authorities and Public Health England has now set up a system that should do this in a comprehensive and speedy manner from now on.
But the fact it has not already and the experience of those on the ground in Leicester – where cases were going up for a number of weeks – suggests local outbreaks developing in the community may not yet have been spotted as quickly as they should.
Under the local lockdown, announced on Monday evening, non-essential shops in Leicester have been forced to shut and schools have closed, except for vulnerable pupils and children of "critical workers". People are also being advised not to travel in or out of the city.
The measures will last until at least 18 July and apply to the city centre and a number of suburbs.
Which other areas have high coronavirus rates?
Officials are keeping a close eye on Bradford, Barnsley and Rochdale, which have all seen 45 or more cases per 100,000 people in the last week.
The six areas in the next category, 30 to 44.9 cases per 100,000 people, are Bedford, Blackburn with Darwen, Kirklees, Oldham, Rotherham and Tameside.
Imperial College London's Prof Neil Ferguson, who used to advise the government before resigning over a lockdown trip, told BBC Radio 4's Today programme it was "inevitable" there would be further local outbreaks and said the high rates of the virus in Bradford and Doncaster were "clearly of concern".
---
How have you been affected by the issues in this story? Please share your experiences by emailing haveyoursay@bbc.co.uk.
Please include a contact number if you are willing to speak to a BBC journalist.