Biggest single-day rise in infections in Florida
The US state of Florida has registered another grim record, and reports that new infections have risen by 15,300 in the 24 hours to Sunday to a total of 269,811.
This is the biggest daily increase in recorded coronavirus cases in the Sunshine State since the beginning of the pandemic, according to the state health department.
If Florida were a country, it would rank fourth in the world for the most new cases a day behind the United States, Brazil and India.
Its daily increases have already surpassed the highest daily tally reported by any European country during the height of the pandemic there, Reuters reports.
Florida has also broken New York State's record of 12,847 new cases on 10 April when it was the epicenter of the US outbreak.
To combat the outbreak, Republican governor Ron DeSantis has ordered bars to close but has resisted calls for a statewide mandate to wear masks in public.
As we reported yesterday, DeSantis is pushing for the reopening of schools despite surging infections.
Popular with both American and international tourists, Florida is home to beach resorts and theme parks including Disney World, which reopened on Saturday.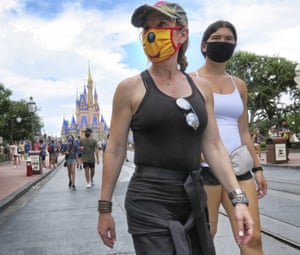 Updated
at 11.22am EDT

Jedidajah Otte
I'm going to be handing the blog over to my colleague Jedidajah, who'll be taking over the blog as I try to catch the last of the lovely sun we're having in London today.
Thank you all for reading alone, especially to those who sent in tips and pointers. I hope you're all safe and well and enjoy the rest of your day.
The current number of people admitted to hospital while suffering from coronavirus in Florida is currently at 7,524, up by 285 in the past 24 hours.
Florida has been one of the worst-hit parts of the US, which has the highest number of cases and death toll from the virus of any country in the world.
Contrary to hints made by prime minister Boris Johnson on Friday, cabinet minister Michael Gove said this morning that face masks should not be made mandatory in England.
Read the full story from my colleague Kate Proctor here:
US pushes ahead with school reopening despite surge in cases
US education secretary Betsy DeVos has continued the administration's push to reopen the country's schools, albeit without outlining how this could be done safely.
"We know that children get the virus at a far lower rate than any other part of the population. There is nothing in the data that would suggest that kids being back in school is dangerous to them," DeVos told CNN's "State of the Union."
She did not offer a blueprint for reopening, or share details on how her department would support states and schools to reopen safely. DeVos also downplayed the risk that children might bring home the virus and pass it on to vulnerable family members.
Democratic House Speaker Nancy Pelosi was immediately critical of the comments, saying that the Trump administration's approach to schools reopening was dangerous.
"What we heard from the secretary was malfeasance and dereliction of duty," Pelosi said on CNN. "Going back to school presents the biggest risk for the spread of the coronavirus. If there are CDC guidelines, they should be requirements. They should be mandates, not requirements."
According to Reuters, coronavirus infections are rising in about 40 states. Nationally, the US has broken global records by registering about 60,000 new cases a day for the last four days in a row.
Updated
at 11.00am EDT
Canada's attempts to fast-track foreign-trained doctors to meet the demand created by coronavirus has resulted in just two dozen licenses approved in Ontario and none in British Columbia, according to medical colleges in both provinces.
British Columbia had created a new class of license that would allow overseas-trained doctors to practice while being supervised by a fully licensed doctor, while Ontario established a short-term license program that would allow hospitals to hire internationally trained doctors on short notice.
Immigrant doctors and their advocates say the poor update comes from logistical and communications failings, alleging that the requirements for the new license categories didn't help more physicians to apply, and were poorly communicated to applicants and hospitals.
Canada's understaffed healthcare system has long been an electoral talking point. Last year, a report from the Canadian Institute of Health Information found that Canada had 241 physicians per 100,000 people, more than 100 less than the OECD average.
15 further deaths in England
A further 15 people who tested positive for coronavirus have died in hospital in England.
This brings the total number of reported deaths in hospitals in England to 29,066, NHS England said.
Patients were aged between 72 and 96 years old, and one patient, aged 96, had no known underlying health conditions.
Updated
at 10.01am EDT

Molly Blackall
Thanks to all those getting in touch with tips and pointers, and sincere apologies if I haven't been able to reply. It is much appreciated!
If you spot something you think we should be reporting on in this blog, you can drop me a message on Twitter. Many thanks in advance!
Updated
at 9.54am EDT
You can read more on the Herefordshire farm coronavirus outbreak from my colleague Matthew Weaver below.
More than 70 farm workers have tested positive for the virus, and all 200 workers are now in isolation there.
There have also been no new coronavirus deaths registered in Scotland in the last 24 hours, while 19 new cases have been reported, 12 more than the previous day.
No new coronavirus deaths have been reported in Wales in the last 24 hours, for the third time in a week.
The total number of fatalities in Wales remains 1,541.
According to Public Health Wales (PHW) 25 new cases have been reported, meaning 17,020 people have tested positive for Covid-19.
These include nine new cases reported by non-NHS laboratories.
A total of 215,710 tests have been carried out in PHW labs – some people having been tested more than once.
Over the last seven days there have been 59 Covid-19 cases confirmed by PHW labs. The total of cases from non-NHS laboratories is now 1,058 to add to the 15,962 cases confirmed by PHW.
Lebanon has recorded more than 100 new coronavirus infections since yesterday, its highest daily increase yet.
Around 75% of the cases were among workers of a cleaning company, and were asymptomatic, and non-Lebanese, according to health minister Hamad Hassan.
To reassure people, the source is known," health minister Hamad Hassan told broadcaster LB. Hassan said 800 workers from the cleaning company needed to be tested, alongside 1,000 workers from two other companies with whom they were connected.
"The number will remain high this week," he said.
Lebanon has recorded more than 2,000 cases of coronavirus and 36 deaths since February.