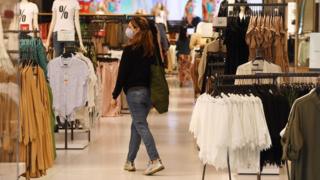 Wearing a face covering in shops and supermarkets in England is to become mandatory from 24 July.
Those who fail to comply with the new rules will face a fine of up to £100, the government has announced.
Health Secretary Matt Hancock said it would "give people more confidence to shop safely and enhance protections for those who work in shops".
The move will bring England into line with Scotland and other major European nations like Spain, Italy and Germany.
Since mid-May, members of the public have been advised to wear coverings in enclosed public spaces, where they may encounter people they would not usually meet.
Mask-wearing has been compulsory on public transport in England and at NHS facilities across the UK since 15 June.
Children under 11 and those with certain disabilities will be exempt.
The list of exemptions has not yet been published, but the rules for face masks on public transport exempt anyone who cannot wear one "because of any physical or mental illness or impairment, or disability", who would experience "severe distress" from doing so, or relies on lip reading, among other reasons.
Mr Hancock told the Commons: "Sadly, sales assistants, cashiers and security guards have suffered disproportionately in this crisis.
"The death rate of sales and retail assistants is 75% higher amongst men and 60% higher amongst women than in the general population."
He added: "There is also evidence that face coverings increase confidence in people to shop."
The new rule will not apply to retail staff.
It comes as the UK recorded the deaths of a further 138 people who had tested positive for coronavirus.
Tory MP Desmond Swayne described the rule as a "monstrous imposition" that would make him less likely to go shopping.
Labour said ministers had been "slow and muddled" on face coverings and questioned why the new rules would not come into force for 11 days.
But Environment Secretary George Eustice told the BBC that research on the use of face coverings, including advice from the World Health Organization, had been "evolving".
And he said the delay between the announcement and the rule coming into force on 24 July "gives people time to prepare".
Wearing face coverings in shops is an "appropriate mitigation" against the "overall risk" of the coronavirus, but the rule would not work in pubs, cafes or restaurants, he added.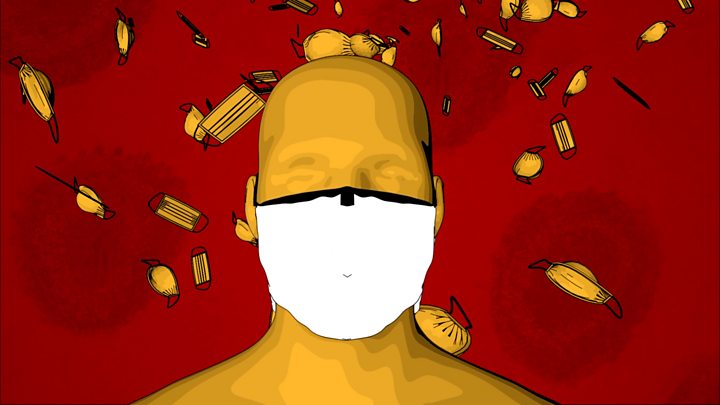 The latest rules for shops will be enforced by the police, with anyone disregarding them at risk of a fine of up to £100. This will be reduced to £50 if the fine is paid within 14 days.
"A shop can refuse them entry and can call the police if they refuse to comply," Mr Hancock said.
Martin Hewitt, chair of the National Police Chiefs' Council, said police should be involved only as a "last resort".
Growing demands on police
During lockdown, police in England issued around 16,000 fines for alleged breaches of the restrictions.
Enforcing the rules was not always easy, particularly because the regulations were drawn up at the last minute, but forces did at least have enough resources – as crime and emergency calls had fallen sharply.
Now, as the country begins to return to normal, demands on police time are growing again.
That's one reason why officers don't want the extra burden of dealing with non-compliant shop customers.
Another factor is a concern is that it may draw police into confrontations with the public at a time when the service is already under the spotlight for its use of tactics, such as stop-and-search.
However, the way the face-covering rules are likely to be drafted means it will be the police, not shop staff, who will be called upon if people refuse to abide by the measures.
Ken Marsh of the Metropolitan Police Federation suggested enforcing the new rule could strain the relationship between police officers and the general public.
And John Apter of the Police Federation said it should be down to shops to make wearing a face covering a "condition of entry".
In Scotland, the use of coverings in shops has been mandatory since 10 July. Few fines have been issued and First Minister Nicola Sturgeon suggested compliance had been "extremely high".
Shoppers in Wales and Northern Ireland are not currently required to wear them, although both nations have said this will be kept under review.
'Foggy glasses and thefts – but also saving lives'
Antiques shop owner Mary Foster from Weybridge, Surrey, tells the BBC she fears mandatory face coverings in stores could increase shoplifting.
"I think people will feel more empowered to try to steal things," she says.
For some BBC Radio 5 Live listeners, face coverings are uncomfortable, steam up your glasses, and infringe on personal freedom.
Andy, from Manchester, says the discomfort means he's less likely to go to the shops and now worries shopping must carry a higher risk than he thought.
Pamela, who runs a clothes shop in East Kilbride, says most of her customers have been happy to wear one – only one refused because they didn't like it.
But Peter Barnes, a London-based political consultant who contracted Covid-19 in March, tells BBC Business the discomfort of a covering is worth it to save lives.
"If we can save one life, then wearing a mask in the supermarket for an hour or so has got to be entirely worth it," he says.
Read more here.
Boris Johnson signalled a shift in the government's position on Friday when he spoke of the need for a stricter approach in confined setting.
But Cabinet Office minister Michael Gove downplayed the suggestion of any immediate legal change on Sunday.
'Slow and muddled'
Labour said the mixed messages demonstrated the government's indecision during the pandemic, and ministers had to explain the "further delay".
"The government has been slow and muddled again," shadow health secretary Jonathan Ashworth said.
A No 10 spokesman said: "There is growing evidence that wearing a face covering in an enclosed space helps protect individuals and those around them from coronavirus.
"The prime minister has been clear that people should be wearing face coverings in shops and we will make this mandatory from 24 July."
Unions and businesses have said the new guidance must be "clear and detailed" to protect staff and customers.
While welcoming clarity over the issue, shop workers union Usdaw said coverings could not be a substitute for strict hygiene controls and social distancing measures.
The British Retail Consortium said it hoped the announcement "will make shoppers feel even more confident about returning to the High Street".
Scarves or other textile items that can be used to continually cover the nose and mouth without having to be held in place by hand are considered adequate in non-medical settings.
There has been a reported increase in the use of face coverings by people in England, Scotland and Wales.
More than half of adults surveyed by the Office for National Statistics in the first week of July said they used a covering while outside their home.
Downing Street said it would keep the guidance on face coverings in other settings, such as offices, under review.