A recent study states that Covid-19 reinfections could pose additional risks to people's long-term health – as compared to only getting Covid once – however some infectious disease experts in the US disagree that there is evidence showing repeat infections are more dangerous.
The issue of the impact of repeated infections is becoming a crucial one in the United States as the Covid-19 pandemic is now tailing off amid a widespread relaxation of any social distancing or restrictions, which has seen many people catch the virus two or more times.
A second or more Covid infection increases a person's risk of death, hospitalization and various adverse health outcomes, including diabetes and neurological disorders, according to the study published in the Nature Medicine journal that looked at the healthcare database from the US Department of Veterans Affairs.
"Reinfection is consequential in the sense that if you get Covid again, even if you have had it before and even if you have been vaccinated, that still could put you in the hospital, that still in some cases, can result in death," said Dr Ziyad Al-Aly, an author of the study who works as a clinical epidemiologist at Washington University and as chief of research at the Veteran Affairs St Louis Healthcare system.
But Dr Celine Gounder, an infectious disease epidemiologist and editor-at-large at Kaiser Health News, is among those who said that immunity from a first infection means that a subsequent infection poses a lower risk of such outcomes.
"There is nothing about a reinfection that is more dangerous than an original infection, and if anything, a reinfection is going to be lower risk because you have some immunity baseline at the time of reinfection," said Gounder.
The debate over the risks of reinfections – which experts say are likely to continue – could determine what precautions people take against Covid and whether people worry unnecessarily at a time when the pandemic has already taken a toll on mental health.
The VA researchers decided to conduct the study because patients who had already been infected were coming to local clinics with this "air of invincibility about them", Al-Aly said. "Some media actually started referring to these patients as 'super immune'. "
To determine if that was valid, the researchers compared health outcomes among more than 440,000 participants with no Covid reinfection with about 40,000 participants who had at least one reinfection. They found that the reinfection posed increased risk of mortality and adverse health outcomes during the acute phase and six months after infection.
As such, when people consider whether it's worth taking precautions to protect themselves from reinfections, "the answer to that is a yes", Al-Aly said.
But other infectious disease experts see potential problems with the study. For example, the VA patient population is mostly older and male.
"What might pop up in a database with a lot of sicker, older people won't necessarily apply to younger, healthier people," said John Moore, professor of microbiology and immunology at Weill Cornell Medical College.
That consideration is important, Moore said, because the study could produce additional fear and angst in the general public, particularly in the healthy people who "worry about their health from getting up in the morning to going to bed at night".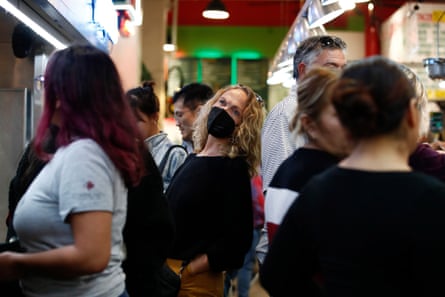 "If you're getting anxiety because you're reading information that suggests that if you get multiple Covid infections, you're going to have long Covid" automatically, "I don't think that's helpful," Moore said.
There is also new, perhaps encouraging, evidence that long Covid symptoms from mild infections resolve within a year rather than leading to chronic health problems among the vast majority of people, according to a study conducted in Israel and published in the journal BMJ.
"Many of these cases resolved certainly within a year, which is not great – I'm not trying to minimize this," Moore said. "But there's increasing indications that for most people, it's not for life, which is a good thing."
Al-Aly acknowledges that the study tracked mostly older, white, males but said its estimates are adjusted for these characteristics. He also points out that 10% of participants were women and 12% were under age 38.
As to the concern about the study prompting irrational fears, Al-Aly said he thinks "knowing is better than not knowing".
"I would be much more afraid of uncertainty," he said. "Armed with real knowledge, knowing the consequences, you can actually take measures to protect yourself, protect your family on an educated basis."
But Brown thinks there has not been a definitive study on the impact of reinfections, in part because many of them occurred during the Omicron surge, and there has not been enough time to accumulate and analyze the data.
"That's why I think we have to tread cautiously," Moore said. "You can't say that this is an established fact and therefore increase the anxiety levels in people who worry about their health unduly."
US residents must now consider precautions – or not consider them at all – after Joe Biden declared the pandemic over and in a society where far fewer people wear masks.
When deciding how to respond to reports such as the VA study, it's important to realize that reinfections are still risky, said Justin Lessler, an epidemiology professor at the University of North Carolina.
"However, that is not the same as saying they are riskier than a first acquisition of [Covid] in the pre-vaccine era; they are not," said Lessler, who continues to wear a mask and is avoiding indoor dining amid the recent increase in Covid cases.
People who are at high risk of Covid or around people who are high risk should "remain cautious and use the tools at their disposal to try keep safe," Lessler said. "However, I do think that needs to be balanced against the measures people are willing to take over the long haul, as intermittent periods of high [Covid] transmission are likely to continue far into the future."
Al-Aly recommends that people take "common sense measures," such as wearing a mask when using public transportation. He also suggested avoiding "unnecessary, very large gatherings".
Asked what such an event would be, he said, "people have to decide for themselves, is that concert really worth it?"
He added: "At the end of the day, it's really about risk tolerance for that individual person."