While Republicans like Brian Kemp might be desperate to see sports coming back into action, it's not entirely clear that that they will be comfortable with the protests against systemic racism that are going to accompany them.
The "MLS is back" tournament got underway yesterday, and it started with players giving an emotional show of support to the Black Lives Matter movement.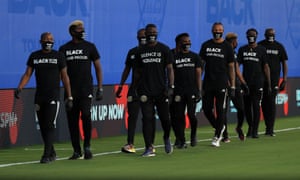 A player group called Black Players for Change made its first public demonstration since coming together last month. Formerly the Black Players Coalition of MLS, the group changed its name this week while joining forces with the NFL's Players Coalition founded by Anquan Boldin and Malcolm Jenkins.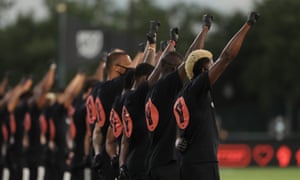 Before the match, players stood, fists raised, for 8 minutes and 46 seconds, the time that has become a symbol of police brutality, as it was the length of time Minneapolis police officer Derek Chauvin had his knee on George Floyd's neck when he was killed.
More than 170 Black players, some wearing "Silence is Violence" T-shirts and Black Lives Matter face masks, took part in the pregame protest. "Really this protest is about fighting for racial equality and human rights," organizer Justin Morrow of Toronto FC said.
"We're standing with all of our brothers and sisters across the world – definitely across the North American sports landscape, but we see what's happening over in Europe as well, how soccer players are fighting against racism there. We're standing with all of our brothers and sisters to fight this fight."
"It was very powerful to put my fist up and to be there on the field with so many people that are trying to make a change in this country. And that's what we need to do," Inter Miami's Juan Agudelo said.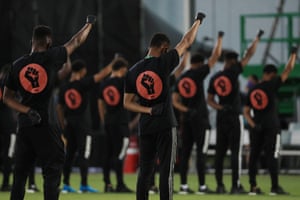 "This moment for us as a Black player pool, is that we can stand up, we can make this statement that's come completely from us. It was so important that it was player led, it couldn't have worked the other way around," Morrow said.
"This moment of solidarity with our brothers and sisters fighting this battle for racial equality and human rights is so important. And we want to make sure that the narrative was player led, player driven in coming strictly from us."