The continuing city-wide lockdown of Leicester is "not justified", its mayor, Sir Peter Soulsby, has said, after he was provided with government data that apparently shows the outbreak is only in a "couple of areas of the city".
Soulsby told BBC Breakfast that, having "finally" been provided with "useful data", they know that around 10% of the city has recorded a higher transmission of the virus.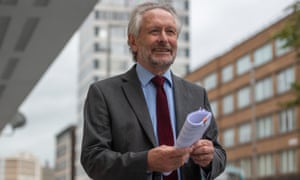 He said:



"If we had known that weeks ago we could've actually dealt with it at that time and prevented this lockdown.

It's very clear when you look at the data that it's a couple of areas of the city that have got a higher than the average transmission of the virus, and certainly the way in which the city has been locked down in its entirety, and indeed beyond our boundary, is not justified."
Soulsby criticised the government for not passing on this data "many, many weeks ago", adding that even now the information being provided to his health officials was incomplete and out of date.
He added:



"I mean even the data we're getting now is the best part of two weeks out of date, and we need to be knowing, on a day-by-day basis street-by-street basis, what that data is telling us and then we can tell whether or not, in those particular neighbourhoods, we're actually combating the virus effectively.

"We need to know the ethnicity of the people who are being tested, we need to know where they are working. There's been all this talk about perhaps it's passed on in factories, but we have no way of knowing that."
The health secretary, Matt Hancock, is due to announce later this week whether Leicester's extended lockdown will continue beyond this weekend, with many of the city's restaurants and hair salons not expecting to reopen until August.
Updated
at 3.26am EDT
Justice secretary cites 'appalling litany of abuse' in Leicester garment factories
The justice secretary, Robert Buckland, has said he welcomes the National Crime Agency investigation into alleged worker exploitation in Leicester, where there are concerns that conditions inside some of the city's sweatshops were factor in the local surge in coronavirus cases.
Buckland told Sky News:



"A light has now been shone on an appalling litany of abuse and I'm glad to hear that the National Crime Agency (NCA) is now conducting an investigation, its got a lot of power to bring in various agencies to start the work of an investigation into this."
Some will dispute Buckland's suggestion that only now has a light been shone on the scandal, as concerns have been raised publicly about Leicester for years including in parliamentary reports, by regulators and in media coverage.
Buckland said modern-day slavery was "all around us. It's in every town and city in Britain and indeed in our rural areas as well," and that authorities would "do everything we can to stamp it out".
"This is not a job that's going to take weeks, it's going to take a long time but I welcome the investigation," he added.
Updated
at 3.09am EDT
Lockdown eases across UK
There is a further easing of the lockdown in parts of the UK today.
In Scotland, non-essential shops inside shopping malls will reopen this morning – with a new law making it compulsory to wear face-coverings inside them.
Children and young people in Scotland are allowed to play organised outdoor sport from today. Dentists and optometrists will be able to offer some services.
In Wales, pubs, bars and restaurants can start serving customers outdoors, while hairdressers can also reopen. People will be able to exercise in groups, with up to 30 people being allowed to play sport outside at once.
In England, beauty salons, spas, tattoo parlours and nail bars are welcoming back their first clients for almost four months – but some treatments, such as eyebrow threading, are still banned, leaving many salons unable to reopen.
Planning a trip to a beer garden in Wales? Or heading for an outdoor game of meticulously-organised squash after heading to a shopping mall in Scotland?
Let us know if you're planning to enjoy your newfound freedoms. Comment below or contact me directly on Twitter – @JoshHalliday – or email: josh.halliday@theguardian.com. I also welcome news tips and suggestions of areas we should be investigating!
Good morning and welcome to the Guardian's UK liveblog.
Public health officials are taking action to suppress more than 100 coronavirus outbreaks across the UK each week, the health secretary Matt Hancock has said.
Writing in the Telegraph, Hancock said officials were finding more coronavirus cases due to the increased testing. He added:



"The result is we can lift more of the lockdown, and take targeted action. Each week there are over a hundred local actions taken across the country – some of these will make the news, but many more are swiftly and silently dealt with.

"This is thanks in large part of the incredible efforts of local authorities – all of whom have stepped up and published their local outbreak control plans in line with the end of June deadline."
His comments came after 73 workers at a farm in Herefordshire tested positive for Covid-19.
About 200 workers at the vegetable farm and packing business, which supplies Sainsbury's, Asda, M&S and Aldi, have been ordered to isolate on the property following the outbreak.
Later today, the home secretary, Priti Patel, will unveil further details on the future of immigration in the UK from 1 January 2021, when the UK leaves the European Union single market and customs union.
Under the system, UK borders will be closed to so-called non-skilled workers and applicants will be have to show a greater understanding of English.
Applicants must also have a job offer with a minimum salary of £25,600 a year, with a few exceptions. But the most significant change is the end of freedom of movement for EU nationals, who will be treated equally to arrivals from outside the bloc.
Citizens and companies will also be told to expect significant and costly changes to travel in Europe from 1 January, with warnings about passports, travel insurance, mobile data charges and travelling with pets.
It comes as company directors said only one in four businesses were prepared for Britain's full departure from the European Union in five months' time.
Updated
at 2.33am EDT