Reverend Gregory Livingston, well known in his native Chicago for his campaigning and community efforts to tackle corruption, gun violence and street gangs, spoke of "a tale of two Americas" in the shocking spate of shootings in several US cities last weekend.
It is estimated that at least 160 people were shot in towns and cities across the US from Friday evening through Sunday of the July Fourth holiday weekend. Several children were wounded or killed by stray or bullets in Chicago, Philadelphia, New York and Atlanta, which have seen more shootings in recent weeks than is typical at this time of year.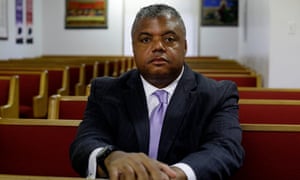 Some of an interview he did on the phone with the Guardian in New York, where he moved last summer and has been working alongside Black Lives Matter and preaching in various parts of the city, was in our news piece. But here are some more of his remarks that there was not space for in that wider piece.
He warned Chicago mayor Lori Lightfoot, in office for just about a year, that she "is really going to have to take leadership, head on. People are dying and they cannot wait."
"She must take the bull by the horns," he said. She should "hold a press conference and hold community meetings to talk about race."
He urged her to talk to police leaders, state leaders, root out racist and corrupt city politicians, direct more money to Black-led anti-violence organizations rather than "white-led organizations with no boots on the ground"; address herself to broken promises from previous leaders about police reform and shortages of mental health facilities, health care resources and school resources in many areas, he said.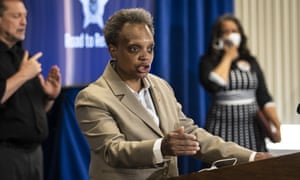 Livingston complained of "two Chicagos" that are very segregated – the affluent downtown and north side, in contrast to the south and west sides.
When street shootings rise: "You cannot look at the fruit of these tragedies without looking at the tree," he said. He added that he wasn't looking for mercy for murders or an absolution of personal responsibility, but urgent attention on the root causes of division and inequality.
He said: "Some say 'if Black lives matter then why do you guys kill each other?' We are a violent country. There is individual responsibility but there are also conditions that create a climate for violence."
Livingston says Lightfoot has a difficult job "but it's a job she wanted".
He urged her: "It's going to take courage. Call the racists out."
Here's Livingston talking to the Guardian in person in Chicago in 2018.