Good morning. Spare a thought for Boris Johnson. There he is, quietly going about his solemn parliamentary duties of taking a reported six-figure appearance fee to speak to a "thought leadership gathering for the investment and entrepreneurial ecosystem" at the Bellagio Hotel and Casino in Las Vegas, and awaiting the arrival of another new addition to his numberless tribe. All of a sudden, a viper's nest of his mortal enemies – that is, his own legal team – insist on raking over the coals of the pandemic yet again.
Did he break lockdown rules by hosting family and friends at Chequers during Covid? Were there, as the Guardian reports this morning, other previously undisclosed events at Downing Street? Should his resignation honours list be scrapped? Does any of it even matter any more? Isn't the real point that Rishi Sunak has it in for him?
In considering these questions, and related news yesterday that the Cabinet Office is refusing to hand Johnson's WhatsApp messages and notebooks to the Covid inquiry without heavy redactions, we might channel the former prime minister by thinking of Marcus Aurelius: "Look back over the past, with its changing empires that rose and fell, and you can foresee the future, too." So let's have a crack at it, with the Guardian's political correspondent Aubrey Allegretti. First, here are the headlines.
Five big stories
In depth: 'It's hard to see a coup d'etat – Johnson's influence is on the wane'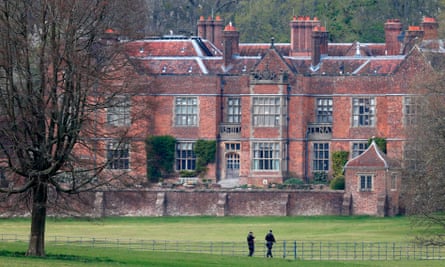 You could be forgiven for thinking that the abject period of your life in which you had to be more than peripherally aware of Boris Johnson's behaviour had come to an end.
Yes, the parliamentary privileges committee is yet to report the findings of its investigation into whether he misled MPs over lockdown parties. But with the subject so exhaustively covered, and so much time having passed since he resigned as prime minister, it seemed implausible that any fresh allegation could possibly emerge.
But with Boris Johnson, the past is never dead; it's not even past. The new claim dragging us back to the lockdown era is that Johnson's diaries suggest that he had friends and family to visit at Chequers (pictured above), the prime minister's grace-and-favour country residence, in defiance of his own government's lockdown rules.
This morning, Aubrey Allegretti reports that a dossier handed to police shows a dozen potentially illegal events that were not considered by the Met Police's previous investigation or Sue Gray's inquiry, including some at Downing Street.
Johnson's office says the claims are "entirely wrong", and have been produced with a "political purpose". Here's a summary of the key issues facing the former prime minister as he seeks to persuade the rest of us.
---
Whether he can blame the blob
In recent months, there's been a growing body of opinion on the right of the Conservative party that their people are the victims of a monstrous conspiracy. First Dominic Raab, then Suella Braverman, now Boris Johnson: all of them, it is claimed, are being done in by the shadowy cabal of leftie civil servants known collectively as the blob. (A very calm take in the Daily Telegraph is headlined: "The woke blob is about to achieve its greatest triumph: its final takeover of Britain".)
Support for that theory appears to be gaining traction among Johnson's supporters. The Daily Telegraph's Christopher Hope has a story full of Johnsonite outrage, and dark suggestions that Rishi Sunak's team has played at least a tacit role.
"I didn't really believe in the blob till now," one former minister says. "There is now an open witch-hunt against rightwingers in the Conservative party," says another MP. "The leadership of the party must shut this down immediately."
Johnson's own spokesman has hinted at a similar line, saying that "some within the government" may be behind "yet another politically motivated stitch-up".
But if the official version of events is correct, those arguments look thin, and rely on a (suitably) wobbly definition of "blob". Downing Street insists that ministers had no role in the decision to refer the matter to police, says Rishi Sunak was unaware until after the police had been informed, and adds that No 10 has not seen the dossier on Johnson.
Ironically enough, the primary source of that dossier is Johnson's own legal team. "Because Johnson's legal fees for the public inquiry into the pandemic are being covered by the Cabinet Office, they see anything provided to the lawyers that they've instructed," Aubrey said.
"We understand that it was in the process of looking through the documents and scrubbing them of sensitive information that they found the diary entries in question. Civil servants then felt they had no choice but to escalate them."
Yesterday, it emerged that Johnson had "lost faith" in the Cabinet Office and was appointing a new team of lawyers – though still at public expense, he hopes. But if the police ultimately find the allegations credible, it would seem hard to argue that the conspiratorial course of action is for lawyers and government officials to tell the truth about what they've seen.
---
What's in the diary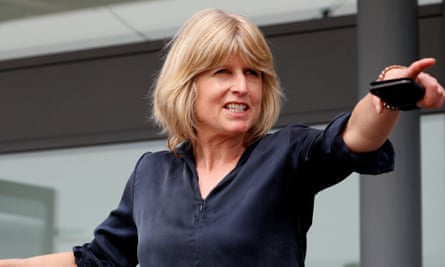 "I've spoken to a couple of people with knowledge of what the diaries look like, and I'm told that they include the names of people who were at Chequers, on a particular day for a particular amount of time," Aubrey said. "One of those sources said that the problem for Johnson is that these are not the kind of people you could make excuses for at the No 10 gatherings, where they were largely government employees: these were family and friends."
If so, even if Johnson uses the defence deployed over No 10 gatherings for the Chequers claims – that this was a place of work as well as a home – the police are likely to ask what essential role those attendees were playing in the business of government. They will also be comparing the nature of their visits to the specific rules that were then in place. (This excellent interactive from January will remind you of the timeline.)
One key question, then, will be the level of detail included in the evidence. For example, if Johnson had visitors during the period in which only gatherings of up to six people were allowed outdoors, the police will want to know whether they spent time inside. Johnson's sister Rachel (above) told LBC on Wednesday that "as far as I'm aware, all the rules were followed whenever I went to Chequers".
---
What happens to the committee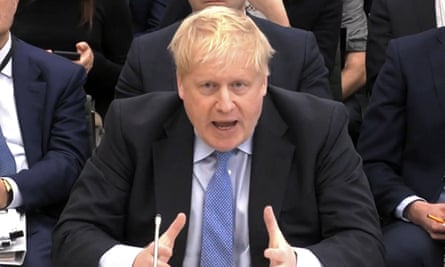 The privileges committee is investigating whether Johnson misled parliament when he denied lockdown breaches at Downing Street – with the power to recommend a suspension that could trigger a byelection if it finds against him.
"I've been told they were close to sending a draft final report to Johnson," Aubrey said. "That is likely now to have been pushed back. They are unlikely to ask him for further oral evidence (above), but they may seek an explanation."
Anyone anticipating the committee's report to be a general verdict on Johnson's conduct, though, may be disappointed.
Their terms of reference (pdf) are pretty narrowly trained on what Johnson said in parliament about gatherings at No 10. That could lead them to conclude that at least the Chequers allegations are beyond their remit, and that the new Downing Street claims can only be covered if they would seem to have been referred to by Johnson's statements to MPs.
---
Whether he has political support
Johnson's allies have been vociferous with their outrage over the new allegations against him, and there have even been claims that Sunak could face a leadership challenge as a result.
But, crucially, and even if they're noisy, we don't know how many of those allies there are; the best public measure of Johnson's support on the backbenches came in the vote on Sunak's solution to the Northern Ireland protocol impasse, the Windsor framework, when only 21 other Tory MPs joined Johnson in rebelling. And by fairly unsubtly indicating his enmity for Rishi Sunak, Johnson may have further diluted his support even if he is successful in insinuating that he is the victim of a No 10 plot.
"It isn't this straightforward binary where the people who like Johnson dislike Sunak," Aubrey said. "Quite a lot of the people who supported Johnson have been won over – they're impressed by Sunak's grip, lack of appetite for scandal and party management. So it's hard to see a coup d'etat. Over the last few months, it's been clear that Johnson's influence is on the wane. The last thing the vast majority of Conservatives want is another leadership contest."
What else we've been reading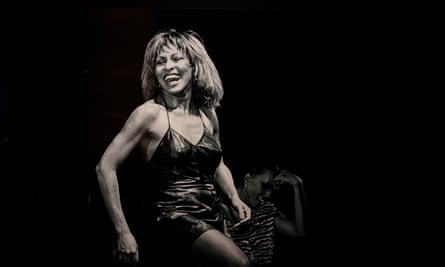 Sport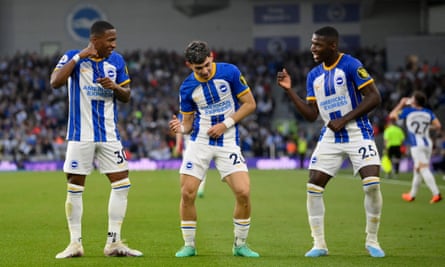 Premier League | A long-range stunner from Julio Enciso (above centre) cancelled out Phil Foden's opener to give Brighton a 1-1 draw against Manchester City and secure a place in the Europa League next season. City manager Pep Guardiola said he was happy with his team's performance given that "40 hours ago we drank all the alcohol in Manchester."
Football | Raheem Sterling has been left out of the England squad for next month's Euro 2024 qualifiers against Malta and North Macedonia, a mutual decision made after talks about his physical condition with Gareth Southgate. Sterling has struggled on and off the pitch since joining Chelsea last summer and the decision has been taken for him to use the international break as a chance to rest before pre-season.
Boxing | On Saturday night, Mia Billam-Smith will watched her husband Chris fight Lawrence Okolie fight for a world title. In this interview with Donald McRae, she gives a sense of the toll boxing takes on the loved ones of those in the ring: "I don't think there will ever be a time when I'm ready to watch Chris get punched."
The front pages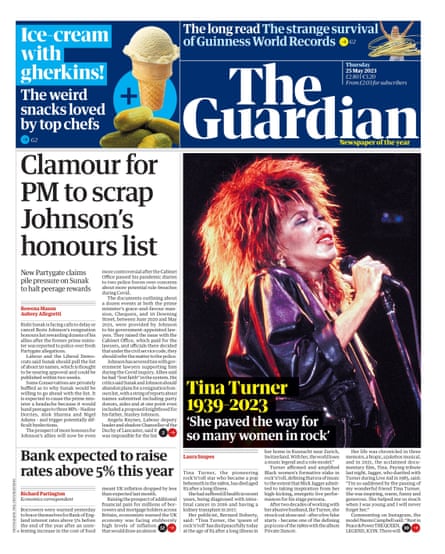 "Clamour for PM to scrap Johnson's honours list" is the Guardian lead today. Tina Turner, who has died aged 83, is the front-page picture: "She paved the way for so many women in rock". "Simply the best" says the Daily Mirror as it marks the "Death of a rock icon". The Sun and the Daily Mail agree that she was "simply the best" – the latter's splash story is "Top cop in VIP 'abuse' probe faces misconduct charges". There's a full-length photo of Tina in full swing on the front of the Times, while its top story is "Whitehall clash over Johnson's Covid diary".
The Daily Telegraph has "Millions on jobless benefits do not have to seek work," and like others it says a pictorial "Farewell to the Queen of Rock'n'Roll". "Coming to UK! car plant deal worth billions" – that's the Daily Express. The i has "New interest rate rise ahead to break 'core inflation'", and page one of the Financial Times is led with "Gilt yields soar as near 'mini' Budget levels as inflation data disappoints".
Today in Focus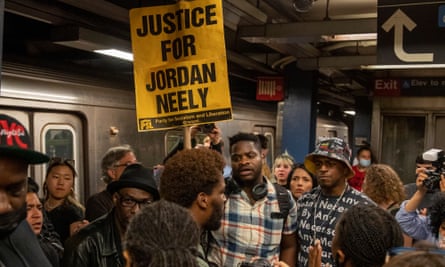 How a killing on the New York subway exposed a broken system
When Jordan Neely, a homeless Michael Jackson impersonator, died at the hands of a fellow passenger this month, it shocked the world. But what does it reveal about the city?
Cartoon of the day | Steve Bell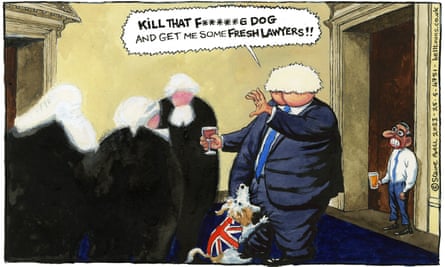 The Upside
A bit of good news to remind you that the world's not all bad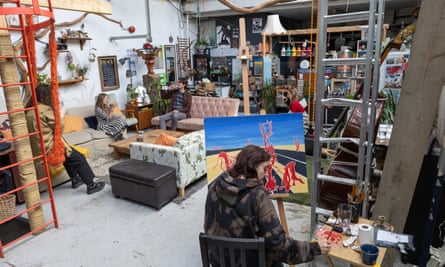 Ata is just one of many people who moved to London and made a home in the city's converted warehouses. The alternative living situation has drawn a community of musicians, writers and artists who live and work in them, collaborating with each other on projects. One warehouse is the home to Snap Studios, an independent recording studio that has built up a formidable reputation over the past 14 years. Some of the UK's best-known artists have recorded there, including Stormzy, Kate Bush, Lily Allen, Liam Gallagher, the Streets and Wretch 32.
But an increasing number of warehouses have been pulled down to make way for luxury flats. As word spread of the latest redevelopment in the warehouse Ata is currently living in, his friends and neighbours started organising and the Save the Warehouses campaign was born. They have said they will not acquiesce and accept the destruction not just of their homes, but their livelihoods and community.
Sign up here for a weekly roundup of The Upside, sent to you every Sunday
Bored at work?
And finally, the Guardian's puzzles are here to keep you entertained throughout the day – with plenty more on the Guardian's Puzzles app for iOS and Android. Until tomorrow.