Good morning. It was Shakespearean, it was his Waterloo, it was the Thick of It, it was practically a renaissance painting. It was a January 6 moment, it was a cup-tie atmosphere, it was a show trial, it was a kangaroo court, it was run by "marsupials". It was, Boris Johnson said, his "lived experience". Sometimes, it was quite boring.
From 2pm to eighteen minutes past five yesterday, the House of Commons' privileges committee interrogated the former prime minister about his statements to MPs over Partygate. And if, in truth, long stretches of the evidence felt less like the above hyperbole and more like Old Man Yells at Cloud, it was significant nonetheless – full of clues about how the committee is handling its task, the real issues it has raised, and how Johnson intends to treat its verdict.
"I know that you will point to the photos, and then to the guidance, and what I said, and say that it must have been obvious that the guidance was being breached," Johnson said at one point. "But that is simply not true." The first part of this proposition was proven correct. The committee appeared more sceptical of the second.
Today's newsletter, with Dr Catherine Haddon, an expert in ministerial responsibility and parliamentary oversight at the Institute for Government, explains the most important takeaways. Here are the headlines.
Five big stories
In depth: 'It is less an inquiry about whether he committed contempt, and more a sentencing hearing'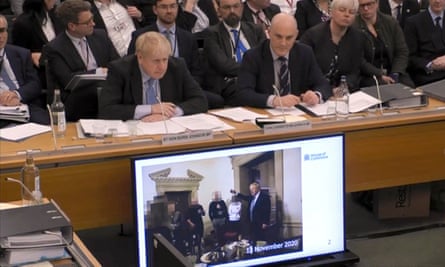 "That was pretty exhausting," said Catherine Haddon, speaking shortly after Harriet Harman brought the committee hearing to a close. "I think my main conclusion is that I'm not sure how much it will have changed anyone's opinion."
Which is a demoralising thing to hear after sitting through more than three hours of it, frankly – but there were very few new facts unearthed in the session: the real substance of the committee's work and Johnson's response is in documents that have already been made public. Still, there were telling details in among the bluster. Here are some of them.
---
The committee's approach
Bernard Jenkin: "So there can be no doubt that you understood what the guidance and rules meant and were intended to achieve – yes or no?"
Boris Johnson: "Yes."
Most of the time, select committees ask open-ended questions designed to reveal the full scope of an issue (and, we might cynically think, to allow MPs time to grandstand). The intention, at least, was different here. "It's crucial to understand that this process has followed a pseudo-legal framework," Haddon said. "They tried to put him on the spot with closed questions that had to be answered. It did feel as if they were trying to use the session to interrogate specific points of his evidence."
---
Johnson's approach
Boris Johnson: "I don't remember people being four or five deep, I don't remember saying that, but I will say -"
Bernard Jenkin: "I'm sorry, you're giving very long answers … You're repeating yourself quite a lot."
Whatever the committee intended, Johnson had different ideas – and while he was forced to give direct answers reasonably often, he worked very hard to generalise from narrow questions and return to the safer territory of his talking points: Downing Street was a difficult environment, the guidance was followed and everything he told parliament was what he believed to be true at the time. (Aubrey Allegretti has a fact-check on his evidence.)
That might not be terribly persuasive to the committee, and it probably wouldn't work in a courtroom. "But you have to think about the wider position he's in," Haddon said. "What the committee is going to do is reach a view and then, if it's against Johnson, recommend a sanction that parliament votes on. This is a political process. It is less an inquiry about whether he committed contempt, and more a sentencing hearing that will ultimately be decided by MPs."
It is still eminently possible that even a majority of his own party will vote against Johnson – but winning in the court of Conservative opinion remains the most plausible strategy he has.
---
The guidance
Boris Johnson: "I'm saying we followed the guidance completely … It meant that we were following the guidance to the best of our ability, which is what the guidance provided for."
Get your head round that: you can follow the guidance in full by following it in part. Having said that he now accepts that the guidance was broken, Johnson expended considerable energy in insisting that in just about every case, it actually wasn't. This forced him into the unhappy position of claiming that if asked at a No 10 press conference, he would have said that businesses could decide for themselves whether to hold leaving drinks without full social distancing.
In general, this was where he appeared most uncomfortable. At one point, when asked about social distancing mitigations during the gatherings, he referred to "screens or barriers in … the adjacent press room". He also said that "we didn't touch each other's pens … we didn't pass stuff to each other if we could possibly avoid it." Not unreasonably, committee chair Harriet Harman suggested that they did appear to have passed drinks.
Again and again, Johnson emphasised his role as motivator-in-chief, bound to hold leaving dos to keep the staff from going bananas. I began to see him as Downing Street's equivalent of Bez from the Happy Mondays (Boz?), a hype man shambling merrily from room to room, following guidance and disseminating vibes at all times.
"The sad thing is that in a way he's right – people were working incredibly hard, it is an important point about team building," said Haddon. "But the counterpoint is also true. That didn't apply in the NHS."
---
The role of advisers
Harriet Harman: "If I was going at 100mph and I saw the speedometer saying 100mph, it would be a bit odd, wouldn't it, if I said that somebody assured me that I wasn't?"
Boris Johnson: "Is it good enough to rely on the director of communications and the former director of communications … I think the answer is yes."
Johnson argued that he was entitled to count on the advice of his advisers when formulating his responses to MPs' questions. But the committee raised difficult points about his reliance on that advice, most sharply framed by Harman's motorway metaphor. They asked why he felt that a line designed to deal with a press inquiry was appropriate for the House of Commons, and noted that he had relied on political appointees with responsibility for communications above senior civil servants and lawyers.
"If you talk to people who've been in No 10 during these situations, they will tell you that when a story breaks, it would be surprising to come out with a blanket denial when you haven't had the chance to look into it," Haddon said. "He's almost blaming his advisers. But as the prime minister, you can't really outsource responsibility in that way."
---
The fairness of the process
Boris Johnson: "If this committee were to find me in contempt of parliament … I think that would not only be unfair, it would be wrong…"
Alberto Costa: "But you wouldn't categorise it as a witch-hunt or a kangaroo court?"
Boris Johnson: "I wait to see how you proceed with the evidence that you have."
While the comparisons with Trump can feel a bit overdone, this had definite shades of orange about it: he'll totally accept the outcome, if he wins. That sat with a broader impression that Johnson was nursing a sense of grievance, as when he lost his temper while accusing Jenkin of talking "complete nonsense". (In general, you felt, he was lucky he wasn't on trial for contempt of Bernard Jenkin.)
"When a minister appears before a select committee, they're there on behalf of their departments," Haddon said. "This is different – it's personal. So maybe it's not surprising. It could mean his downfall."
Is that more likely this morning than it was yesterday? It's not clear. The Guardian's politics live blogger Andrew Sparrow was among those suggesting that the hearing pointed to a finding of "recklessness" rather than deliberate lying, which means the committee might stop short of a sanction that could force a byelection; but almost nobody thought Johnson had a good day. Even without a recall petition, John Crace wrote, he may well be "sent to roam the world as a washed-up end of the pier entertainer, giving the same over-priced speech to people he doesn't care about and will never see again."
Meanwhile, the finer points of lockdown policy in Downing Street have long felt more like a crucible of broader complaints about Johnson's conduct than a subject that can sustain the kind of scrutiny to which it has now been subjected, and Haddon struggled to come up with much new that had emerged over the course of the afternoon. Still, she said, that didn't mean it didn't matter.
"The point is that while the committee works, people need to be able to see that justice is being done in the open," she said. "That's why it's important – even if it doesn't move the dial."
What else we've been reading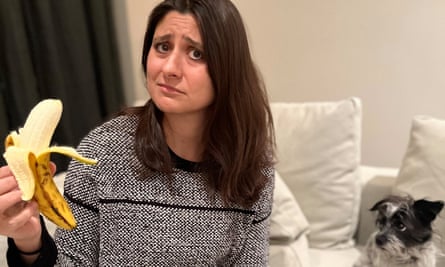 Sport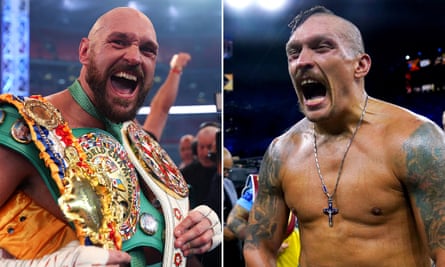 Boxing | The world heavyweight title unification fight between Tyson Fury (above left) and Oleksandr Usyk (above right) is off after it emerged talks between the camps of the rival champions had broken down completely. The fight was due to take place at Wembley Stadium in April.
Football | The battle to take over Manchester United was plunged into confusion on Wednesday night after the deadline for new bids for the club was extended at the last minute. After representatives of the Qatari banker Sheikh Jassim bin Hamad al-Thani and the Ineos owner, Sir Jim Ratcliffe claimed to have met the deadline, it emerged that Ineos had asked for more time.
Gymnastics | More complainants have come forward to level historic allegations against the former Olga gymnastics club in Poole, Dorset, from when it was run by Brian and Monica Phelps. It follows other historic allegations of sexual and emotional abuse from a former gymnast that were published by the Guardian and the BBC earlier this year. The Phelpses declined to comment.
The front pages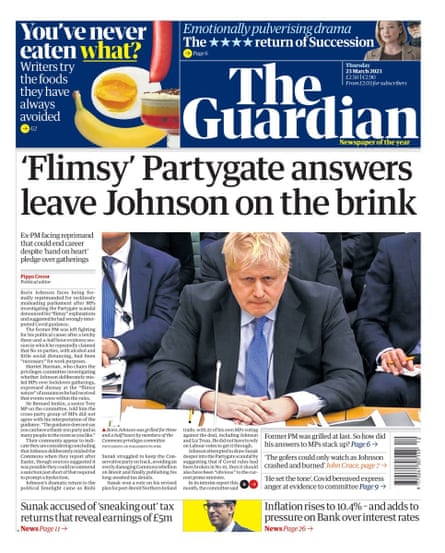 Boris Johnson's appearance before the privileges committee dominates the UK front pages on Thursday – you can see a full wrap of all the papers here.
The Guardian leads with "'Flimsy' Partygate answers leave Johnson on the brink". The Times says "Johnson fights for his future". The i reports "Johnson in peril after angry clashes with inquiry".
"Johnson besieged but defiant", is the assessment of the Telegraph, while the Mail chooses to lead with a comment piece from Sarah Vine under the headline, "Harman's face was thunder. Boris was as agile as a cat. Pure box office but, after four nit-picking hours, had a single mind been changed?" The Mirror hears from "Covid families" under the banner: "Just drinks after a difficult day? Plenty of people were having difficult days, Boris".
Elsewhere, the Financial Times reports "Fed presses ahead with quarter point rate rise despite banking turbulence", while the Sun focuses on the Prince of Wales' secret visit to Poland with: "Wills the freedom fighter".
Today in Focus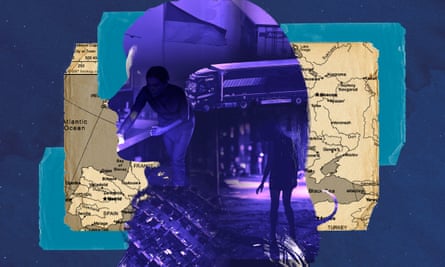 Trafficked: the trap – part one
A new four-part series telling the story of Julia, a Ukrainian woman who escaped modern slavery in the UK. Annie Kelly reports
Cartoon of the day | Steve Bell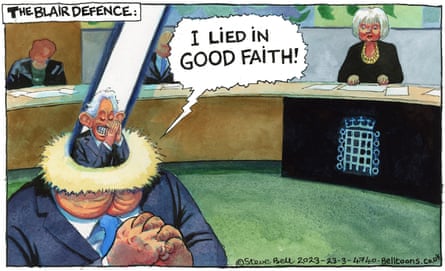 The Upside
A bit of good news to remind you that the world's not all bad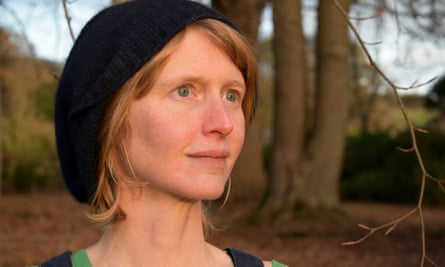 In this week's edition of the Guardian's A moment that changed me series, Meg Clothier writes about how a week with her 13-year-old cousin changed her perspective on what it means to be an adult.
When she was 30, Clothier was asked to take care of her cousin Megan for a week – an easy enough task, she thought. Clothier thought she would be a firm but fair type
, and that Megan would immediately defer to her. But, as the days went by, things did not go to plan. Megan wanted things her way – refusing to do her homework or go to school – and Clothier doubled down on her authority position.
This bubble burst, however, when Clothier's car broke down and she could not get it going again. Megan started laughing hysterically and, in that moment, something shifted in their relationship. "I could no longer cosplay the omniscient grownup. I was just a klutz who couldn't work a clutch," Clothier writes. The dynamic had changed and, 15 years later, the lesson she learned with her little cousin has stayed with her. "As soon as I stopped trying to be the boss of her, we started to have fun together – and that is what we've been doing ever since."
Sign up here for a weekly roundup of The Upside, sent to you every Sunday
Bored at work?
And finally, the Guardian's puzzles are here to keep you entertained throughout the day – with plenty more on the Guardian's Puzzles app for iOS and Android. Until tomorrow.