At least 20,000 National Guard troops may be deployed to help safeguard the nation's capital ahead of Joe Biden's inauguration next week.
"I think you can expect to see somewhere upwards beyond 20,000 members of the National Guard that will be here in the footprint of the District of Columbia," acting DC police chief Robert Contee said at a news conference on Wednesday.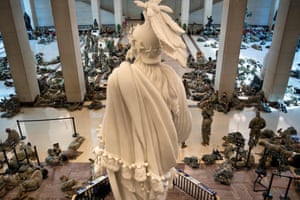 The announcement comes one week after a mob of Trump loyalists breached and vandalized the US capitol, where Biden will be inaugurated next Wednesday.
Despite threats of potential violence on Inauguration Day, Biden has said he is "not afraid" to take the oath of office outside on the Capitol steps.
No Senate impeachment trial before 19 January, McConnell's office says
Updated
at 1.16pm EST
Pelosi: Trump 'is a clear and present danger to the nation we all love'
Updated
at 12.49pm EST
House adopts rule to begin debate on article of impeachment