Rishi Sunak would almost certainly have known scientists were worried about his "eat out to help out" scheme during the pandemic, Sir Patrick Vallance has said, directly contradicting the prime minister's evidence to the Covid inquiry.
In potentially damaging testimony, Vallance, the UK government's chief scientific adviser during the pandemic, said he would be "very surprised" if Sunak, then chancellor, had not learned about objections to his plan to help the hospitality industry.
Sunak had written to the inquiry saying he "[did] not recall any concerns about the scheme" being raised in ministerial meetings despite growing concerns that the discount plan could fuel the spread of the virus.
An extract from Vallance's contemporaneous diary, in July 2020, provided evidence that Sunak also sought to push back against the scientists' advice. In one economics-based meeting, Sunak said "it's all about handling the scientists, not handling the virus", the entry said.
Vallance said: "There were definitely periods when it was clear that the unwelcome advice we were giving was, as expected, not beloved, and that meant we had to work doubly hard to make sure that the science evidence and advice was being properly heard."
In other evidence, Vallance said Boris Johnson at times struggled to follow basic scientific concepts crucial to Covid, such as the impacts of lockdown on waves of infection, and had to have them explained repeatedly.
Vallance described Johnson in his diary as "weak" and "indecisive" over a second lockdown in autumn 2020, and recalled the then prime minister arguing against restrictions because it would be mainly older people who would die and "they have had a good innings".
Asked about Sunak's eating out scheme, which gave millions of people discounts of up to £10 at restaurants and cafes in summer 2020, Vallance said he and other scientific advisers were not asked for their views before it was launched by the Treasury.
"Up until that point, the message had been very clear, which is interaction between different households and people that you weren't living with in an enclosed environment with many others was a high-risk activity. That policy completely reversed it," Vallance said.
"It is very difficult to see how it would not have had an effect on transmission and that would have been the advice that was given."
The inquiry was then shown an extract from the written witness statement of Sunak, who is due to appear in person next month, in which he said that before and after the scheme's launch he did "not recall any concerns about the scheme being expressed during ministerial discussions". These included meetings attended by Vallance and Chris Whitty.
Asked if this was correct, Vallance said it "would have been very obvious to anyone that this would inevitably cause an increase in transmission risk, and I think that would have been known by ministers".
Questioned by Andrew O'Connor, an inquiry counsel, whether this would include Sunak, Vallance replied: "I can't recall which meetings he was in, but I'd be very surprised if any minister didn't understand that these openings carried risk."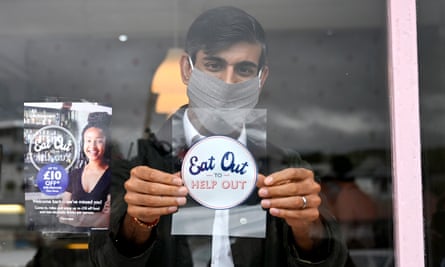 Asked whether Johnson fully understood the scientific concepts he was presented with, Vallance said the prime minister last studied science aged 15 and "would be the first to admit it wasn't his forte, and that he did struggle with some of the concepts and we did need to repeat them".
"It was hard work sometimes to try and make sure that he had understood what a particular graph or piece of data was saying," he explained.
This covered even scientific ideas fundamental to battling the virus, such as how and if interventions such as lockdowns could reduce the peaks of infection, Vallance told the hearing.
"He would look at the peaks of waves and infection and ask: 'Are the interventions we're making doing that or is this what would have happened anyway?'" Vallance said.
"And he did come back to that point, often. We had talked him through what the evidence was, that the interventions made the difference. Of course it is true that at some point they come down because at some point, public behaviour changes. But the point was that clearly these were being manipulated down by interventions."
Various other extracts from Vallance's diary shed a similarly unflattering light on Johnson, showing him repeatedly changing his mind over a second lockdown, with Vallance telling the hearing that the then prime minister "was influenced a lot by the press".
On 25 October 2020, the diary said, Johnson began a meeting on possible restrictions by arguing for, "letting it all rip. Saying yes, there will be more casualties, but so be it – 'they have had a good innings.'" The same entry also quoted Johnson as saying: "Most people who die have reached their time anyway."
Earlier in his testimony, Vallance said that by mid-March 2020, just over a week before Johnson imposed the first lockdown, data showed Covid "was far more widespread and was accelerating faster than anyone had expected". He added: "This was an occasion when I think it's clear that we should have gone earlier."
An extract from Vallance's statement showed his key takeaway from that period: "The most important lesson that I learned and stated repeatedly from the first lockdown onwards in respect of the timing of interventions was that you had to go earlier than you would like, harder than you would like, and broader than you would like."