What we learned – Monday 19 September
We will leave our live blog for the day here.
Here's some of what made the news today:
South Australia will drop its mask mandate for public transport from tomorrow, while New South Wales will follow on Wednesday.

The federal health minister, Mark Butler, has indicated some Covid rules will continue into 2023.

The NSW rail union has indicated it has provided a new application to the Fair Work Commission which would see Opal machines switched off during ongoing industrial action if approved.

The prime minister, Anthony Albanese, has said he would be very comfortable with King Charles III continuing to express his strong views on the need for action on climate change.

Origin Energy announced it would divest 100% of its interest in Beetaloo Basin.

The NSW state emergency service conducted about 20 flood rescues through the New England region over the weekend.
That's all from us until tomorrow.
If you're following the funeral of Queen Elizabeth II, you can find our UK colleagues providing the latest updates here.
Key events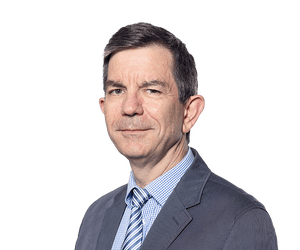 Peter Hannam
Mike Cannon-Brookes has 'reservations' about AGL's new chair
Signs of instability continue to swirl at AGL Energy, Australia's biggest electricity generator. As mentioned in an earlier, the company has appointed acting chair, Patricia McKenzie, as its new chair.
That followed reports last week that former Tabcorp chair Paula Dwyer was headed for that role, but then shareholders got antsy and the move was halted.
Anyway, Mike Cannon-Brookes, AGL's biggest shareholder and a climate campaigner as well as a billionaire tech entrepreneur, isn't happy about McKenzie formally taking over as the AGL chair.
Through his family investment vehicle, Grok Ventures, Cannon-Brookes said he has "reservations" about McKenzie "appointing herself to chair AGL given her involvement in the failed demerger and what has been a chaotic board renewal process".
"Grok believes AGL will be best served by a chair who is appointed externally (which we believed the board was working towards) and has either substantial renewable energy experience or major operational transformation experience," the company said.
"Grok again stresses the renewed Board needs independent, fresh thinking. We have one opportunity to get this right because the renewable energy transition is waiting to be captured by a reinvigorated AGL under new leadership," Grok said.
And in an ominous warning, Grok said it was "reserving our position in relation to our voting intentions" about McKenzie's appointment.
More happily, Grok supported and welcomed the appointment of Miles George (formerly the head of a wind farm operator) as an independent board member, and the choice of AGL's chief financial officer, Damien Nicks, as its interim chief executive.
More strife to come, you would have to think, when AGL updates the market soon about what it plans to do now its plans to split into two have been cancelled thanks to Grok's intervention.
AGL's shares ended down about 2% today compared with a 0.3% drop in the benchmark ASX200 share index.
EU-Australia free trade deal soon to be finalised
Negotiations for a long-lasting free trade deal between Australia and the European Union are on the eve of being finalised, with hopes an agreement will be ratified by 2024, AAP reports.
Australian officials including the trade minister, Don Farrell, met with a delegation of the EU Parliament Committee on International Trade (INTA) at Parliament House in Canberra on Monday to discuss its progression.
Negotiations with the bloc stalled under the former Morrison government over Australia's perceived lack of action on climate change, and the souring relationship with Paris after the dumping of a $90bn contract for French submarines.
The EU has welcomed the Albanese government's pledge to cut emissions by 43% on 2005 levels by 2030, and Australia's strong military support for Ukraine following Russia's invasion.
INTA committee chair, Bernd Lange, said the last time the entire delegation had travelled to Australia was the launch of negotiations in 2017, and he wanted this to be the "eve" of the conclusion of the deal.
He said he wanted the trade deal ratified by the end of the EU parliament's term in 2024.
Farrell, who was greeted by the EU ambassador-designate to Australia Gabriele Visentin, said discussions were "behind the eight ball".
"We're prepared to make all the time available that we need to achieve an agreement," he told the delegation.
"We want it to be a long and lasting agreement that benefits the people of both countries, expresses our democratic values and improves on the prosperity."
Farrell said officials also discussed sustainable development during the meeting, and how Australia could become a leading global supplier of green energy.
The European market has a gross domestic product of about $23tn, and Australia is seeking to improve access for agricultural and industrial products as well as create new opportunities for education, financial and professional services.
In the Victorian premier Dan Andrews' Twitter thread today on what level crossings would be removed should Labor be re-elected in November, he inadvertently made it look like he was going to be removing large parts of the inner-north suburb of Brunswick.
He's since clarified the people of Brunswick are safe, but not after the internet had a bit of fun with it.
Victorian toddler dies after being found unresponsive in Hamilton dam
A toddler is dead after being found unresponsive in a dam at a Victorian rural property, AAP reports.
Emergency crews including Victoria police and the SES were called to reports of a missing child at a large property at Hamilton in the state's west at 10.15am on Monday.
The child was found shortly after 1pm and taken to hospital, where they died.
The death is not being treated as suspicious and a report will be prepared for the coroner.
Investigation into truck and train collision in Victoria in July
A truck and train crash in central Victoria in July happened after a farmer opened a gate so hay could be picked up.
In a preliminary report released on Monday, the Australian Transport Safety Bureau found that on the morning of the crash in July, a farmer unlocked and opened the gates of a passive level crossing, near Bendigo, to allow a truck on to their property.
The crossing is not available for public access.
When the driver of a V/Line passenger train saw the truck on the crossing, they sounded their horn and pulled the emergency brake but collided with the truck.
The truck driver was seriously injured and the train driver suffered minor injuries. None of the V/Line train passengers were hurt.
The leading car of the train was substantially damaged, with both of its bogies derailed.
The accident also resulted in substantial damage to the track infrastructure and the truck.
"[We] will include review and examination of the arrangements for the use of this level crossing, the operation of the truck and the train involved, and the configuration of the level crossing," chief investigator Mark Smallwood said in a statement.
The investigation is ongoing.
Varroa mite eradication efforts hamper honeybee genetics program
Australia's national honeybee genetics program has suffered a significant setback after it was forced to destroy around 20 million bees in the Hunter region of NSW, due to the threat from the varroa mite, AAP reports.
While around 50 queen bees in the national Plan Bee project were preserved, some 342 hives each containing around 60,000 bees have been destroyed in the past fortnight.
"It's a significant impact to the project but the silver lining is that we will be able to work with the queen breeding sector around the nation and ramp up data collection and selection outcomes," Elizabeth Frost, from the NSW Department of Primary Industries and the Plan Bee project, said.
While the hives at Tocal Agricultural College near Newcastle were found to be free of the deadly mite, they had to be euthanised because they fell in one of the varroa eradication zones.
Under a permit system, developed to protect bees with high genetic value, 50 queen bees were found homes elsewhere in NSW.
"It only applies to queen breeders, of which there are very few in the red [eradication] zone, so that's a beekeeper that produces queen bees for sale. In Australia there's a very small queen breeding sector," Frost said.
The varroa mite was first detected near the port of Newcastle in June and an emergency order was introduced in NSW to try to prevent the spread of the deadly mite.
Frost said the honeybee genetics project which has been running since February 2020 will continue but given the hives at Tocal contained the largest bee population and the reference group, the project has been "significantly impacted."
"Whilst this is a disappointing setback, the program will continue and the genetic and production data we have generated so far lives on," she said.
She said it's now more important than ever for bee breeders to support the national genetics program by collecting data on their own genetic lines and submitting that data to the Plan Bee project.
"The real strength of this national program comes from the diversity and volume of data we generate."
Rolling coverage of Queen's funeral begins
We've now entered the phase of TV channels beginning their coverage of Queen Elizabeth II's funeral. The actual funeral doesn't begin until 8pm tonight.
You can read more about how that will all work below.
NSW to end mask mandate on public transport
NSW has followed South Australia in ending the requirement for people to wear masks on public transport from Wednesday 21 September.
That will include all public transport, taxis and ride share.
NSW health recommends people wear masks where they can't physically distance or in settings where there are vulnerable people and those who are at high risk of severe illness.
NSW Health continues to recommend that people wear masks where they cannot physically distance from others, and in settings where there are vulnerable people and those who are at high risk of severe illness.
The health minister, Brad Hazzard, said:
Continuing to wear a mask in crowded areas will be particularly important for people who have underlying health conditions or who are vulnerable to Covid-19 infection for other reasons. Wearing a mask in these settings will not only protect those around you, but will also reduce your risk of infection.

We can all continue to help protect each other, but particularly those most vulnerable to Covid-19 infection, by staying at home when feeling unwell, taking a Covid-19 test straight away and self-isolating.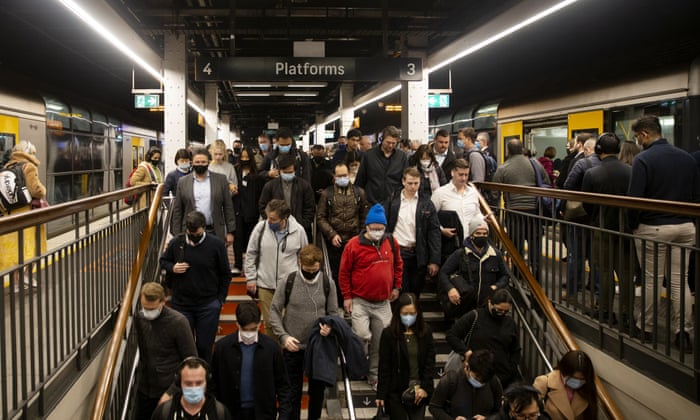 Union bid to turn off NSW ticket card readers may proceed
More on that last post, via AAP:
A rail union plan to deactivate the NSW transport network's Opal card readers could still go ahead despite government claims the plot to switch off the ticket scanners could be illegal.
The union is now confident it will prevail and have the readers switched off as part of its industrial campaign, calling the government's tactics "desperate".
The union withdrew its initial application to shutdown the readers, after the government appeared to identify a fault in its filing.
"We went through a fairly severe process to make sure that it was legal and above board," RTBU secretary Alex Claassens told media on Monday.
"However, the government of course, in its midnight application, identified that there may have been a particular issue with a process.
"So it was a matter of ticking boxes in a particular format."
A new application to switch off the readers was filed on Monday morning, which the union is confident will stand up, Claassens said.
"It was just a last-minute desperate bid to try and stop us from locking those gates open and allowing the commuters of NSW to travel for free," Claassens added.
A decision over whether the Opal scanners can be shut down will be made during a hearing in the Fair Work Commission (FWC) in the next 48 hours.
If the commission accepts the actions, the readers will be switched off 10 days later.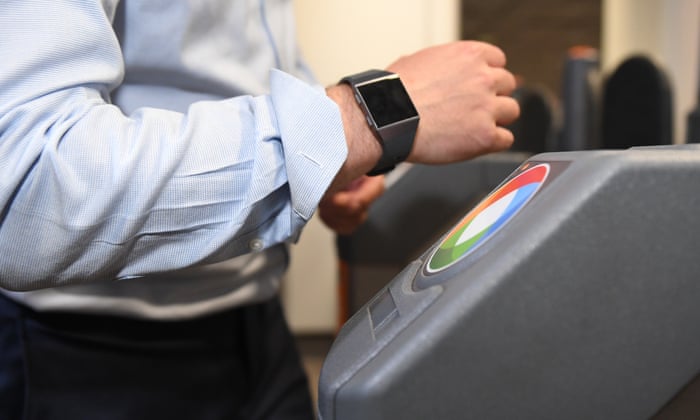 Reports NSW train union in bid to shut off ticket machines
Radio station 2GB is reporting that the rail union has made an updated application to the Fair Work Commission to shut off Opal machines as part of the ongoing industrial action over the pay dispute in NSW.
Fatal plane crash in Queensland
Queensland police say the forensic crash unit is investigating a fatal plane crash at Canaga.
An agricultural aircraft lost altitude while crop dusting near Chinchilla Wondai Road and crash landed in a paddock, the police said:
The pilot, believed to be a man in his 30s, was the sole occupant of the aircraft and passed away at the scene.

A crime scene has been established.

The forensic crash unit, working alongside the Australian Transport Safety Bureau (ATSB), will prepare a report for the coroner.
Priya Nadesalingam signs book deal
The mother of the Tamil asylum seeker family at the centre of a four-year legal battle to stay in Australia, is writing a memoir of her family's experience of being held within Australia's immigration detention system.
Not going to get any warmer for quite a few of us this week.
Australia condemns cyber attacks against Albania
The foreign affairs department has released a statement condemning the cyber attacks directed at Albania at the moment.
The statement says:
Australia condemns the recent cyber attacks on critical infrastructure in Albania.

Australia is committed to upholding the rules-based order online, just as we do offline. We call on all countries to act in a responsible manner in cyberspace in order to build trust and cooperation, in pursuit of our mutual interest in a peaceful and stable online environment.
The attacks on government agencies have been attributed to Iran by the Albanian government, a claim Iran denies.
Moderate flood warning issued for Lodden River in Victoria