6.20am EDT06:20
Arlene Foster, the DUP first minister, is speaking now.
She says when politics fails in Northern Ireland, the vacuum will be filled by people offering destruction and despair.
"So political problems require political solutions", she says, not street violence.
She says "responsible leadership" will not cherry pick problems, or deny the existence of the most difficult challenges.
She says MLAs should redouble their efforts to solve problems peacefully.
6.17am EDT06:17
NI's justice minister suggests Brexiters' 'deception' has contributed to rioting
Naomi Long said it was particularly depressing that some of those involved in the rioting were children, some as young as 12 or 13. She said the fact they were being encouraged by adults to get involved in violent confrontation was "nothing short of child abuse".
She said there were many theories as to why the rioting was happening, and that there could be "an element of truth in each of them".
Brexit had caused simmering tensions for months, she said. She said she had some sympathy for people who feel betrayed. They were promised "sunlit uplands", but those promises were not realistic, she said.
And she said Brexit was supported by those in government who were "more interested in their own ascent" than in the damage their "deception" could cause in Northern Ireland.
This sounded like an obvious reference to Boris Johnson.
6.10am EDT06:10
In the assembly Naomi Long is opening the debate. She is justice minister in the executive, and leader of the cross-party Alliance party.
She has tabled the motion MLAs are debating. It says:



That this assembly notes with concern the violence on our streets over recent days and condemns without equivocation those involved; sends best wishes to those police officers attacked or injured whilst protecting the community and extends its sympathy to those members of the public who have suffered distress, loss or damage as a result; reaffirms its full commitment to support for policing and for the rule of law; recognises that leadership comes with responsibility; recommits to upholding a culture of lawfulness in both actions and in words; and calls for an immediate and complete end to this violence.
6.08am EDT06:08
And here are some more Northern Ireland developments this morning.
The Police Service of Northern Ireland said a total of 55 police officers have been injured across several nights of disorder in Northern Ireland.
PSNI assistant chief constable Jonathan Roberts urged political leaders to unite in opposition to the rioting. He said:



We have seen scenes last night of a new generation of young people who have been exposed to scenes that I'm sure we all thought were in generations gone by, and I would encourage anybody in a position of leadership – political representatives, community representatives, parents – take an interest in what young people are doing and to have a united message to prevent further scenes like we witnessed last night.
Mark Lindsay, the chair of the Northern Ireland Police Federation criticised the calls from unionists, including from the first minister Arlene Foster, for the chief constable to resign. Lindsay said:



I think the executive need to stand together and need to make very, very firm statements around where they stand in the support in law and order. They cannot differentiate between supporting the chief constable and supporting officers on the ground.

Policing needs leadership, it needs a chief constable, and really in the middle of a crisis this isn't terribly helpful.

We all have to work with our chief constable, we do need a chief constable. I don't think removing him at this stage would be terribly helpful.
6.01am EDT06:01
Louise Haigh, the shadow Northern Ireland secretary, issued this statement about the rioting this morning.



This reprehensible violence serves absolutely no purpose, and political leaders must be united in condemning it.

Recent days have demonstrated that the peace process is fragile – this moment demands leadership.

The prime minister must convene cross-party talks in Northern Ireland, and engage with the joint-custodians to the Good Friday agreement, the Irish government to find solutions and resolve tensions.

The complex challenges facing Northern Ireland demand a prime minister to step-up – as a custodian to the Good Friday Agreement – and show responsibility. That has to include being honest about the consequences of his Brexit deal for Northern Ireland.

The political challenges facing Northern Ireland must be resolved through dialogue alone and the people of Northern Ireland have to see politics working for them.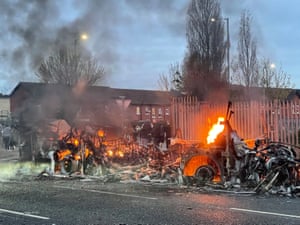 5.53am EDT05:53
Northern Ireland assembly to hold emergency session to debate rioting crisis
In Northern Ireland members of the legislative assembly (MLAs) are going to debate the rioting that has been taking place in the region for more than a week now. The assembly has been recalled especially for this session, which will start at 11am.
The cause of the rioting are complex. Some of it might be best viewed as criminality, but there is undoubtedly a political element because loyalists elements have played a prominent role and anger about the impact of post-Brexit Northern Ireland protocol does seem to be one factor inflaming their sense of grievance. Another was the decision not to prosecute any Sinn Fein politicians who attended the funeral of former IRA leader Bobby Storey, in apparent defiance of Covid regulations.
Here is our latest story on the situation.
5.41am EDT05:41
A total of 719 deaths registered in England and Wales in the week ending 26 March mentioned Covid on the death certificate, according to the Office for National Statistics.
As PA Media reports, that's the lowest number since the week ending 16 October. The figure is down 25% on the previous week's total.
Those 719 deaths account for one in 14 (7.2%) of all deaths registered in England and Wales in the week to 26 March.
5.21am EDT05:21
David Cameron, the former prime minister, has been dodging the media for weeks now to avoid questions about his lobbying for Greensill Capital, but he has broken his silence this morning to pay tribute to Peter Ainsworth, a former member of his shadow cabinet. Ainsworth has died at the age of 64.
Boris Johnson has also paid tribute.
5.15am EDT05:15
Mark Drakeford, the Welsh first minister, has said that there should only be a referendum on independence in Wales if Plaid Cymru wins a majority in the Senedd. Speaking on the Today programme, he said:



I've always believed that if a party won an election in Wales with a referendum on independence in its manifesto then it would've won the right to hold such a referendum.

But if a party puts that proposition and doesn't win a majority it couldn't expect that that then would be implemented.
But asked if he would rule out a coalition with Plaid Cymru if it insisted on that as a condition for working with Labour, he replied:



I think that's a very long way off and will not be the preoccupation of this election.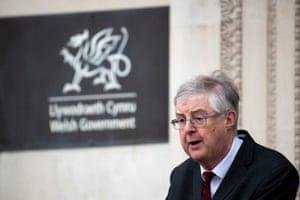 4.58am EDT04:58
Hancock does not deny reporting saying AZ vaccines have been shipped from UK to Australia
And in an interview on Sky News this morning Matt Hancock, the health secretary, did not deny a story in the Sydney Morning Herald saying that more than 700,000 doses of the AstraZeneca vaccine manufactured in the UK have been flown to Australia. The first shipment landed in February, and the paper suggests the Australian government did not reveal they were from the UK to avoid embarrassing Boris Johnson's government.
Hancock said the UK government did not supply the doses, and that what the company did was up to them. He said:



In terms of what the companies do, these companies are manufacturing for all around the world and we source from everywhere in the world, so what I'm in control of, what matters for us as the UK Government, is making sure that we get the supplies that we have got contracted from the companies.
4.48am EDT04:48
In his interviews this morning Matt Hancock, the health secretary, refused to say whether the government would make it compulsory for care home staff to get vaccinated. But he said 80% of them had already had the jab. He said:



I'm very pleased to say that the uptake of the vaccine in care home workers is now 80%, four in five. There's still more work to do but I'm very grateful to the care home workers who've been coming forward.
3.47am EDT03:47
Matt Hancock says AstraZeneca vaccine 'safe at all ages' in bid to reassure public
Good morning. Yesterday's announcement from the government that people under the age of 30 will be allowed to reject AstraZeneca and choose another vaccine because of the possible link to extremely rare types of blood clots was always likely to do some damage to public confidence in the vaccine programme. As my colleague's Sarah Boseley and Daniel Boffey report in their overnight story, one public health expert described this as "a severe blow to the public's vaccine confidence". And so it is not surprising that Matt Hancock, the health secretary, has been out this morning seeking to reassure people.
Here are some of his key messages.
Hancock said the AstraZeneca vaccine was "safe at all ages". That was the view of the UK regulator, the Medicines and Healthcare products Regulatory Agency, he said, and its EU equivalent, the European Medicines Agency. He said that yesterday's decision about offering a choice to the under-30s was just taken out of "an abundance of caution".
He said that the UK had "more than enough" Pfizer and Moderna doses to cope if under-30s do reject the AstraZeneca vaccine. He explained:



Anybody who's had the jab should continue with the second jab because there's no evidence of this affect after a second jab and we have more than enough Pfizer and Moderna vaccine to cover all of the remaining 8.5 million people aged between 18-29 if necessary.
He also said the speed of the overall vaccine rollout programme would not be affected by yesterday's decision.
He said the risk of developing a severe blood clot from the Astrazeneca vaccine was about four in a million – the same as the risk from taking a long-haul flight. He said:



The safety system that we have around this vaccine is so sensitive that it can pick up events that are four in a million – I'm told this is about the equivalent risk of taking a long-haul flight.
He said young people should continue to get vaccinated not just because of the risk of death from Covid, but also because of the risk of long Covid. He said:



Covid is a horrible disease and long Covid affects people in their 20s just as much it seems as any other age group and can have debilitating side effects that essentially ruin your life.
Here is the agenda for the day.
9.30am: The ONS publishes the latest weekly death figures for England and Wales, as well as figures from its infection survey about the characteristics of people testing positive for coronavirus.
11am: Members of the Northern Ireland assembly debate a motion on the recent rioting. The assembly has been recalled from its recess for the occasion.
2pm: Public Health England publishes its weekly Covid surveillance report.
Also, Sir Keir Starmer is on a visit to Bristol.
Politics Live has been mostly about Covid for the last year and I will be covering UK coronavirus developments today, as well as non-coronavirus politics. For global coronavirus news, do read our global live blog.
I try to monitor the comments below the line (BTL) but it is impossible to read them all. If you have a direct question, do include "Andrew" in it somewhere and I'm more likely to find it. I do try to answer questions, and if they are of general interest, I will post the question and reply above the line (ATL), although I can't promise to do this for everyone.
If you want to attract my attention quickly, it is probably better to use Twitter. I'm on @AndrewSparrow.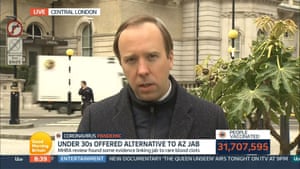 Updated
at 5.00am EDT