Good morning. Covid has become a polarising topic that many people just want to forget about. Earlier this year, the World Health Organization officially declared the pandemic over. Cases, hospitalisations and deaths are at their lowest levels, though infections have undoubtedly become more difficult to track as monitoring systems are dismantled. But even so, experts have made it clear that Covid will be with us for many years to come even though the acute phase of the health emergency is over.
Like an unwelcome guest that does not know when the party is over, Covid has continued to mutate and shape shift, creating a viral, ever expanding family tree through its numerous variants and sub-variants, with Eris the latest of interest to the WHO. Many thousands of vulnerable people are still shielding in the UK – poorly protected by a government that would rather ignore the problem. And with record waiting lists in the NHS, is the country any better prepared for a future pandemic than it was in 2020?
For today's newsletter, I spoke to Sheena Cruickshank, an immunologist and professor in biomedical sciences and public engagement at the University of Manchester, about what our future with Covid might look like.
In depth: 'It's short sighted to not try to reduce the chance of last winter happening again'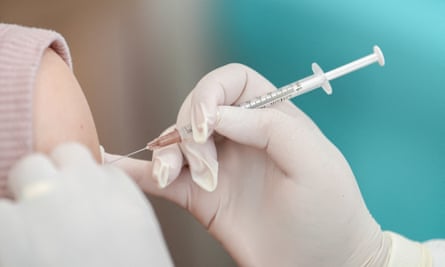 For most people Covid has faded into the background of their life. But the truth is that despite how much the UK government may pretend it doesn't exist, coronavirus has not gone away entirely. We are now in a phase where there are many descendants of Omicron, the Covid variant that was first discovered in South Africa in 2021, that induce multiple "mini waves" rather than seasonal surges, Sheena Cruickshank says. Since June, cases of Covid and hospitalisations have been on the rise: Covid infections made up 5.4% of respiratory cases in the last week reported, up from 3.7% in the previous week. It is not possible to say with any real certainty though how many infections are actually happening everyday in the UK now that tests are charged for and the Office for National Statistics no longer publishes infection data.
Experts have been quick to say that the rise that has been recorded is from an already low base, so these surges are not as widespread as they used to be. And these new mini waves are also less deadly as an estimated 95% of UK adults have antibodies that provide a "sufficiently strong immune response", either from vaccinations or past infection.
---
The state of subvariants
The latest EG.5 sub-lineage of the Omicron variant, unofficially named Eris, has been declared a variant of interest by the WHO. In England it accounts for an estimated 15% of sequenced Covid-19 cases. It was first detected this February and cases have been steadily rising around the world since.
Though there is no evidence that there are higher risks with Eris or that it is causing more severe disease than other current variants of interest, it is being closely monitored, Cruickshank says. "We have to watch out for it because it has a growth advantage and there is some evidence to indicate that it can avoid the immune response [more easily than some circulating variants]."
---
A new wave of vaccines?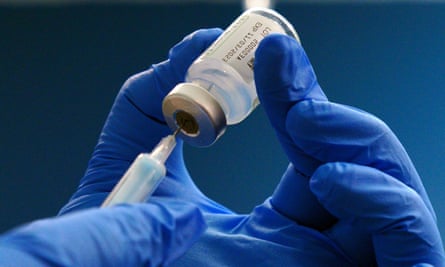 The UK's cost-effectiveness approach to vaccinations has meant that the government has rolled back access to free flu and Covid jabs for millions of people under the age of 65 in England despite one of the government's top public health officials warning that Covid has not "gone away". While the flu jab can be purchased, the Covid vaccine is not available privately, so those who do not get free access this year will be unable to buy it themselves.
Last year's "tripledemic" – composed of the flu, RSV and Covid – resulted in high levels of hospitalisation that put significant pressure on the NHS. This year there are concerns that a similar wave of infections could take hold, especially if flu jabs are not widely available. Many health professionals are worried that now, with record waiting lists that are still growing, the NHS will buckle under the strain. "We think it's going to be a bad flu year this winter because Australia's having a really bad time with it right now and that tends to be a bit of a predictor," Cruickshank says. The government's decision to roll back access to vaccines is a "gamble", she adds. "I think it's rather short sighted to not try to reduce the likelihood of last winter happening again."
A policy that centres cost above all else is not one that is being employed everywhere: the US, along with a number of other countries, has been looking at developing longer term vaccines. "I would have liked to see a little bit more of a movement here in the UK for the development of a vaccine that can protect the population against multiple variants or perhaps one that gives longer lasting tissue immunity so it stops people from getting the infection," Cruickshank says.
---
Vulnerable people
While most people who have a healthy immune system have been able to largely ignore Covid in the past year, there are around 500,000 clinically vulnerable people who are still deeply affected on a daily basis by the virus. Cruickshank is in contact with a number of clinically vulnerable groups who have relayed their experiences to her. "It's been really life altering for them. They talk about the difficulty they have making decisions to do anything because people aren't being safe around them," she says. Even basic things like going to see a medical professional has become a challenge because some are no longer wearing masks during appointments.
---
Are we prepared for another pandemic?
Another pandemic is inevitable. The WHO says it is a case of when, not if, and that we should be ready to act "decisively, collectively, and equitably".
We know from the first stage of the Covid inquiry that coming into the pandemic, the British government was woefully unprepared. So after three years, 225,000 deaths and a transformed society, is Britain better prepared for the next time? Cruickshank is cautiously hopeful: "We've shown that we can cooperate as scientists and clinicians really well. We have great programmes to evaluate treatments as well." But not all experts are so optimistic and the defensiveness that has emerged from a number of politicians during the inquiry gives her pause.
"I'm not seeing anything that's been done to tackle inequality and the continued stretching of the NHS, which are both factors that made the pandemic much worse," cautions Cruickshank. "We should be learning lessons from this and tackling these issues head on so we are better prepared."
What else we've been reading
The front pages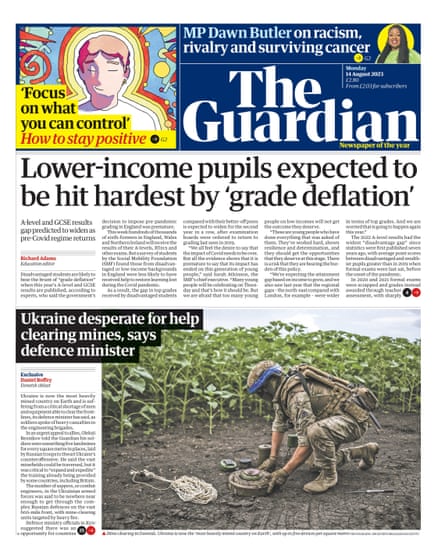 "Lower-income pupils expected to be hit hardest by 'grade deflation'" is our Guardian front-page lead this Monday morning. "Tent crash baby in miracle escape" says the Metro – or as the Daily Mirror puts it, "Baby in hols tent terror". "Children 'ignored' by Covid inquiry" – that's the Daily Telegraph while the Times says "Shots fired in migrant clash before vessel sank". "Patients trying to 'escape' Labour's Welsh NHS" is the Daily Mail splash. The i gives us "Surprise hike to inflation next month will boost state pension". The Financial Times has "Russian groups fudge freight costs to mitigate impact of G7 oil price cap" while the lead story in the Daily Express is "Brexit boost bringing business back to Britain".
Today in Focus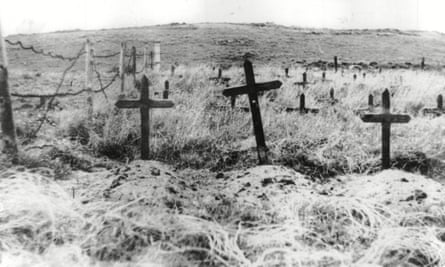 Uncovering the truth of the Nazi occupation of the Channel Islands
In 1940 the German army took over the Channel Islands and built concentration camps on Alderney where hundreds, possibly thousands, of people died. Now a UK government review will attempt to get to the truth of what really happened
Cartoon of the day | Edith Pritchett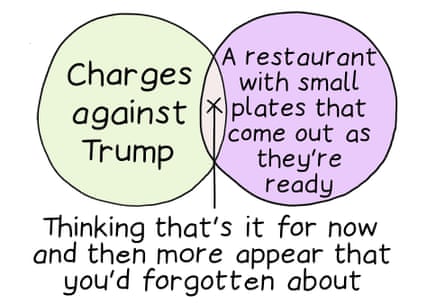 Sign up for Inside Saturday to see more of Edith Pritchett's cartoons, the best Saturday magazine content and an exclusive look behind the scenes
The Upside
A bit of good news to remind you that the world's not all bad
Despite have been twice nominated for a Bafta, Grumpy Old Women producer Judith Holder found herself sidelined by the TV industry in her 50s. In the latest A new start after 60 column she tells Paula Cocozza about her subsequent career reinvention as co-presenter of the podcast Older & Wiser with the comedian Jenny Eclair, which has hit over 5.5m downloads and spawned a string of sold-out London live shows last month. Says Holder of taking to the stage for the first time in her 60s: "I'm doing this on my own account – and feeling the rush of approval and empathy and warmth."
Sign up here for a weekly roundup of The Upside, sent to you every Sunday
Bored at work?
And finally, the Guardian's puzzles are here to keep you entertained throughout the day – with plenty more on the Guardian's Puzzles app for iOS and Android. Until tomorrow.