11.06pm EST
23:06
One Nation senator, Pauline Hanson, who has previously expressed "respect" for Putin's patriotism, has condemned Russia's invasion of Ukraine.
"I condemn in the strongest terms the armed invasion of Ukraine by Russian forces, and I condemn in the strongest terms the Russian leader Vladimir Putin for his unprovoked attack on a sovereign nation," Hanson told Guardian Australia.
"I am very concerned about the Russia-China axis and the challenge it represents to free nations around the world."
"I am very concerned the attack on Ukraine is being orchestrated to test western resolve and take the focus off China's belligerence towards Taiwan.
"I feel for the people of Ukraine, but Australia must remain firmly focused on security challenges in the Indo-Pacific region."
Hanson also echoed remarks made by defence minister Peter Dutton last week about the likelihood of China watching the local response to the Ukrainian invasion.
"I have no doubt Xi Jinping is watching how the west reacts very closely, perhaps even hoping for a significant military deployment in Europe that diverts US forces from Asia, but I don't have confidence in US president Joe Biden's ability to meet this challenge in a way that discourages future armed conflicts," Hanson said.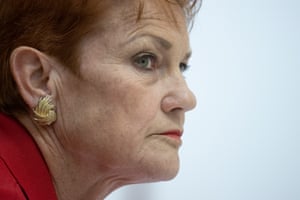 Updated
at 11.10pm EST
10.24pm EST
22:24
Scott Morrison also said the government was still considering expelling Russian diplomats, saying Australia was working in lockstep with allies on the best approach.
He said he welcomed the decision to disconnect Russia from the Swift financial transaction system, which Australia had called for last week in line with calls from the Ukrainian community:



Russia must pay a heavy price. They must pay a heavy price and we will continue to add to that price, as we consider every single option that is in front of us.
When asked if that included the expulsion of diplomats from Canberra, Morrison said:



I am taking nothing off the table.
Updated
at 10.39pm EST
10.15pm EST
22:15
Australia to help provide 'lethal aid' to Ukraine, Scott Morrison says
Prime minister Scott Morrison has spoken about the war in Ukraine after attending a peace vigil at St Andrew's church in Lidcombe.
Morrison said the government was now looking to upgrade its support to Ukrainian forces with the provision of "lethal aid" to Ukraine through Nato countries. Previously, the government said it was providing non-lethal military equipment, but would not go into detail as to what this comprised.
He said:



The Australian government will continue to stand up for what is right when it comes to Ukraine. We are already providing significant support in terms of non-lethal aid, and I've just spoken with the defence minister and we'll be seeking to provide whatever support we can for lethal aid through our Nato partners, particularly the United States and the United Kingdom. And we'll be working through those channels because that's the most effective way to do it.
The PM said the government was now processing visas from Ukraine as a priority, and indicated more humanitarian assistance would be forthcoming:



At present, our focus is what's occurring in Ukraine right now and providing the immediate relief to those who have been coming across borders, as hundreds of thousands of people are becoming displaced. The world community will work together on all of those issues, but Australia will be very prepared to take more and more [people] as we have with Afghanistan."
He said the government was still considering further actions against Russia, including the potential to cease all trade.
Morrison also said he did not want to draw parallels with China and Taiwan, saying he believed it was "unhelpful" to compare the two situations:



The situations are very, very different, the situation in Taiwan and the situation in Ukraine, so i want to put Australians with ease in not conflating those two issues.
Updated
at 10.21pm EST