The US Department of Justice has accused Steve Bannon, the Trump ally and adviser charged with criminal contempt of Congress, of trying to try his own case through the media.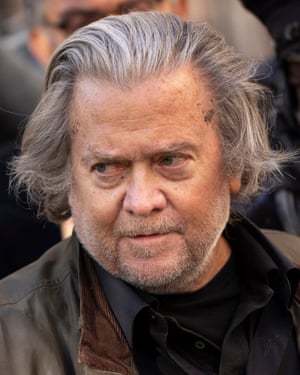 Bannon pleaded not guilty to the rare charge, which carries jail time and a fine and which arises from his refusal to co-operate with the House select committee investigating the deadly attack on the US Capitol on 6 January, by Trump supporters seeking to overturn the presidential election.
On Sunday, the DoJ filed a response to Bannon's request for all records in the case to be made public.
Assistant US attorney Amanda Vaughn wrote: "The defense's misleading claims, failure to confer, unexplained wholesale opposition, and extrajudicial statements make clear the defense's real purpose: to abuse criminal discovery to try this case in the media rather than in court."
Bannon's request, last Wednesday, came with a statement to the Washington Post.
"Members of the public should make their own independent judgment as to whether the US Department of Justice is committed to a just result based upon all the facts," the statement said. "In the opposition filed today, Mr Bannon asked the judge to follow the normal process and allow unfettered access to and use of the documents."
Vaughan made clear prosecutors have been aware of Bannon's tactics from the start, writing with reference to his appearance in court earlier in November: "Upon release from custody, the defendant and his counsel gathered the press outside of the courthouse and made a five-minute statement about the pending charges.
"See 'Misdemeanor from Hell': Watch Bannon Speak Out After He's Released, CNN, 15 November 2021".
Vaughan also wrote that Bannon had "indicated he intends to publicly disseminate [court] materials for an improper purpose: to make extrajudicial arguments about the merits of the case pending against him and the validity of the government's decision to seek an indictment.
"Contrary to what the defendant told the Washington Post, allowing unfettered public access to discovery materials, regardless of their use or relevance to public judicial proceedings, is not the 'normal process'. It is the opposite of normal."
Here's more on the 6 January committee and what might be coming this week: