1.14am EST01:14
One in seven could still be infectious after five-day Covid isolation
One in seven people who have tested positive for Covid could still be infectious if released from isolation upon receiving a negative lateral flow result after five days, new data suggests.
Across the UK people are now allowed to leave self-isolation on day seven, provided they have had two negative lateral flow tests in the past 24 hours and do not have a fever.
However, the prime minister has indicated he is in favour of further reducing the quarantine time to five days, if backed by scientific evidence. Experts have cautioned there is presently little data to back the move.
According to work previously released by the UK Health Security Agency (UKHSA), the proportion of people estimated to remain infectious five days after the onset of Covid symptoms, or a positive Covid test, is 31%. A small Japanese study has similarly suggested a substantial proportion of those infected with the Omicron variant remain infectious at five days.
Read the full story here.
12.46am EST00:46
Djokovic blames agent for Australian paperwork 'mistake'
Novak Djokovic has blamed his agent for an "administrative mistake" when declaring he had not travelled in the two weeks before his flight to Australia and acknowledged an "error of judgment" by not isolating after he tested positive for Covid.
The world No 1 released a statement on Wednesday in a bid to address what he called "continuing misinformation" about his activities in December before he came to Australia in a bid to retain his Australian Open crown.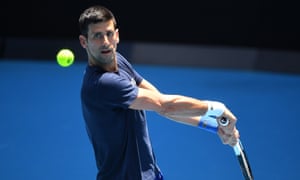 But Djokovic's statement, posted to Instagram, did not address reports by Der Spiegel claiming apparent anomalies with his 16 December PCR test result. The reporting has raised questions about the positive Covid diagnosis that forms the basis of his exemption to travel to Australia.
Wednesday's statement claims he wasn't notified of his positive result until 17 December despite Djokovic's affidavit to the federal circuit court that he was both "tested and diagnosed" on 16 December.
Read the full story here.
12.03am EST00:03
The origin of the Omicron outbreak in Tianjin, China is eluding authorities, who have warned of the need to prepare for a "worst case scenario".
Health officials are investigating how the new strain of Covid-19 arrived in the city after genomic sequencing showed the current cases had a different source to earlier imported cases.
China's first imported cases of Omicron arrived in Tianjin in early December, but Zhang Ying, deputy director of Tianjin's CDC told state media on Monday they did not match the source of the current cases.



We cannot directly rule out that the virus is imported directly, because the spread of virus is not only through humans, but it can be spread via objects or environmental [contamination].

We are still investigating other possibilities for the virus to be imported to Tianjin directly…There is another option – would it be possible that it is not imported but came from other areas [in China] and spread to Tianjin? We are tracing this simultaneously and we have found some clues already."
China has frequently attributed infections to imported cold chain goods, despite it being generally considered a slim chance of infecting people by international scientists.
Tianjin today launched a second round of testing among the population of 14 million. The first round detected 77 cases among the first 7.9 million tests.
10.44pm EST22:44
New Zealand's navy has conducted an unusual mercy mission to retrieve two people stranded in Singapore for 18 months due to Covid-19.
A medical condition meant the two could not fly to New Zealand, and their shrinking bank balance made staying in Singapore difficult.
According to documents released under the Official Information Act, the mission occurred after an adviser to New Zealand's high commission to Singapore interceded on the pair's behalf, saying their position was "very unique" and he feared "their situation could turn into one that is even worse".
The couple, whose case was first reported by Stuff, received a special exemption to travel on board the HMNZS Canterbury, which was being refurbished in Singapore at the time. The ship left Singapore in November 2021. The journey took 19 days, meaning the couple did not need to quarantine upon arrival in New Zealand.
Read the full story here.
8.38pm EST20:38
Quebec to impose 'health tax' on unvaccinated
Quebec, Canada's second-most populous province, has announced plans to impose a 'health tax' on residents who refuse to get the Covid-19 vaccination for non-medical reasons.
Premier François Legault announced the new "contribution" for the unvaccinated on Tuesday, adding that it will apply "in the next few weeks".
"A health contribution will be charged to all adults that don't want to get vaccinated," he said. "Those who refuse to get the shot bring a financial burden to hospital staff and Quebecers. The 10% of the population can't burden the 90%."
Read the full story here.