8.12am EDT08:12
UK PM defends booster programme as 'priority' over vaccine donations
Updated
at 8.17am EDT
7.00am EDT07:00
Pfizer vaccine safe for children aged 5-11, drugs company says
Updated
at 7.14am EDT
5.27am EDT05:27
Workers in Ireland have started returning to offices for the first time since March 2020 after the latest easing of Covid restrictions.
The government on Monday also allowed the resumption of indoor group activities such as dance and yoga for up to 100 people who are vaccinated or have recovered from the virus. Bowling alleys and amusement arcades can also reopen.
The full vaccination of 90% of those aged over 16 had enabled the relaxation, said the taoiseach, Micheál Martin. He added:



If we continue this progress, we can look forward to the further removal of public health restrictions, to be replaced by guidance and advice.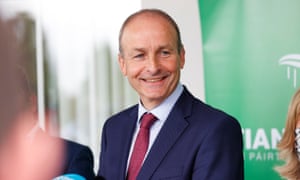 Leo Varadkar, the deputy prime minister, thanked employers and employees for respecting pandemic rules and said remote working should become a permanent fixture of Irish life.
A small group of anti-vaccination protestors picketed Varadkar's Dublin home on Sunday.