5.32pm EDT17:32
AstraZeneca's Covid-19 vaccine shows 74% efficacy in large US trial
AstraZeneca's Covid-19 vaccine demonstrated 74 per cent efficacy at preventing symptomatic disease, increasing to 83.5 per cent in people aged 65 and older, according to results of the company's US clinical trial published today.
This data looked at more than 26,000 volunteers in the United States, Chile and Peru, who received two doses of the vaccine spaced about a month apart, Reuters reports.
Dr Anna Durbin, a vaccine researcher at Johns Hopkins University and one of the study's investigators, said of the overall result: "I was pleasantly surprised.
"It was also highly protective against severe disease and hospitalisation."
There were no cases of severe or critical symptomatic Covid-19 among the more than 17,600 participants who got the vaccine.
This compares with eight such cases among the 8,500 volunteers who got the placebo.
There were two deaths in the placebo group, but none among those who received the vaccine.
There were also no cases of a rare blood clotting side effect called thrombosis with thrombocytopenia that has been linked to the AstraZeneca vaccine.
The results were published in the New England Journal of Medicine.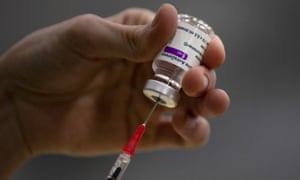 4.55pm EDT16:55
Alabama lawmakers are set to approve a plan to use $400 million (£298 million) from Covid-19 relief funds to build three new prisons, AP reports.
The House of Representatives voted 74-26 for the $1.3 billion construction plan and 75-25 to use $400 million from the state's share of American Rescue Plan dollars to help pay for the construction.
The bills now move to the Alabama Senate, reports AP.
However, the proposal has been slammed by state Democrats, who argued it will not solve the prison problems and said the state has needs in health care and education that could be helped by the $400 million.
The lone Democrat in Alabama's congressional delegation, U.S. Rep. Terri Sewell, wrote on Twitter that she is disturbed her state is using the pandemic money for prisons, "especially as the virus rages in our state."
"To be clear, the current state of the Alabama prison system is abhorrent, but the use of Covid-19 relief funds to pay for decades of neglect is simply unacceptable," she said.
The Department of Justice last year sued Alabama, saying male inmates in the state live in prisons "riddled with prisoner-on-prisoner and guard-on-prisoner violence."
4.34pm EDT16:34
The European Union will extend a mechanism to monitor and potentially limit the export of Covid-19 vaccines from the bloc until the end of 2021 instead of the current deadline of the end of September, Reuters reports.
Earlier this week, the European Commission, the EU's executive, had said it would propose such an extension.
However, initially not all governments supported it as EU vaccination campaigns have been advancing quickly and there are no longer any shortages of shots compared to the first half of the year.
Uncertainty about the need to secure booster shots as new variants of the coronavirus emerge had convinced all governments to retain some control over exports, an EU official said.
3.50pm EDT15:50
The Washington Post reports on the child care crisis fuelled by the pandemic which is preventing people returning to work in the United States.
The profession is down 126,700 workers from pre-pandemic levels, according to employment data.
As the economy reopens, however, the lack of child care is hampering efforts for some parents to find work or return to work.
3.40pm EDT15:40
Brazil hospital chain accused of hiding Covid deaths and giving unproven drugs
One of Brazil's biggest healthcare providers has been accused of covering up coronavirus deaths, pressuring doctors to prescribe ineffective treatments, and testing unproven drugs on elderly patients as part of ideologically-charged efforts to help the Brazilian government resist a Covid lockdown.
Prevent Senior, a health maintenance organization with a chain of hospitals and more than half a million members, is currently in the crosshairs of a congressional inquiry into Brazil's coronavirus crisis and the highly controversial response of President Jair Bolsonaro.
Last month a group of whistleblowing doctors handed a 10,000-page dossier to investigators containing a series of incendiary allegations against the São Paulo-based firm that caters to senior citizens.
The dossier contained claims that elderly patients had been used as "human guinea pigs" for the testing of unproven Covid "remedies" without full consent being given.
3.26pm EDT15:26
A group of paediatricians has said that wearing marks in schools "significantly" reduces the spread of coronavirus.
The American Academy of Pediatrics (AAP) said the rise of the delta variant and school starting have dramatically increased the risks children face during the pandemic, in court documents submitted in the federal lawsuit against Iowa Governor Kim Reynolds.
AP reports the AAP and its Iowa chapter filed a brief on Tuesday with the federal court judge who is considering the lawsuit filed last week by 11 parents of Iowa children and the disability rights group The Arc of Iowa.
It is seeking to reverse a Republican-passed measure that Reynolds signed into law in May that prohibits school boards from imposing mask mandates in schools.
The AAP said in the document filed with the court that their review of the research and the experiences of the front-line pediatric practitioners "prove beyond any doubt that universal mask policies in schools significantly reduce the spread of Covid-19 in school populations."
The group said the prevalence of paediatric Covid-19 has skyrocketed since the school year began, with 20 per cent of all child cases since the beginning of the pandemic diagnosed between 13 August and 16 September.
The document said more than 5.5 million child Covid-19 cases have been reported in the United States as of 16 September.
Iowa has reported more than 56,000 child cases, the group said.
3.11pm EDT15:11
President Cyril Ramaphosa said he is due to speak to Boris Johnson over the "unfortunate situation" of the UK imposing severe restrictions for travellers arriving from South Africa.
The UK has placed South Africa on its coronavirus "red list", forcing travellers into expensive hotel quarantine on arrival.
AFP reports that Mr Ramaphosa told a news conference:



On the issue of the UK putting us on a red list, I think this is the most unfortunate situation that we have been subjected to. I'm due to speak to Prime Minister Boris Johnson.
However he said they would not be seeking to penalise the UK for the measures, adding:



We don't have the need to retaliate…because the UK is an important trading partner to South Africa, one of the very important ones.

We should rather engage, and through our engagement we hope we will find a solution.
Updated
at 3.25pm EDT
2.33pm EDT14:33
AP reports on how some US health care workers on the Covid-19 frontline are being issued with panic buttons in case of assault and removing their scrubs before going out in public for fear of harassment.
Across the country, doctors and nurses are dealing with hostility, threats and violence from patients angry over safety rules designed to keep the virus from spreading.
Dr Stu Coffman, a Dallas-based emergency room physician said: "A year ago, we're health care heroes and everybody's clapping for us.
"And now we're being in some areas harassed and disbelieved and ridiculed for what we're trying to do, which is just depressing and frustrating."
Cox Medical Center Branson in Missouri started giving panic buttons to up to 400 nurses and other employees after assaults per year tripled between 2019 and 2020 to 123, a spokeswoman said.
One nurse had to get her shoulder X-rayed after an attack.
Some hospitals have limited the number of public entrances. In Idaho, nurses said they are scared to go to the grocery store unless they have changed out of their scrubs so they aren't accosted by angry residents.
Dr. James Lawler, an infectious disease specialist at the University of Nebraska Medical Center in Omaha, where some doctors have received online threats said: "It's just another added pressure on health workers who have already been experiencing a lot of stress."
2.15pm EDT14:15
Summary of recent developments
Latvia has reported 1,203 new coronavirus cases – the country's highest daily figure since February. It is the first time infections have crossed the threshold of 1,000 since May.
There have been 1,847 new coronavirus cases in Lithuania over the past 24 hours, the country's statistics office has said – the highest number of cases since early January.
The number of Covid fatalities recorded in Scotland hit the highest level since February last week, with 165 deaths registered that involved Covid-19, 30 more than the previous week.
Slovenia has temporarily suspended use of the one-dose Johnson & Johnson coronavirus vaccine while it investigates the death of a 20-year-old woman. Health minister Janez Poklukar said the benefits of receiving the vaccine "continue to outweigh the risks".
Singapore has reported 2,268 new cases – its highest number since the pandemic began. Its previous highest daily increase was 2,236 reported on Tuesday.
The UK has reported 36,722 new cases, an increase on Tuesday figure of 34,256. It also report 150 deaths within 28 days of a positive test.
Merck & Co's experimental oral Covid-19 antiviral drug molnupiravir is likely to be effective against known variants of the coronavirus, the company has said following laboratory studies.
The Pan American Health Organization (PAHO) is in advanced talks with vaccine manufacturers to purchase further vaccine doses for its members after reaching a deal with Sinovac to buy 8.5 million vaccine doses for 2021 and some 80 million doses next year.
Cuba reported 5,617 new cases – the first time since July that the island has reported fewer than 6,000 new cases. It also reported 48 more deaths from the virus.
That's all from me for today – my colleague Jane Clinton will be here soon to take you through the next few hours. Thanks for reading along.
1.49pm EDT13:49
The US Centers for Disease Control and Prevention has issued a health advisory to drive up vaccination figures among people who are pregnant, have recently been pregnant or trying to become pregnant.
As of 18 September, just 31% of pregnant people have been fully vaccinated before or during their pregnancy, the CDC said its data showed.
The agency in August called on pregnant people to take up a vaccine based on a new analysis that did not show increased risk for miscarriage. Its recommendations are in line those from organisations including the American College of Obstetricians and Gynecologists and the Society for Maternal-Fetal Medicine.
The CDC said in addition to risks of severe illness and death for pregnant people, there is an increased risk of preterm birth in COVID-19 infected individuals.
In its latest advisory, the health agency cited data showing around 97% of pregnant people hospitalised with coronavirus were unvaccinated.
Updated
at 1.51pm EDT