6.49am EDT06:49
Only 1% of Covid-19 deaths in UK among vaccinated
Around 1% of deaths from Covid-19 in the UK during the first seven months of this year were among the fully vaccinated, according to the Office for National Statistics.
According to the data, most of the 640 fully vaccinated people who died between January and July were infected before receiving their second jab or during the first 14 days before it becomes fully effective.
A breakdown of "breakthrough" cases showed three-quarters of those who died were clinically extremely vulnerable.
6.34am EDT06:34
At the top of a Florida-based telehealth website that promises "quality meds with fast shipping", above a menu of skin care products, erectile dysfunction medications and hair loss treatments, sits a bright orange banner with bold lettering: "LOOKING FOR IVERMECTIN? CLICK HERE," it reads.
The telehealth site is one of numerous online providers that have moved to capitalize on the surge in demand for Ivermectin as Covid-19 cases rise across the US. The drug, an anti-parasitic used in both humans and livestock, has become the latest in a series of much-hyped medications for which doctors say there is no conclusive evidence they work to treat coronavirus.
Driving the Ivermectin frenzy is a cottage industry of advocacy groups, anti-vaccine activists and telehealth companies. Touting the drug as a "miracle cure" for Covid-19, these groups have rapidly risen to prominence, finding a fervent audience among conservative media figures, the vaccine-hesitant and people desperate to treat loved ones suffering from the virus.
The Centers for Disease Control and Prevention (CDC), as well as the Federal Drug Administration (FDA), have put out advisories in August warning against using Ivermectin for Covid-19. The February guidelines from the National Institutes of Health (NIH) state there is not enough evidence "either for or against" recommending the drug.
Still, medical advocacy groups and anti-vaccine activists have heavily promoted Ivermectin online and in the media as the key to ending the pandemic and have shared lists of doctors and companies that will offer it – sometimes directing those interested to dubious medical providers. The hype has caused runs on pharmacies, with reports of people resorting to eating versions of the drug intended for horses when they can't get their hands on its formulation for humans.
Nick Robins-Early
6.29am EDT06:29
India is worried that low infection rates could lead to partially vaccinated people not taking up their second doses, health experts told Reuters.
While 60% of the population have taken first doses, only 19% are fully vaccinated because of a long gap of up to 16 weeks between doses.
"There's a concern among the highest quarters of an impending vaccine hesitancy, in view of most taking a single dose already and disease incidence at its lowest," said one of two sources who spoke to Reuters anonymously.
One of the experts said they were concerned that labourers might skip doses to avoid missing work.
6.03am EDT06:03
Here's a summary of the latest developments
That's it from me for today. Handing over now to my colleague Kaamil Ahmed. Thanks for reading.
Updated
at 6.10am EDT
5.54am EDT05:54
A man who underwent 21 days of mandatory quarantine after returning to China from Singapore has been identified as the likely source of a new coronavirus outbreak.
CNN reports that experts advising the government have said that a father who recently travelled to Singapore is the probable cause of a fresh outbreak in Fujian province.
It comes after more than 60 people, including 15 elementary school pupils, were found to be infected. The finding, the broadcaster reports, raises questions over the viability of the country's strict zero-Covid strategy.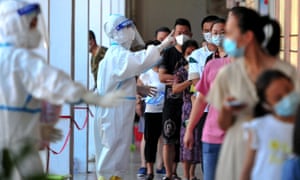 Updated
at 6.11am EDT
5.32am EDT05:32
Fifteen people, including a seven-year-old boy, have reportedly been found in a refrigerated truck in Vietnam trying to escape an area that has been in total lockdown since July.
The country has been struggling with a devastating fourth wave of the virus since April and tens of millions of people are under stay-at-home orders with most domestic travel banned.
AFP reports that police in Binh Thuan province were shocked to discover the group of people after the vehicle tried to pass a coronavirus checkpoint.
"Police were so surprised to see 15 people at the back of the truck … Some of them were sweating and showed symptoms of breath shortness," the Ho Chi Minh City's Phap Luat newspaper reported.
It said the passengers, who were carrying negative Covid test results, had travelled from Dong Nai province, which has recorded more than 35,000 Covid cases, and were trying to get home to central Vietnam.
"We knew it is a huge risk and very dangerous to stay in a closed frozen truck, but we faced a higher risk if we were infected with the virus," a man, who travelled with his seven-year-old son, told the newspaper.
Vietnam has recorded more than 610,000 cases and over 11,400 deaths.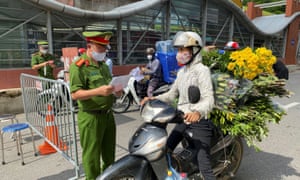 Updated
at 6.11am EDT
5.00am EDT05:00
Politics live with Andrew Sparrow is now up and running. For the latest UK politics news, please follow:
Updated
at 5.02am EDT
4.56am EDT04:56
Russia has recorded 719 deaths and 18,178 new cases in the last 24 hours.
The country is preparing to go to the polls on 19 September, with early voting in some areas already taking place for the parliamentary election.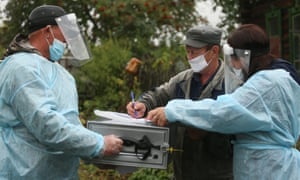 Updated
at 5.11am EDT
4.44am EDT04:44
The German economy will pick up pace in the third quarter but could cool if there are new coronavirus mutations, the economy ministry has said.
Germany's economy, the largest in Europe, grew by 1.6% on the quarter from April to June, Reuters reports. It marked a weaker rebound than in many other European countries amid supply shortages of goods including semiconductors.
"Overall, there will likely be a noticeable increase in economic output in the current third quarter," the economy ministry said in its monthly report. It also said there were signs of a normalisation of growth in the fourth quarter, but that the spread of new coronavirus mutations could negatively impact its economic outlook.
It comes as Germans prepare to go to the polls in two weeks time in national elections.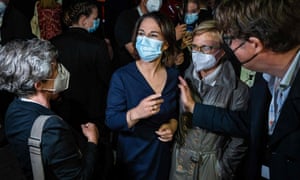 4.33am EDT04:33
The editor-in-chief of medical journal The Lancet has warned that the UK has among the highest number of coronavirus cases in the world, saying: "The pandemic hasn't gone away yet."
While Richard Horton said it is positive that two-thirds of UK population is vaccinated, it has the highest number of infections globally after the US.
He told Sky News:



We're the second highest number of infections of any country in the world after the United States, we're seeing hospitalisations rise by about 5% every week, there are 1,000 new deaths every single week, we've got 1,000 people on ventilators across the country. In other words, the pandemic hasn't gone away yet. So we're in a very finely balanced situation.
Updated
at 5.13am EDT
4.20am EDT04:20
UK to pull out of deal with French pharmaceutical company Valneva
The UK government is to pull out of a deal with the French pharmaceutical company Valneva to purchase its Covid-19 vaccination, the company has said.
Here's more from Jamie Grierson:
Updated
at 4.20am EDT