1.57am EST01:57
China shuts down another city
Hundreds of thousands more people were ordered to stay at home in northern China on Tuesday, joining millions under strict lockdown in Xi'an as the government tries to contain a worsening outbreak of Covid-19.
Yan'an, which is about 300km (186 miles) from Xi'an, ordered the closure of businesses on Tuesday and told hundreds of thousands of people in one district to stay indoors.
China has followed a "zero-Covid" strategy as Beijing prepares to welcome thousands of overseas visitors to February's Winter Olympics.
But authorities have faced a resurgent virus in recent weeks, reporting 209 infections on Tuesday – the highest single-day tally since March last year, when the virus was only beginning to spread around the world from the city of Wuhan.
1.06am EST01:06
Indonesia detects first Omicron case
Reuters reports that Indonesian health authorities were conducting contact tracing on Tuesday after detecting the Southeast Asian country's first case of the Omicron coronavirus variant in the community, health ministry official Siti Nadia Tarmizi said.
It says: The first confirmed case was a 37-year-old male who was from the city of Medan and had visited a restaurant in Jakarta's central business district earlier this month, Tarmizi told a news conference. The man had no recent history of overseas travel or contacts with international travellers, Tarmizi said, adding he was asymptomatic and was in isolation at a Jakarta hospital.
Updated
at 1.11am EST
12.47am EST00:47
There is an interstate fight brewing in Australia over Covid testing requirements for tourists travelling from New South Wales into Queensland during the busy summer holidays. Cait Kelly and Caitlin Cassidy explain:
12.37am EST00:37
Daily new coronavirus cases in Turkey surged 30%
Reuters reports that daily new coronavirus cases in Turkey surged 30% on Monday to 26,099, health ministry data showed, the highest percentage rise this year, as the health minister warned about the rapid spread of the Omicron variant:
Turkey's daily case levels have been below or about 20,000 in December, down from about 30,000 in October. The number of deaths due to coronavirus fell to 157 on Monday from 173 a day earlier.
"The Omicron variant is spreading more quickly than the other variants," health minister Fahrettin Koca said on Twitter late on Monday. "You must be careful and get your booster shot done."
12.01am EST00:01
Agence France-Presse reports that Delta Air Lines on Monday cited new Chinese cleaning requirements after it rerouted a China-bound flight back to the United States, drawing criticism from Chinese authorities.
The report states:
The December 21 flight was supposed to land in Shanghai after disembarking from Seattle, but instead returned to the US city midair. Delta said the reason for the reversal was new Chinese requirements issued earlier that day in the wake of the latest Covid-19 surge.
"The new cleaning procedures require significantly extended ground time and are not operationally viable for Delta," a Delta spokesman said. "We apologize for any inconvenience this is causing for customers as we continue to work on rebooking on alternate flights."
The Chinese consulate in San Francisco complained that several Chinese citizens were stranded on board with expired visas and Covid-19 tests that no longer met time requirements, according to Chinese state media.
Airlines, including Delta and other leading US carriers, have canceled thousands of flights in recent days as the Omicron variant of Covid-19 hits airline workers and roils travel plans for many consumers.
11.44pm EST23:44
In three days time, on 31 December, it will be the second anniversary of the day that health authorities in Wuhan reported an unknown pneumonia outbreak to World Health Organization (WHO) colleagues in Beijing.
This time last year, Michael Standaert visited Wuhan to report on how the city had changed since the emergence of the coronavirus.
Updated
at 12.44am EST
11.18pm EST23:18
Our colleagues in Australia report that 486 people who were initially told by a Sydney clinic that their Covid test had a negative result were actually positive.
That is a total of 886 people to whom St Vincent's hospital mistakenly gave the all clear. First, 400 people were told on Christmas Day that their result was negative, only to be told later they were positive.
Yesterday the hospital's pathology department (SydPath) said another 950 people who were tested in the days before Christmas were "prematurely" sent a text message saying they were negative when their actual results had not yet been confirmed.
Of those 950 people, 486 were eventually found to be positive.
All of the Covid developments in Australia are wrapped up at their live blog:
Updated
at 11.45pm EST
10.54pm EST22:54
Local authorities in Shaanxi province are cracking down on food hoarding and price gouging as 13 million people in its capital Xi'an entered a sixth day of strict lockdown and mandatory testing, writes our correspondent in Taipei, Rhoda Kwan.
The new rules, introduced on Sunday, introduced a reporting hotline and strengthened the monitoring of shops and markets. The hotline has received over 300 complaints in two days, most over an increase in the prices of daily necessities including eggs, meat and vegetables.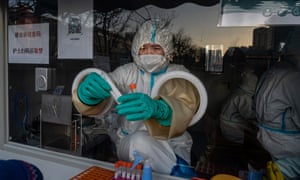 Authorities say they have investigated 33 illegal cases and have closed five by Tuesday.
The measures come as China is battling its worst community outbreak of the Delta variant since 2020 little over a month before Beijing is set to host the Winter Olympic games.
Updated
at 10.55pm EST