7.20am EST
07:20
Reuters has a short report on promising signs the Covid pill molnupiravir works against the Omicron variant.
Merck and partner Ridgeback Biotherapeutics said on Friday six lab studies showed that their experimental oral Covid-19 drug, molnupiravir, was active against the Omicron variant.
Paxlovid from Pfizer and molnupiravir from Merck and Ridgeback Biotherapeutics were authorized by the US Food and Drug Administration (FDA) in December. The pills could be a game-changer for the most vulnerable, because they can be taken at home twice a day for five days to prevent hospitalisation and death.
7.03am EST
07:03
In pictures: China gears up for Chinese New Year celebrations as the government warns families against travel
Millions of Chinese are traveling to their hometowns for the Lunar New Year, the country's biggest family holiday, despite a government plea to stay where they are as Beijing tries to contain coronavirus outbreaks, AP reports.
Some 260 million people traveled in the 10 days since the holiday rush started on 17 January, official figures show. The government forecasts a total of 1.2bn trips this during the holiday season, up 36% from a year ago.
"I know we are encouraged to spend the New Year in Beijing, but I haven't been back home for three years," said Wang Yilei, whose hometown is Tangshan, east of the capital. "My parents are getting old and they are looking forward to seeing me."
The Chinese capital, Beijing, is tightening controls to contain coronavirus outbreaks ahead of next week's opening of the Winter Olympics.
Authorities in Beijing have ordered mass testing for more than 2 million people in the Fengtai district following outbreaks there. Some families were ordered not to leave their homes.
"We should go back home for the New Year as long as we can, if the local prevention policies allow us to," said Wu Jinpeng, a university student who was en route from the southern island of Hainan to his hometown near Beijing.
"I called the government hotline of my hometown and they said I can go back, as long as my health code is green," said Sun Jinle, a bank employee from Qinhuangdao, east of Beijing.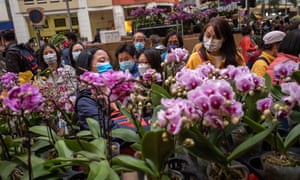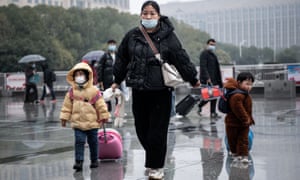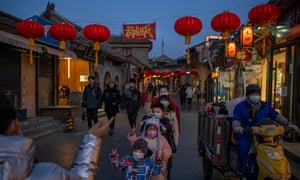 6.50am EST
06:50
A quick Reuters' update here: Israel has signed a deal to buy 5m Covid vaccinations from Novavax, the country's health ministry says.
The vaccines are due to arrive in the country of about 9 million people in the coming months, pending regulatory approval.
6.46am EST
06:46
Pope Francis has denounced Covid misinformation and the "distortion of reality based on fear", calling for the media to ensure even those hardest to reach can access scientific information.
AP reports:
Francis met with Catholic journalists who have formed a fact-checking network to try to combat misinformation about the pandemic. Francis has frequently called for responsible journalism that searches for the truth and respects individuals, and his meeting with the "Catholic fact-checking" media consortium furthered that message. Francis said:



We can hardly fail to see that these days, in addition to the pandemic, an 'infodemic' is spreading: a distortion of reality based on fear, which in our global society leads to an explosion of commentary on falsified if not invented news.
He said access to accurate information, based on scientific data, is a human right that must be guaranteed for those who are less equipped to determine the differences between fact and opinion online.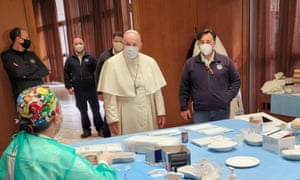 Some Catholics, including some conservative US bishops and cardinals, have claimed that vaccines based on research that used cells derived from aborted foetuses were immoral, and have refused to get the jabs.
The Vatican's doctrine office, however, has said it is "morally acceptable" for Catholics to receive Covid-19 vaccines, including those based on research that used cells derived from aborted foetuses. Francis and Emeritus Pope Benedict XVI have both had Pfizer jabs.
Updated
at 7.01am EST
6.32am EST
06:32
Germany says Omicron surge 'under control' despite record infections
Germany's surge in daily Covid cases remains "under control" despite a string of new infection records, the country's health minister said on Friday.
AP reports:
Authorities "have the Omicron wave under control at the moment," said the health minister, Karl Lauterbach.
Yet infections continue to rise steeply. On Thursday, new daily cases topped 200,000 for the first time. On Friday, the infection rate reached another record of 1,073 new cases per 100,000 residents in a week.
Lauterbach told reporters in Berlin that the infection rate among the elderly – many of whom remain unvaccinated – is much lower than the average. He said so far the Omicron variant surge is slightly below projections.
Daily infections are expected to reach up to 400,000 before falling, likely in mid-February. The drop could come later the same month because of a mutation of Omicron known as BA.2, he added.
The government may ease restrictions "when the wave is broken", and Lauterbach said that was "a very realistic perspective".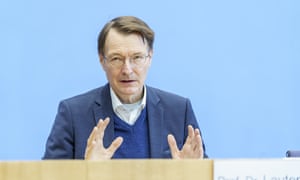 The minister defended a recent change to its coronavirus regulations to reduce the amount of time someone is considered immune following a Covid infection.
As of 15 January, the recovered status of someone who contracted Covid expires after three months. After that, the person is recommended to get a booster shot to be considered fully-vaccinated. Previously, the recovered status was valid for six months.
Lauterbach said Germany is pushing for all other EU countries to do the same.
Updated
at 7.12am EST
6.22am EST
06:22
First, on schools in England: The government exams chief has quelled worries about changes to GCSE and A-level exams giving certain pupils an advantage.
Because of the pandemic's disruption to pupils' learning, English school students will be assessed differently in 2022.
The planned changes include:
Pupils will be offered a choice of topics in some GCSE exams, including English literature, history, ancient history and geography.
Pupils will get advance information on the focus of exams to support students' revision in subjects where there is not a choice of topics.
Changing requirements for practical science work and practical art and design assessments.
Jo Saxton, head of Ofqual, the exams regulator, said these changes will not make exams easier for more able pupils.
In a speech to the Sixth Form Colleges Association conference earlier in January, Saxton said that the release of advance information on the kinds of topics pupils will see in their exams would not advantage higher-ability pupils.
Pupils will be given information on 7 February to help focus their revision to answer questions carrying more marks – higher-tariff questions – whereas advance information will not be provided for one- or two-mark questions.
She said:



It would be silly to publish a document that says something like; you will be asked to identify the year in which the Versailles Treaty was signed, or the year in which Magna Carta was signed. Clearly, at that point, the exam would stop being an exam.
But she added that questions carrying more marks did not necessarily mean "harder content", as pupils of any ability gained marks across an exam paper.
"We hope that the benefit of advance information will mean that students who suffered the most disruption, or those who are less able, may gain confidence to tackle elements of a paper that they might previously not have felt confident to try," she announced.
In 2020, the government initially planned to use an algorithm to determine pupils' exam grades but was forced to U-turn over the issue and award grades assessed by pupils' teachers instead, after thousands of pupils received grades well below what they had expected on A-level results' day.
Updated
at 6.26am EST
6.09am EST
06:09
Hello from London. I'm Georgina Quach, hopping on to the blog for the next eight hours – I'll be bringing you Covid news from around the world. Please feel free to get in touch with me as I work: email [email protected] or message @georginaquach on Twitter.
Updated
at 6.23am EST
6.02am EST
06:02
Today so far …
Russia's daily Covid-19 cases surged to 98,040 on Friday, a new record high for the eighth consecutive day as the Omicron variant continued to spread, the government's coronavirus task force said.
The Philippines will grant quarantine-free entry to visitors from more than 150 countries provided they are vaccinated against Covid from 10 February, its government has said, in an effort to boost the tourism sector.
Australia has recorded its deadliest day ever of the Covid pandemic, with 98 deaths recorded, as the first cases of the BA.2 descendant of the Omicron variant have been recorded in NSW.
Australia's medical regulator has sounded the alarm on companies allegedly trying to bring unapproved rapid antigen tests (RATs) into the country, with federal police investigating claims one firm forged the authorisation of health minister Greg Hunt on forms.
In the UK, Scotland Yard has said it has asked for references to matters it is now investigating to be removed from Sue Gray's report into parties held in breach of lockdown restrictions at Downing Street.
A group of scientists have warned the UK government that allowing poorer countries to remain unvaccinated is a "reckless approach to public health", meaning Covid variants are more likely to develop.
Nightclubs will be allowed to reopen in Wales from today as Covid restrictions are eased further. "Alert level zero" came into effect from 6am this morning.
The head of the Paris hospitals system has questioned whether people who refuse to be vaccinated against Covid should continue to have their treatment covered by public health insurance.
The Omicron variant now accounts for nearly all new infections in Italy, the National Health Institute said, accounting for almost 96% of cases in a flash survey.
The European Union ombudsman has criticised the European Commission for not disclosing text messages that the head of the EU executive, Ursula von der Leyen, exchanged with Pfizer chief, Albert Bourla, before sealing a Covid-19 vaccine deal.
India detected over 250,000 new infections today, but health officials said there were signs of Covid infections plateauing in some parts of the country.
Japan's deputy chief cabinet secretary, Yoshihiko Isozaki, has tested positive for Covid.
Health authorities in Thailand have approved new guidelines outlining the parameters for declaring the coronavirus pandemic an endemic disease.
Nicola Slawson is in charge of our UK politics live blog today. Georgina Quach will be here shortly to take you through the day's UK and world coronavirus news.
I'm Martin Belam, and this is actually my last stint on the Covid blog for a while, as I will be covering the Winter Olympics and Paralympics over the next few weeks. You can sign up for my daily Beijing email briefing here. Thanks very much for reading, take care, and I will see you soon.
Updated
at 6.30am EST
5.43am EST
05:43
A quick snap from Reuters that a senior Japanese government official, deputy chief cabinet secretary Yoshihiko Isozaki, has tested positive for Covid after showing symptoms, including fever.
The news was broken by the NTV television network. In the course of his job, Isozaki meets with Prime Minister Fumio Kishida relatively frequently, but the broadcaster gave no further details, including when the two of them last met.
Updated
at 5.48am EST
5.32am EST
05:32
The Omicron coronavirus now accounts for nearly all new infections in Italy, the National Health Institute (ISS) said, accounting for almost 96% of cases in a flash survey. The previous survey from 3 January showed Omicron responsible for 81% of cases.
"In Italy on 17 January, the Omicron variant was predominant, with an estimated prevalence of 95.8%, while Delta was at 4.2% of the sample tested", the institute said in a statement.
Reuters report from Milan that the analysis is based on 2,486 swabs tested in 124 laboratories and collected in all 21 Italian regions and autonomous provinces.
Updated
at 5.49am EST
5.20am EST
05:20
Health authorities in Thailand have approved new guidelines outlining the parameters for declaring the coronavirus pandemic an endemic disease.
Official figures show that the country already meets the three criteria, but ministry of public health spokesman Rungrueng Kitphati said it would still be between six months and a year before the government would be able to make the decision to start treating Covid-19 as an illness that is here to stay, like the flu or measles.
Associated Press report that among other things, he said data from all of Thailand's provinces need to be checked, and authorities need to be sure that the figures remain at the current levels or improve before it can be declared endemic.
The guidelines drawn up by the ministry's National Communicable Disease Committee are made up of three criteria:
that there are fewer than 10,000 new cases per day
that the fatality rate is no higher than 0.1% of those who are admitted to the hospital with an infection
and that more than 80% of at-risk people have had at least two vaccinations
4.55am EST
04:55
Associated Press have a little more on the Philippines opening up to tourists again. The country will reopen its doors to travellers from more than 150 countries with visa-free privileges starting 10 February. Foreign travellers will no longer be required to quarantine in government-designated centres upon arrival if they have been fully vaccinated and tested negative prior to arrival, officials said.
"We're done with border control," health under-secretary Rosario Vergeire told a news conference, adding that government focus has shifted to preventing community transmission of the Omicron variant, which has caused five deaths in the country so far.
Tourism secretary Berna Romulo-Puyat said: "We are also aware that there is no room for complacency given the unpredictability of the virus. We will closely monitor the situation and ensure that health and safety protocols are strictly implemented in all tourism establishments."
President Rodrigo Duterte warned that unvaccinated Filipinos who defy orders to stay at home could face arrest. Commuters who have not been vaccinated were also prohibited from public transport in the capital region of more than 13 million people unless on urgent errands, for at least up to the end of the month.
Updated
at 5.50am EST
4.50am EST
04:50
It was Andrew Sparrow's 2,500th UK politics live blog yesterday, so he has been allowed one day off. Nicola Slawson is at the helm today, and she is live now. You can follow that here.
I will continue here with global coronavirus news, and the top Covid lines that emerge in the UK.