4.15pm EST16:15
The UK health secretary Sajid Javid is being urged to ensure National Health Service (NHS) workers are prioritised for Covid tests or risk a "devastating" impact on patient care, The Guardian reports.
Pressure is being piled on by the British Medical Association (BMA), which represents doctors.
The BMA warned that the system for ensuring NHS staff receive tests was "not working". It said its members were reporting problems with obtaining PCR and lateral flow tests, despite healthcare workers supposedly being given priority for both.
The BMA's chair of council, Dr Chaand Nagpaul, said:



Being unable to get the tests means staff may not be legally allowed to work and, at a time of acute workforce shortages and winter pressures, this could be devastating for the care that can be given right across the NHS.
It follows the Welsh government's announcement on Thursday that it had lent an additional 4 million lateral flow testing kits to England to help alleviate the supply squeeze across the border, bringing the total offered to 10 million.
My colleagues have the full story here.

3.55pm EST15:55
Ukraine recorded 5,930 positive Covid tests on Thursday, a 40% decrease on the 9,918 new cases on Thursday two weeks ago.
Ukraine's most recent wave peaked in early November, with daily cases sometimes rising above 25,000. Recent infections have receded but Omicron threatens to spark a new epidemic.
A further 278 people died from Covid-related causes, local media Ukrinform reports – a 27% decrease on the 383 deaths two weeks ago.
Ukraine has recorded 95,690 deaths from Covid-related causes. A Reuters tally on Thursday found eastern Europe's Covid deaths has now risen above 1 million.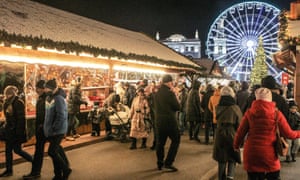 Updated
at 4.22pm EST
3.34pm EST15:34
UK breaks daily Covid infections tally again with 189,213
The UK reported 189,213 new Covid cases in the past 24 hours, smashing Wednesday's record-breaking tally of 183,037 positive tests.
Thursday's new infections represent a 116% rise on the 87,565 new infections reported two weeks ago today – which was itself then a record-breaking daily tally.
A further 332 people died from Covid-related causes on Thursday, a 127% climb on the 146 deaths recorded two weeks ago.
It comes after a scarcity of Covid tests in the UK has sparked concern over New Year's Eve celebrations, which prime minister Boris Johnson confirmed in recent days would go ahead, with no new restrictions until at least the New Year.
Peter Openshaw, who sits on the UK government's New and Emerging Respiratory Virus Threats Advisory Group (Nervtag), said: "It's very worrying indeed." He added:



We know the situations in which transmission happens and fortunately I don't think we are facing the sort of lockdown that was necessary in order to cope in the very earliest part of this year.

But we do know that crowding together in poorly ventilated spaces, particularly if you are shouting over loud music and so on, is absolutely perfect in terms of transmitting this very, very highly transmissible virus.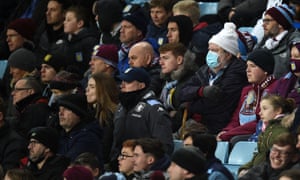 Updated
at 4.02pm EST
3.15pm EST15:15
Poland detected 14,325 new Covid cases in the past 24 hours, a 35% decrease from the 22,096 infections on Thursday two weeks ago.
Poland experienced spiking cases in late November and early December, with daily infections receding in recent weeks. But Omicron has driven fears of a new wave.
A further 709 people died from Covid-related causes on Thursday, according to local media Polskie Radio – a 20% rise on Thursday two weeks ago.
Poland has now recorded 96,415 deaths from the virus. A Reuters tally on Thursday found Eastern Europe's Covid deaths had reached 1 million people.
Poland's health minister, Adam Niedzielskion, on Thursday announced a "fundamental reform" of Polish hospitals, with draft legislation planning to "professionalise hospital management", he said.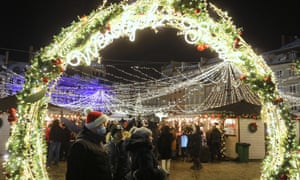 Updated
at 3.21pm EST
3.01pm EST15:01
France will allow people from the UK to drive through as they return to EU countries, suspending a ban on British people returning to their homes in the EU after spending the holidays in the UK.
The UK government clarified: "The French authorities confirmed on 30 December that UK nationals who are resident in other EU member states and who have travelled to the UK for the Christmas period will be able to transit France over the New Year period in order to return home to their country of residence."
"Transit for less than 24 hours in the international zone of an airport is listed under 'essential reasons' to travel," the UK government guidance added.
Updated
at 3.04pm EST
2.39pm EST14:39
Eastern Europe's Covid death tolls reaches 1 million people
The number of people to die from Covid in Eastern Europe has reached 1 million, according to a tally from Reuters.
It follows Russia climbing above Brazil to become the country with the second-highest death toll, behing the US, with over 835,000 pandemic excess deaths. Russia said 87,527 people died from Covid-related causes in November, its deadliest month since the pandemic began.
(The Reuters count includes Belarus, Bulgaria, Czech Republic, Hungary, Moldova, Poland, Romania, Russia, Slovakia and Ukraine.)
Omicron has yet to batter Eastern Europe – as it currently is Western Europe – but there are fears it might spark another wave imminently.
Updated
at 2.45pm EST
2.21pm EST14:21
Germany drops quarantine mandate for UK travellers
Germany will drop quarantine demands for UK travellers from 4 January.
Previously, even double-vaccinated people needed a negative test to enter and then had to quarantine for 14 days.
The UK transport secretary, Grant Shapps, said it was a "welcome development".
Germany has now reported thousands of Omicron cases. Uwe Janssens, who heads the German Society of Internal Medicine and Intensive Care, told German media DW infections caused by the highly-mutated strain will dominate in Germany in the weeks to come.
"It can be assumed that the omicron variant will certainly dominate in January, like in the other countries such as Great Britain, Norway, Denmark and Portugal," Janssens said.
Updated
at 2.34pm EST
2.03pm EST14:03
Here's a look at the UK's record-breaking tally daily Covid infections yesterday in context.
Ministers will be keeping keen eye on hospitalisations in the coming days and weeks.
UK Covid figures for Thursday are delayed, the government's data portal says, until around 8pm GMT.
This is Jem Bartholomew taking over from my colleague Lucy Campbell for the next few hours. Do get in touch with tips and stories from around the world via email or on Twitter.
1.18pm EST13:18
France reports over 200,000 new daily cases for second day in a row
France reported 206,243 new confirmed Covid cases in a 24-hour period on Thursday, a tally above 200,000 for the second day running.
The record of 208,099 was set just the day before, on Wednesday, as the health minister, Olivier Véran, warned of a "tsunami" of infections.
At the beginning of December, there were fewer than 50,000 daily cases. One month before that, the daily data broke the 10,000 threshold for the first time since mid-September.
Updated
at 2.02pm EST
1.06pm EST13:06
The US Centers for Disease Control and Prevention said people should avoid cruise travel regardless of vaccination status, following a rise in onboard Covid cases, in a major blow to the industry that has been ravaged by the pandemic.
The CDC on Thursday raised its Covid travel health notice level for cruise ships to 4, its highest warning level.
"Even fully vaccinated travellers may be at risk for getting and spreading Covid-19 variants," the health agency said. With several cruise ships already on the seas, the CDC said the passengers should get tested three to five days after their trip ends, and self-monitor for Covid symptoms for 14 days.
The CDC has investigated or started an investigation into Covid cases on more than 85 ships already. It had eased its warnings for cruises by a notch from the highest level in June after cases had eased.
Updated
at 1.07pm EST