9.00am EST09:00
EU disease control agency warns mandatory Covid vaccination 'not a magic wand'
The head of the EU's disease control agency has issued a note of caution about a move to mandatory Covid vaccines, as she warned that European governments needed to take urgent action faced with a rising wave of infections.
Dr Andrea Ammon, the head of the European Centre for Disease Prevention and Control (ECDC), said mandatory vaccines could raise uptake, but risked intensifying rejection of vaccines.



[Mandatory vaccination] is not a magic wand. It can be effective, it can raise the vaccination rate, but it can also polarise. And among those that are right now not vaccinated, not everybody is against vaccines, but many people want this to be their own decision and not being imposed on. So it could drive people even more into rejecting vaccines.
She was speaking after the ECDC changed its guidance booster jabs for all adults, prioritising the over-40s. The new guidance is part of the ECDC's threefold recommendation to tackle rising caseloads: increase vaccines, offer booster doses to all adults and more non-medical measures, such as wearing masks, hand hygiene, working from home and limiting contacts.
Ammon said Europe was not in a situation where there was a choice between vaccines and other measures.
So far, nearly two-thirds of the population (65.4%) and more than three-quarters of adults (76.5%) in the European Economic Area have been vaccinated.
Updated
at 9.17am EST
8.20am EST08:20
Social distancing becomes mandatory in the Netherlands amid calls for tougher measures
7.29am EST07:29
The number of Covid-related deaths in Scotland has declined for the third week in succession, confirming the most recent surge in cases, which peaked at more than 3,800 new cases a day, is tailing off.
National Records of Scotland, a government statistics agency, said there were 94 deaths last week where Covid was mentioned on the death certificate, compared with 115 the previous week. Weekly fatalities data peaked during the latest wave at 167 in one week in mid-September.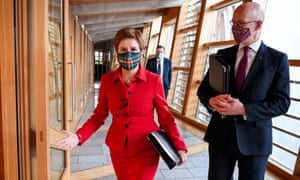 Updated
at 7.55am EST
7.22am EST07:22
Countries should consider mandatory Covid vaccination, says WHO Europe
Updated
at 7.29am EST
6.50am EST06:50
One in four adults in England ignore self-isolation rules after testing positive for Covid
Updated
at 7.06am EST
6.32am EST06:32
Italy considers 'super green pass' and new rules that could see restrictions on unvaccinated
Updated
at 7.00am EST