5.19am EST05:19
Poland reported 9,843 positive Covid infections today, a 44% drop on the 17,460 cases detected on Tuesday two weeks ago.
Poland saw high case numbers often over 25,000 a day in late-November and early-December. In recent weeks cases have receded, but Omicron is driving fears of a new wave.
A further 549 people died from the virus in the past 24 hours, local media Polskie Radio reports, bringing Poland's total fatalities to 94,914, the world's 16th highest.
New restrictions – tighter quarantine rules for people living with a Covid-infected person, and the closure or capacity-limitation of certain public venues – were implemented this month.
Poland currently has 21,283 patients with Covid in hospitals, the health ministry said, and 250,422 people are quarantined after exposure.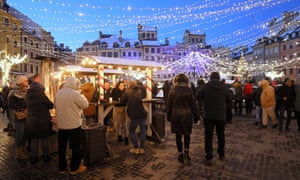 Updated
at 5.23am EST
5.03am EST05:03
France will offer intensive care nurses a bonus of €100 a month, prime minister Jean Castex said, to improve working conditions for exhausted frontline staff.
"This is about improving attractiveness, training, qualification, working conditions in intensive care units, acknowledging the skills of those who work there," Castex said.
A broader set of measures for preventing staff shortages will be announced next week by health minister Olivier Veran.
4.44am EST04:44
Hong Kong will tighten quarantine rules for air cargo crew in efforts to block spread of the highly-infectious Omicron variant.
Currently, travellers into Hong Kong must quarantine in hotels, whereas air cargo crew are permitted to quarantine at home. New rules will see them spend three days in hotels before going home.
It comes after several Omicron cases have been identified by regular testing during people's qurantine period.
Hong Kong, like China, pursues a "zero Covid" strategy, seeing it impose some of the world's strictest travel restrictions to keep out the virus. Authorities seek to avoid community transmission of Covid entirely.
Last week Yuen Kwok-yung, a government advisor, told CNBC the zero Covid border policy will remain until around 95% of the eligible population is vaccinated. Currently, 72.1% of the total population has been jabbed with at least one dose.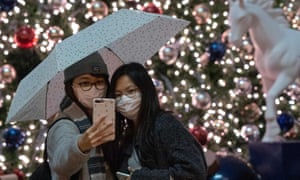 4.26am EST04:26
Hospitality in England welcomes news of no further restrictions
Hospitality bosses in England have welcomed UK prime minister Boris Johnson's announcement that no retrictions will be imposed to suppress Covid until at least the new year.
The prime minister's decision gives mass gatherings on New Year's Eve the green light after days of speculation new measures might be imposed to tackle record-breaking Covid levels.
Kate Nicholls, the chief executive of UKHospitality, the industry body, said: "Britain's hospitality businesses will be raising a New Years toast to celebrate the government's pragmatic and proportionate approach. This will give a real lifeline for many who have struggled with the loss of trade in the run up to Christmas and the loss of New Year on top of that would have been devastating for many."
She added: 'This will be a welcome boost and keeping restrictions to a minimum and lifting the remaining restrictions as quickly as possible to help the beleaguered sector back onto the road to recovery."
Michael Kill, the chief executive of the Night Time Industries Association (Nita), which represents bars, pubs, nightclubs, restaurants and entertainment venues, said that the decision had come after "an extremely anxious few weeks for our sector", but he was pleased that the PM had listened.
Kill said: "Our industry can now start to plan with some certainty over the next week, and make up for lost time promoting one of the key nights of the year in the coming days.
British Chambers of Commerce president Baroness McGregor-Smith welcomed the announcement on BBC Radio 4's Today programme, but warned the hospitality sector needed additional support.
"I am delighted to see that we are protecting New Year's Eve but it just won't go far enough," she said.
For more on the reaction from hospitality in England, read this Guardian report.
Updated
at 5.22am EST
4.09am EST04:09
Malaysia bans New Year's Eve mass celebrations
Malaysia has banned mass celebrations for New Year's Eve and said negative Covid tests will be required for private gatherings, Reuters reports.
Malaysia also lifted its travel ban on eight southern African nations given the Omicron variant's rapid spread around the world.
Malaysia reported 2,897 new Covid cases in the past 24 hours, local media the New Straits Times reports.
Health minister Khairy Jamaluddin told reporters Malaysia is also cutting the booster vaccine waiting time to three months.
Updated
at 5.07am EST
3.51am EST03:51
Russia detected 21,922 new Covid infections in the past 24 hours, a 21% decrease on the 27,910 cases recorded on Tuesday two weeks ago.
Russia experienced spiking cases in early-November and has seen its cases recede in recent weeks. But deaths still remain high.
A further 935 people died from Covid-related causes, a 16% decrease ion the 1,114 deaths on Tuesday two weeks ago. The Moscow Times reports that Russia's excess deaths since the pandemic began is over 810,000.
There are concerns the highly-mutated Omicron strain might provoke a surge in new infections, after a study earlier this month found Russia's Sputnik V vaccine provides little or no protection against Omicron.
Last Tuesday Russian authorities said 41 Omicron cases had been detected, but the number is likely to be much higher.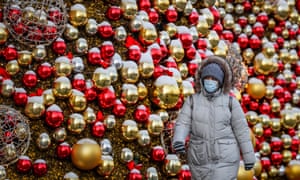 3.28am EST03:28
As UK prime minister Boris Johnson said he will not introduce further Covid restrictions in England before 2022 – giving the go-ahead for mass gatherings on 31 December – let's take a look at the latest Covid stats on cases and hospitalisations.
Here are the UK's record-breaking infections in recent weeks. (Some figures for Northern Ireland, Wales and Scotland were not released over Christmas.)
And here's the hospitalisation figures, which ministers have said will guide their decisions on restrictions. We're yet to see what impact the latest wave of cases, driven by Omicron, will have. Some experts have warned that despite the potential lessened severity of Omicron it could still overwhelm the health service.
This is Jem Bartholomew in London taking charge of the global Covid blog for today. Do get in touch with tips or stories, it's always great to hear from readers.
Updated
at 4.58am EST
2.53am EST02:53
Summary
I'll be handing over blogging duties shortly, but if you're just joining us these are the main developments in the pandemic in the past several hours:
Thousands more flights have been cancelled by airlines around the world, causing chaotic scenes at airports at one of the busiest times of the year for travel. Carriers scrapped 2,700 flights on Monday and a further 800 have already been dropped from Tuesday's schedules. Dr Anthony Fauci said a vaccine mandate should be considered for all passengers in the US.
Hundreds of thousands more people were ordered to stay at home in northern China on Tuesday, joining millions under strict lockdown in Xi'an as the government tries to contain a worsening outbreak of Covid-19.
Boris Johnson will not introduce further Covid restrictions in England before 2022, giving mass events the go-ahead and leaving nightclubs open for New Year's Eve – in contrast with devolved governments in Scotland, Wales and Northern Ireland. Scientists said it was "the greatest divergence between scientific advice and legislation" seen since the start of the pandemic.
The US Centre for Disease Control has reduced the recommended isolation time for people recording a positive test from 10 days to five. The CDC said these changes reflect the latest data on when the virus is most contagious.
Joe Biden said the dramatic surge in US Covid cases caused by the Omicron variant "should be a source of concern but it should not be a source of panic".
France has narrowed the delay for a third booster shot to three months from four in response to the rapid spread of Omicron but there will be no curfew for New Year's Eve. From Monday, all indoor gatherings will be limited to 2,000 people, and to 5,000 people for outdoor events. Consumption of drinks and food will be banned in long-distance transport and home working will become mandatory for at least three days per week where possible.
Daily new coronavirus cases in Turkey surged 30% on Monday to 26,099, health ministry data showed, the highest percentage rise this year, as the health minister warned about the rapid spread of the Omicron variant:
The number of patients in England admitted into hospital with Covid-19 has reached its highest level since mid-February after a 74% rise in a week. In London, hospital admissions have increased by 73%. A total of 8,474 people were in hospital in England with Covid-19 as of 8am today – the highest number since 5 March.
Scotland has recorded a record number of Covid cases over the Christmas weekend, hitting a high of 11,030 new cases on Boxing Day, the Scottish government has said. Nicola Sturgeon, Scotland's first minister, is due to update a specially-reconvened sitting of the Scottish parliament on Wednesday about the spread of the virus and the impact on hospitals.
2.43am EST02:43
Catching the Omicron variant means it's more unlikely that you'll get the Delta infection, according to a study in South Africa, Reuters reports.
The study, by the Africa Health Research Institute in South Africa, which has not been peer-reviewed, found that people who were infected with Omicron, especially those who were vaccinated, developed enhanced immunity to the Delta variant.
The analysis enrolled 33 vaccinated and unvaccinated people who were infected with the Omicron variant in South Africa.
While the authors found that the neutralization of Omicron increased 14-fold over 14 days after the enrolment, they also found that there was a 4.4 fold increase of Delta virus neutralization.
Updated
at 3.05am EST