Rebecca Ratcliffe
Hello, it's Rebecca Ratcliffe here in Bangkok, taking over from my colleague, Naaman Zhou. Here's an update from Brazil, which is home to the world's second-deadliest outbreak after the US.
On Saturday, Brazil's health ministry announced 18,947 additional confirmed cases of the coronavirus. A further 407 deaths from Covid-19 had also been registered over the past 24 hours.
Brazil has reported more than 5.5 million cases of the virus since the pandemic began.
NSW records no new locally transmitted cases
New South Wales in Australia has recorded no new locally transmitted cases of Covid-19 over the past 24 hours to 8pm yesterday local time.
However, it did record four new cases among people who had acquired it overseas and are in hotel quarantine.
Health authorities also said they had detected one new case of local transmission, after 8pm yesterday – that will be included in tomorrow's figures.
NSW Health said this new diagnosis was a person linked to the Hoxton Park cluster in south-west Sydney.
"This case is the second child to have likely acquired their infection at Flip Out Prestons Indoor Trampoline Park, Unit B/238 Hoxton Park Road, Prestons, while there at the same time as a positive case, also a child, on Sunday 25 October," it said.
Anyone who attended this venue from 11am to 2pm on Sunday 25 October is considered a close contact and must get tested immediately and isolate for a full 14 days from exposure regardless of the result. Anyone who was there after 2pm is considered a casual contact and must monitor for symptoms and get tested immediately if they develop.
Anyone who attended Spendless Shoes at Westfield Liverpool on 28 October from 4-4.20pm is considered a casual contact and do the same.
Updated
at 8.20pm EDT
Large crowds have been left behind at a Trump rally in Pennsylvania.
The Victorian deputy premier and education minister, James Merlino, is leading the daily coronavirus press conference in Melbourne today.
He described it as a "very, very good day", with no new cases or deaths for the second day in a row: "My thanks to all Victorians."
Updated
at 7.27pm EDT
Spain's prime minister, Pedro Sanchez, has condemned violent protests against Covid-19 restrictions after the country imposed a six-month state of emergency this week.
On Saturday local time, protesters pelted police with rocks and other projectiles in Barcelona in a second night of disturbances in the city.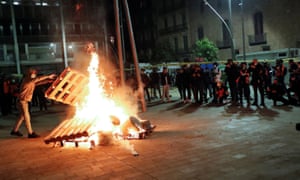 Reuters report that in the northern Spanish city of Logroño about 150 people attacked police with stones, set fire to containers and looted shops. Riot police were drafted in to quell disturbances in Haro, in the wine-growing region of La Rioja.
Sanchez tweeted: "Only from responsibility, unity and sacrifice will we be able to defeat the pandemic that is devastating all countries. Violent and irrational behaviour by minority groups is intolerable. It is not the way."
Updated
at 7.30pm EDT
Butler also paid tribute to Labor's Queensland election win, saying that "federally we are going to take a lot of heart from last night's result".
"[Opposition leader] Deb Frecklington had called for the borders to be opened 64 times. This is a premier who has stood up to the bullying, has listened to the health advice and as a consequence has kept people safe, so full credit to Annastacia Palaszczuk.
"There was a lot of concern around seats like Cairns and Townsville, but once the PM became involved, people didn't like what they saw from the prime minister and did like what they saw from Labor.
"The lesson for federal Labor is if you get the policies right, if you get the health response right, then people will like what we are going to say."
Updated
at 7.17pm EDT
There's been a bit of a groundhog day moment on the ABC.
Insiders host David Speers is interviewing Labor's environment spokeswoman, Terri Butler, following Labor's previous public brawling over gas and this week's decision to support new gas projects.
He asks her the same question four times: "Would you like to see more gas used in Australia or less?"
Butler answers, mostly, the same way each time: "Australia can become a renewable energy super power and we also believe that gas will be an important part of the transition to getting there".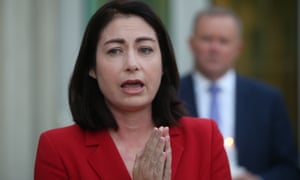 Speers asks Butler repeatedly to clarify if this means "more gas or less".
Butler replies: "We would like to see gas form an important part of the transition to Australia becoming a regional superpower."
Speers: "I will try one more time: does that mean more reliance on gas or less?"
Butler: "It means that gas is an important part of the energy mix while we transition to becoming a renewable energy super power."
She tells him: "I know it is not the answer that you necessarily want, but … that's the ambition we have for this country."
Updated
at 6.42pm EDT
Counting to resume in Queensland
Counting will resume in the Queensland state election, and more results in the closer seats will trickle in today.
It is clear that premier Annastacia Palaszczuk has won a third term – the first woman in Australian history to win three consecutive elections – and she could have an increased majority.
The ABC's election analyst, Antony Green, has just been on the Insiders program with a morning update.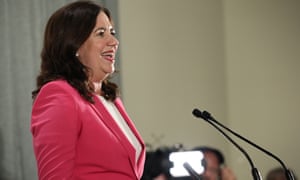 "It is certain that Labor has a majority," he said. "47 is the bare majority in the parliament, but as it is, at the end of the night, based on prediction, the Labor party could end up with 50 or 51 seats by the end.
"Labor has held all of the Townsville and Cairns and regional city seats, so the concerns that Labor had in the north of the state were washed way."
Updated
at 7.18pm EDT
Record numbers of children in Australia are being vaccinated, statistics released today show.
AAP reports:
Notably the vaccination rate has also risen among five-year-old Aboriginal and Torres Strait Islanders, where it has reached 97% coverage.
The vaccination rate for all five-year-olds, from January to September this year, rose to 94.9%.
Among all two-year-old children, the coverage rate has risen to almost 92.4%, which is the first time it has climbed above 92% since 2014.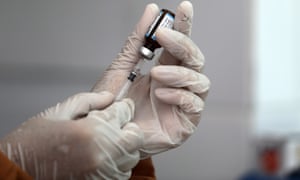 The Aboriginal and Torres Strait Islander two-year-old vaccination rate has also risen to almost 91.2% in the current quarter.
The overall vaccination rate for one-year-olds has also increased in the past 12 months, reaching 94.7%, and the Aboriginal and Torres Strait Islander one-year-old vaccination rate increased to 93.5%.
The federal health minister, Greg Hunt, said the results were "a clear indication that the Morrison government's childhood immunisation education campaign is getting results".
"The most recent phase of the campaign specifically targeted parents of Aboriginal and Torres Strait Islander children aged 0-5 years," he said.
Updated
at 6.20pm EDT
More than 9.6m Texans voted early
In the US, Texas's final early voting statistics are in. And it's huge. More than 9.6 million Texans have voted early this year – which is more than the total number of votes cast in the state in all of 2016.
My colleague Alexandra Villarreal reports that 30.4% of this year's early ballots have been cast by voters who didn't participate in 2016.
Updated
at 5.55pm EDT
Victoria records zero cases and zero deaths
The state of Victoria in Australia has recorded zero new cases of coronavirus, and zero deaths, for the second day in a row.
The 14 day average is now down to 2.2.
Yesterday was also a day of zero cases in the state, after one reported in the morning turned out not to be new.
Updated
at 5.48pm EDT
Hello everyone, and welcome back to our continuing global coverage of the Covid-19 pandemic.
It's Naaman Zhou here in Sydney. We'll take you through the developments in Australia and around the world as they happen.
So far, in the past 24 hours:
UK prime minister Boris Johnson has announced a second month-long national lockdown for England, as the UK surpassed 1m infections on Saturday.
Scotland's first minister, Nicola Sturgeon, has urged Scots not to travel to England.
The number of Covid-related hospitalisations hit record numbers in at least 14 European countries this week, as the second wave of the pandemic hit.
Italy recorded 31,758 new coronavirus infections over the past 24 hours, the health ministry said on Saturday, its highest daily tally since the start of the pandemic.
Austria announced a night-time curfew and the closure of cafes, bars and restaurants on Saturday amid "exploding" coronavirus infections.
Brazilian health minister Eduardo Pazuello is in stable condition in a hospital after being diagnosed with Covid-19.