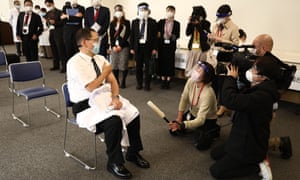 Japan has began vaccinating healthcare workers against the coronavirus, at the start of a cautious inoculation programme, AFP reports.
Japan has so far approved only the Pfizer/BioNTech vaccine, and started administering the first shots at a Tokyo hospital on Wednesday morning.
Tokyo Medical Centre director Kazuhiro Araki became the first person in Japan to receive the vaccine outside of clinical trials.
Speaking to reporters he said:



The vaccine plays an important role in anti-coronavirus measures. So I thought as a director I should take the lead and get the shot.

I don't like getting shots very much. But it wasn't painful, so it was good. I was relieved.
Twelve staff at the facility are being vaccinated on Wednesday, in front of the media, with a total of 800 in line to receive shots – including administrative personnel.
Japan is planning to initially vaccinate 40,000 healthcare workers across the country, and will study the effects of the two-dose vaccine on 20,000 of them.
Doses will be administered three weeks apart, with the people in the study group asked to keep daily records of any side effects or reactions, local media said.
The country then hopes to vaccinate around 3.7 million health workers from March – with jabs for around 36 million people aged 65 or older starting from April.
Prime Minister Yoshihide Suga said he takes "seriously the fact that it has taken time" for Japan to start vaccinations compared to some other countries.
"But today we start, and it is the government's responsibility to prepare the environment so that many Japanese people are vaccinated."
Japan's minister overseeing vaccinations Taro Kono told media on Tuesday there was no timeline yet for vaccinating the broader population.
He also acknowledged he had "no idea" how much of the population will be vaccinated by this summer's postponed Olympics.
Japan's approval process has been slower than in some other countries because it has required additional domestic trials.
But the country has also seen a much more limited outbreak compared with hard-hit countries such as Britain or the United States.