Democrat officials instruct senators, Congress members to skip national convention
The New York Times reports that Democrats are urging elected leaders and party delegates to skip the national convention in August as coronavirus cases surge, in what the Times says is "a sign of the ever-shrinking aspirations for their big campaign event in the face of the spreading virus."
The Times reports:



The directive ensures that little will happen at the physical convention site beyond keynote speeches from former Vice President Joseph R. Biden Jr., his vice-presidential nominee and a handful of other top party leaders. The remainder of the event — state delegation meetings, parties and schmoozing, voting on the party platform and Mr. Biden's nomination — will happen virtually or not at all.

Over the past several months, Democrats have scaled back their plans, moving the convention across downtown Milwaukee from the Fiserv Forum, the city's professional basketball arena, to the Wisconsin Center, a modest convention center that typically hosts events like the city's car show. The last national political event to take place there was the 2004 Green Party convention. Party officials have been consulting regularly with doctors and epidemiologists and say they are following the recommendations of the medical establishment.
Updated
at 8.11pm EDT
Mexico to impose local restrictions
The spread of the coronavirus has spurred Mexican authorities to impose local restrictions on mobility, commerce, and leisure, particularly in popular tourist destinations, even as the government seeks to revive the battered economy, Reuters reports.
On Wednesday, authorities in the Caribbean beach resort of Tulum threatened to fine or arrest people for disobeying rules on wearing face masks, the latest in a series of local and state-level curbs against the spread of the virus.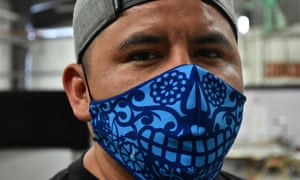 Eager to lift an economy that is forecast to shrink as much as 10% this year, Mexican President Andres Manuel Lopez Obrador has encouraged people to get out, and has resisted reimposing more stringent nationwide restrictions.
But some local authorities worry if they do not take precautions, the hit to their livelihoods will be worse.
"We can't play with the health of the citizens," Tulum's mayor, Victor Mas Tah, said in comments reported by local media.
Updated
at 8.17pm EDT
Brazil cases pass 2m
Brazil on Thursday passed the 2 million confirmed coronavirus cases mark, with little sign that the rate of increase is slowing as anger grows over President Jair Bolsonaro's handling of the outbreak, Reuters reports.
In recent weeks, there have been nearly 40,000 confirmed new cases per day, according to government figures. On Thursday, confirmed cases in Brazil totalled 2,012,151, while deaths numbered 76,688.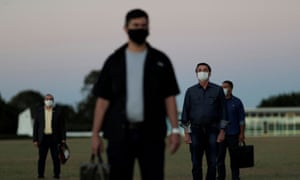 Despite the rapid spread of the virus, Bolsonaro, a far-right former army captain, has pressured local governments to lift lockdown restrictions.
Bolsonaro, who tested positive for the virus last week, has played down its health risks and fought against social distancing orders, calling their economic effects worse than the disease itself. Under pressure, many governors and mayors have loosened restrictions in recent weeks, fueling bigger outbreaks.
Polls show Bolsonaro's popularity has been sinking during the pandemic. The share of Brazilians that see his government as bad or terrible has risen to 44%, according to a late June survey by pollster Datafolha. That was up from 38% in April and 36% in December.
Updated
at 8.17pm EDT
Summary
Hello and welcome to today's live coverage of the coronavirus pandemic.
My name is Helen Sullivan and I'll be bringing you the latest from around the world for the next few hours.
As always, you can get in touch on Twitter or via email:
Twitter: @helenrsullivan
Email: helen.sullivan@theguardian.com
Brazil, the second-worst-affected country worldwide in terms of number of confirmed cases and deaths, passed 2 million infections late on Thursday, according to the health ministry.
The country's cases have doubled in just under a month, nearly 40,000 confirmed new cases per day in recent weeks, according to government figures.
Here are the other key developments from the last few hours:
There are 13,683,631 known coronavirus cases worldwide. The number of deaths stands at 586,752, according to Johns Hopkins University's tracker.
Puerto Rico's governor has announced major rollbacks including the closure of bars, gyms, marinas, theaters and casinos and restricted the use of beaches as the U.S. territory is hit by a spike in Covid-19 cases in recent weeks.Governor Wanda Vázquez said the changes and an ongoing curfew from 10 p.m. to 5 a.m. will remain in place until 31 July.
White House: 'The science should not stand in the way' of reopening schools. White House press secretary Kayleigh McEnany defended President Trump's push to reopen schools, despite concerns about the spread of coronavirus in the classroom."And when he says open, he means open and full, kids being able to attend each and every day at their school," McEnany noted furing her White House briefing.
A new report from the Centers for Disease Control and Prevention says President Trump's European travel ban was enacted too late to protect New York residents. "Although travel restrictions are an important mitigation strategy, by the time the European restrictions were implemented, importation and community transmission of Sars-CoV-2 had already occurred in NYC," the report said.
Spain has reported its steepest daily rise in coronavirus infections in more than two months, with 580 new cases, after a rise of 390 cases on Wednesday. The regions of Aragon and Catalonia lead the increase, Reuters reports.Authorities have reimposed restrictions in some areas of Catalonia, including home confinement in the Lleida area affecting about 160,000 people, and health officials there said measures would have to be taken in the capital, Barcelona, but gave no further details.
Russian state-sponsored hackers are targeting UK, US and Canadian organisations involved in developing a coronavirus vaccine, according to British security officials. The UK's National Cyber Security Centre (NCSC) said drug companies and research groups were being targeted by a group known as APT29, which was "almost certainly" part of the Kremlin's intelligence services.
In the US, Florida has again broken its single-day record of coronavirus deaths, as the state struggles to get the virus under control. Florida health officials announced 156 residents died of coronavirus yesterday, breaking the record of 132 deaths reported on Tuesday morning. The new figure brings the total number of coronavirus deaths in the state to 4,677, with more than 315,000 cases confirmed.
The Israeli government is reported to be considering a full national lockdown during weekends and plans to shut all kindergartens. The expectation of a move comes as the cabinet is holding an emergency meeting following a surge in infections.
The team behind the development of a Covid-19 vaccine at Oxford University in the UK hope to begin tests on volunteers who will be intentionally exposed to the virus in a "challenge trial", a move seen as controversial since there is no proven cure for the illness. Although challenge trials, in which healthy volunteers are given a pathogen, are routine in vaccine development, taking the approach for Covid-19, where there is no fail-safe treatment if a volunteer becomes severely ill, has been questioned.
Coronavirus has been the direct cause of death of nine out of 10 Italian victims, a study released on Thursday said, shedding new light on the pandemic which mainly struck the country's northern regions. Since discovering its first infections in February, Italy has reported about 35,000 Covid-19 fatalities. However, health authorities said many of those who died were also affected by other ailments and this provoked a fierce debate on whether the virus was the actual cause of death.