Over in Greece officials are warning that lockdown restrictions are likely to continue beyond 30 November when the measures were initially meant to end, writes Helena Smith, the Guardian's Athens correspondent.
Although transmissions have gradually begun "to stabilise," infectious disease experts say the decline in infection rates has been slower than expected.
Speaking to Thema 104.6 FM radio today, leading epidemiologist Alkiviadis Vatopoulos who sits on the scientific committee that advises prime minister Kyriakos Mitsotakis' centre right government, said: "The curve appears to be flattening, cases don't seem to be increasing but this has happened very late in the lockdown to be honest. We were expecting it to occur earlier … the feeling is people haven't taken [it] as seriously as they did [during the first lockdown] in March."
It was vital that Greeks remained on guard, he added, insisting that infection rates could "get out of control at any moment" again.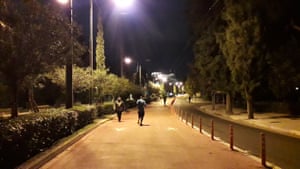 Greece has seen a surge in confirmed transmissions especially in and around Thessaloniki, the country's northern metropolis where hospitals are at breaking point.
On Friday the National Organisation for Public Health announced a record 72 patients had died from Covid-19 raising the total number of fatalities to 1,419.
A further 2,581 people had been diagnosed with the virus bringing the total number of confirmed coronavirus cases to 87,812.
With the case load not being reduced adequately, government ministers are now saying next week will be critical in determining when, and if, curbs are lifted. Measures include a 9PM to 5 AM curfew, with citizens having to inform authorities of their movements via text before they venture outdoors. Exercise in groups of no more than three is allowed as is dog walking.
"The response to the measures hasn't produced enough yet in terms of lessening of cases so it's best to re-evaluate the data again when the time comes," said minister of state Giorgos Gerapetritis adding the coming days would be critical.
Another minister contacted by the Guardian, echoing Gerapetritis, said the intention remained to open the country's retail market ahead of Christmas "because commercially and economically December is such an important month" but emphasised that everything would depend on epidemiological data.