The Dutch royal couple were back in the Netherlands on Saturday after abandoning their holiday to Greece because of an uproar back home, where people are urged to stay at home as much as possible.



King Willem-Alexander and Queen Maxima said in a statement that they saw the reactions of people, "which are intense, and they touch us". As a result they said they would cancel the rest of their vacation.

Let there be no doubt: To beat the Covid-19 virus it is necessary to follow the rules. The discussion caused by our vacation does not contribute to that.
The seven-day rolling average of daily new cases in the Netherlands has more than doubled over the past two weeks, to 42 cases per 100,000 people on Friday.
Dutch bars and restaurants were closed as of Wednesday as part of a partial lockdown that will last at least four weeks to counter the sustained surge in coronavirus cases across the Netherlands.
Prime Minister Mark Rutte said that the nation needed to move a step closer to a full lockdown because otherwise hospitals would become so overburdened that people with other urgent needs would be unable to get treatment.
"The vacation shows the wide gap between the king and society," headlined the public broadcaster NOS.
Updated
at 7.23am EDT
Several people in England have been in touch about the NHS Covid app not updating the risk level in the area where they live, despite the changes at midnight. Some have been receiving notifications saying their risk level has changed only to find it has not been updated when they click through.
The NHS says people should receive a notification "during the course of the day".
For my part, I have received three or four notifications over the past couple of days, including one today, saying that the risk level had changed only to find it had not when I clicked through. It finally updated within the past hour.
Updated
at 7.05am EDT
Iran deaths exceed 30,000
Iran has announced that its death toll from the coronavirus has passed the milestone of 30,000 deaths.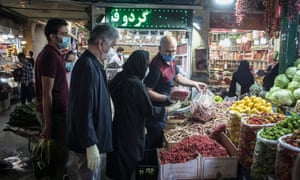 The health ministry spokeswoman, Sima Sadat Lari, announced that Iran's total death toll from the outbreak was 30,123 killed, with a total of 526,490 confirmed cases since it announced its first infections in February.
Updated
at 7.15am EDT
Malaysia records record daily infections
Malaysia reported 869 new coronavirus cases today, its highest daily count so far, health authorities said.
The south-east Asian country, which has imposed targeted lockdowns this month as infections surged, has had a total of 19,627 infections. Malaysia also recorded four new deaths, bringing the total number of fatalities to 180.
The Russian Direct Investment Fund (RDIF) and Dr Reddy's Laboratories Ltd have received renewed approval to conduct late-stage clinical trials in India of the Russian Covid-19 vaccine, the sovereign wealth fund has said.
Large-scale trials of the Sputnik V vaccine in India were first announced and then knocked back by Indian regulators, who said the scale of phase I and II trials conducted in Russia earlier this year was too small, requesting that they be repeated.
Following a new agreement, India will now carry out an adaptive phase II and III human clinical trial involving 1,500 participants, said RDIF, which is marketing the vaccine abroad.
Under the deal, Dr Reddy's will conduct the clinical trials and, subject to approval, distribute the finished vaccine in India. RDIF will supply 100m doses to Dr Reddy's.
Russia, the first country to grant regulatory approval for a novel coronavirus vaccine, is also conducting phase III trials of Sputnik V in Belarus, Venezuela and the United Arab Emirates.
RDIF has reached agreements with Indian manufacturers to produce 300m doses of the shot.
A phase III trial involving 40,000 participants is currently under way in Moscow, with 16,000 people having already received the first dose of the two-shot vaccine. Interim results are expected to be published in early November.
Indian regulators have agreed to incorporate data, provided by Russia on a weekly basis, from the Moscow trial, a source close to the deal told Reuters. Russia has also reached an agreement with the biotechnology department of India's Science and Technology Ministry to use its laboratories as a base for the Indian clinical trial, the source said.
Updated
at 6.14am EDT
Poland reports record rise in infections
Poland reported a record 9,622 new coronavirus infections today, according to health ministry data, as fitness workers gathered in the capital to protest against new restrictions to fight the pandemic.
The country has now confirmed 167,230 cases and 3,524 deaths. The ministry also said that from Saturday, Covid patients occupied 7,612 hospital beds and were using 604 ventilators, compared with 6,980 and 540 respectively a day earlier.
The country was initially successful in containing the virus in spring but has faced a sharp rise in the number of infections and related deaths in recent weeks, threatening to overload the health system.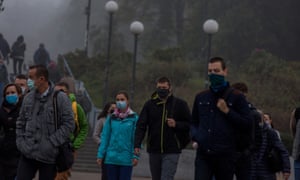 Earlier this week the government urged citizens to stay at home and ordered gyms and pools to close, restaurants to limit opening hours and a shift to remote teaching in universities and secondary schools.
It is also considering building new hospitals and giving doctors incentives to treat Covid-19 patients.
Businesses, which fear the loss of jobs and profits, have criticised the restrictions, and on Saturday hundreds of people representing the fitness industry protested in central Warsaw against the closure of gyms.
The government has said that it is trying to avoid a total lockdown, but experts say this may be inevitable if the situation becomes critical. "If the situation is dramatic, lockdown is the only solution. We would not have other tools to control the situation," Krzysztof Pyrc, a virologist told the private radio station RMF.
Updated
at 6.33am EDT
Chancellor Angela Merkel today urged Germans to curb social contacts and keep travel to a minimum, making a personal appeal after the federal and state governments struggled to agree on ways to contain a second wave of coronavirus infection.
"We have to do everything to prevent the virus from spreading out of control. Every day counts," Merkel said in her weekly video podcast.
While Germany's infection rates have been lower than in much of Europe, they have been accelerating and hit a daily record high of 7,830 on Saturday, according to the Robert Koch Institute (RKI) for infectious diseases. The reported death toll rose by 33 to 9,767.
German leaders were unable this week to reach a consensus on strong new measures to contain the second Covid-19 wave. Courts in several regions have, meanwhile, overturned bans on hotel stays for visitors from infection hotspots.
Politicians and health experts have appealed to the population to take voluntary measures over and above those already prescribed – including wearing masks, avoiding close contact with others and handwashing. Merkel said:



We have to go further. I appeal to you: Meet with fewer people, either at home or outside. Please forsake any journey that is not absolutely essential, every party that is not absolutely essential. Stay at home, where at all possible.
Updated
at 5.15am EDT
More than half of England is living with heightened coronavirus restrictions after the severest measures came into force in Lancashire and Londoners were banned from meeting indoors.
Here is an explainer to what you can and cannot do depending on where you live.
Updated
at 6.35am EDT
Indonesia has today reported 4,301 new coronavirus infections, taking its total number of cases to 357,762, data from the country's Covid-19 task force showed.
There were 84 new deaths for a total of 12,431. Both case numbers and deaths are the most for a south-east Asian country.
Updated
at 5.12am EDT
UK government adviser supports 'circuit-breaker'
An adviser to the UK government has said a short national circuit-breaker – a near total shutdown – may be necessary as he described other measures as "biting around the edges".
Sir John Bell, regius professor of medicine at the University of Oxford, told BBC Radio 4's Today programme:



I can see very little way of getting on top of this without some kind of a circuit-breaker because the numbers are actually pretty eye-watering in some bits of the country and I think it's going to be very hard to get on top of this just biting around the edges.

I think there will be every effort to keep schools open. If in the end we have to take kids out for two weeks, calm it all down, and then start ideally embedded in a much more rigorous testing regime then that's maybe what we may have to do.
The Conservative former health secretary, Jeremy Hunt, also indicated support for a national circuit-breaker lockdown. He said:



I've always thought that it's better to do things quickly and decisively than to wait until the virus has grown so I have a lot of sympathy with that.

But I think more important right now is we stop this public war of words between local leaders and national leaders because in a pandemic the most important thing is a consistent message because you really have to have compliance with the very, very important public health messages about social distancing.

And if local leaders and national leaders are saying different things, it's incredibly damaging. I really do urge Andy Burnham and other local leaders to have these arguments, and I'm sure they're very fierce arguments and I'm sure there's some justification for some of their concerns, but have those arguments in private not in public because that's so damaging to the national fight against the virus.