Mexico expected to ask Biden to share US vaccine supply
Moving away from UK politics to Mexico, where Reuters reports that president President Andres Manuel López Obrador is expected to ask Joe Biden to consider sharing part of the US coronavirus vaccine supply at a virtual summit on Monday.
Biden is open to discussing the matter as part of a broader regional effort to cooperate in the fight against the Covid-19 pandemic but will maintain as his "number one priority" the need to first vaccinate as many Americans as possible, a White House official told Reuters on condition of anonymity.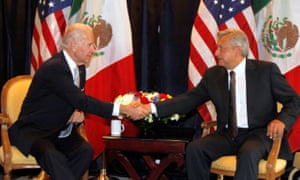 López Obrador has been one of the most vocal leaders in the developing world pressing the richest countries to improve poorer nations' access to the vaccines. He has called the current distribution system "totally unfair".
"We fully expect that to come up," the White House official said when asked whether López Obrador was likely to raise a request for shared vaccines when the leaders hold their first virtual meeting since Biden's 20 January inauguration.
A Mexican official said López Obrador would ask for a loan of the US vaccine supplies, to be paid back when vaccines that Mexico has contracts for are delivered later in the year.
López Obrador's office did not immediately respond to a request for comment, Reuters said.
The White House official made clear that while Biden is focused on "getting jabs in the arms" of Americans, the US recognises the need to forge a strategy to assist its neighbours since national borders cannot seal it off from the pandemic.
"Once we actually get the pandemic under control, the economic recovery is one where we're going to have to eventually open our borders," the official said. "But we cannot open our borders if Canada and Mexico have not similarly addressed the pandemic. So collaboration with Mexico is a top priority."
Updated
at 5.17am EST
Sunak says the £20 increase in Universal Credit is "just one part" of the government's help to people, and seems to be paving the way for its removal at the budget by emphasising other parts of the government's support package.
"I'm proud of our actions over the last twelve months … there will be more support to come at the budget," he says. "We've already announced things for next year like the national living wage and the local housing allowance. … there's lots we're doing to help those who need our help the most."
On the self-employed, he says that the government doesn't have perfect information about the self-employed, but that the approach of focusing support on those earning the majority of their income through self-employment was more generous than many suggested, with others proposing a threshold of 60% or two thirds.
He says that we have to keep "a watchful eye" on coronavirus variants and that he has seen no evidence that more variants are circulating.
He is also presented with a video of him serving people food without a mask last summer as part of promotion for the Eat Out to Help Out scheme, and asked about whether the plans were a mistake and if the same is planned for this summer. He says "lots of things we do cause transmission and we have to balance all of these things". He rejects the suggestion that the scheme was a mistake and notes that young people, women and those on lower incomes work in hospitality and it was a matter of "social justice". He declines to say whether the same support will be in place this year.
He says there are "complicated ethical practical issues" with a vaccine certificate, saying not everyone will be able to take a vaccine and there will be verification issues. But he says the prime minister has established a review to look at these questions and it is "a potentially very relevant question for helping us reopen".
He again says that there is no prospect of the dates already set out by Boris Johnson being moved forward and talks about "a cautious but irreversible one-way ticket". And that, after a couple of questions about Brexit and the City, is that.
Updated
at 5.17am EST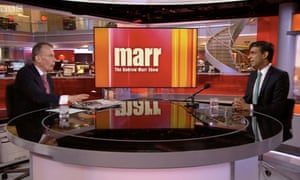 Sunak is now on Marr. He acknowledges that the national debt is sensitive to interest rate increases and says that he was only able to respond to the current crisis because of the strength of the public finances. He reiterates many of the same points he made on Sky News, again saying that he wants to "level with people" about the steps that need to be taken.
Should businesses which have done well during the pandemic be paying some of that back in tax, Marr asks? Sunak points to the existing digital services tax and says he is working through the G7 and G20 on how to tax large multinational digital companies properly. He declines to comment on his view of a windfall tax in principle.
Asked if David Cameron and Keir Starmer are right that now is not the right time for corporation taxes to rise he says: "Now is the time to keep supporting the economy … that's what I have been doing and that's what we'll continue doing … but it's right to level with people about the challenges we face in the public finances". He says "it's not obvious that the Labour party even know what their position is".
He again says he doesn't recognise reports that he told backbench MPs that he will look to reduce taxes ahead of an election and refuses to answer any questions about specific tax rises.
Updated
at 5.17am EST
Dodds' position – opposing immediate corporation tax rises but saying that the policy must be addressed in the long-term – will have sounded contorted to many viewers and maintained the prospect of Labour voting against taxes on business profits which a Conservative government is backing. But former strategic adviser to Jeremy Corbyn James Mills argues on Twitter that she has at least avoided being boxed into opposing tax rises in perpetuity:
Updated
at 5.18am EST
Dodds and Sunak are also on the Andrew Marr show, Dodds first. She reiterates the point about it being the wrong time to focus on tax rises and says there should be a focus on stamping out waste and mismanagement, and on securing jobs for the future, "otherwise the chancellor will have less to tax in the first place". Again, she says Labour will look favourably at a long-term plan for changing the corporation tax regime but adds: "I would be concerned about additional taxes on business right now."
Here's a clip:
Marr points to backbench anger at the prospect of Labour voting against corporation tax rises. She says that businesses are "really concerned about confidence" and says that former party chairman Ian Lavery, quoted by Marr, has "got this one wrong".
On furlough, she says the scheme must be reformed to include training and that abuses within the scheme must be stamped out. She says the chancellor should be clear that as long as there are health-based restrictions which impact demand, wage support should be available. She also says the £20 uplift in universal credit should be maintained but that universal credit should in the long term be subject to radical reform. She declines to say the £20 should be maintained in perpetuity because she wants to reform the system.
Marr asks if Labour is too timid in its strategy for taking on the government. Unsurprisingly, Dodds says no, it isn't. And that's it.
Updated
at 5.18am EST
Asked about proposals by her predecessor, John McDonnell, for a windfall tax on companies that have profited from the pandemic, Dodds says the government "should be focused on protecting jobs and businesses".
Again she says that discussions about tax rises should be for the future. She declines to say she would support any tax rises in this budget. The state of the public finances is a concern, she says, but "we have to focus on the size of the tax base … it's really important that we build that economic activity back up. That's what's happening in other countries." She says Sunak is "well out of the mainstream" on increasing taxes.
Updated
at 4.25am EST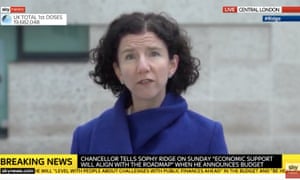 Anneliese Dodds is now being interviewed on Ridge. Labour wants to see "an absolute determination to protect jobs and businesses in the UK … not any party political considerations about what's best for the Conservative party at the next general election."
On reports that Sunak will increase corporation tax and Labour will oppose them, Dodds says the government has "pulled our country further and further away from the mainstream on corporation tax" but that in the short-term the government is trying to get any increases "out of the way quickly". She says the UK has had the worst economic crisis of any major economy.
Pressed on why Labour has apparently changed its position on corporation tax, she says Labour would welcome a "longer-term debate around corporation tax" but asks "why are they focused on this now? Why are they focused on increasing council tax directly for families right now? … because the chancellor has said to his MPs that he wants to get tax changes out of the way now so that he can have a clear run through to the next election … it seems to be driven by party political considerations".
She says Labour would back serious long-term proposals on tax but says "what we don't want to see right now is what the chancellor is doing particularly in relation to council tax, the imposition of additional costs right now at a point where our country is experiencing the worst economic crisis of any major economy". She declines to say Labour would vote to support higher corporation tax.
Updated
at 4.25am EST
Sunak is asked about evidence that his Eat Out to Help Out scheme played a part in extending the pandemic. "There are many different studies … and I don't agree with that," he says, saying it is a "bit odd to ascribe causality in that way" given, he says, the rises in infection rates did not match the areas where the scheme was most used. That's the end of his interview.
Updated
at 4.26am EST
Sunak is asked about reports saying he told MPs he wants to "plug the £43bn black hole so [he] can cut taxes in a pre-election budget" and is asked if doing so would be playing politics with the recovery. Did he says that, she asks? "I don't recognise that figure, actually," he says.
Asked if he would like to cut taxes in a pre-election budget, he says: "I would like to be able to keep taxes low for people, I'm a Conservative and I believe in that, but I want to deliver our promises that we made to the British people that we would be responsible with their money," he says.
It sounds like you did say this, Ridge says. "I think in the short term what we need to do is protect the economy … and over time we need to make sure our public finances are sustainable," he replies. "If you're asking me do I want to deliver low taxes for people, of course I do."
Updated
at 4.26am EST
Sunak refuses to speak about specific tax policy or tax rises, saying it is not appropriate to do so outside of the budget. On reports that the government is considering freezing the amount at which people start paying basic and higher rate income tax, he says again that he cannot speak about specific tax policy but adds: "This is about appreciating the damage coronavirus has done to our economy, recognising the scale of the support we have put in place, ensuring we protect the economy through the rest of the crisis, but also making sure that our public finances over time are returned to a strong position so that we can respond to the next crisis … as Conservatives I think people elect us to deliver those things."
While he persistently declined to speak about tax policy, that answer could be read as a justification of the prospective tax band freezes Ridge referred to.
Updated
at 4.27am EST
On the scale of the impact of the costs of the pandemic for the economy, Sunak says the "coronavirus has had an enormous toll on our economy and I want to level with people about that, about the problems that causes and the challenges it presents us with and be honest about our plan to address those."
He adds: "We do have a challenge in our public finances. If we don't do anything borrowing will continue to be at very high levels even after we've recovered from covid, debt will continue to rise indefinitely, and that's not a good situation." He says that interest rates have been at very low levels but that that can always change. "We have to be attuned to that possibility," he says.
"Given the scale of the shock we've experienced, this is going to take time to fix," he says. He does not say whether he expects to start rebalancing public finances this year.
Updated
at 4.27am EST
UK chancellor sets out plans to tackle economic impact of Covid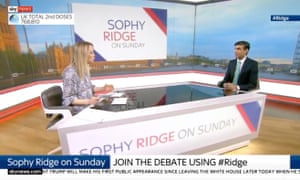 Rishi Sunak is on Sophy Ridge's programme on Sky now.
Ridge begins by asking if the government's roadmap could be accelerated if the data is better than it initially appeared. He says that the dates announced are the earliest possible, that the approach will be "cautious" and that businesses "want to know it's a one-way road".
He sets out planned restart grants (see earlier post). He declines to say specifically that the government furlough scheme will be extended but says that the government will "keep supporting people as we reopen the economy".
Asked if the support packages will be wound up as restrictions are eased, he says: "I think it's right that the support aligns with the road map … we want to make sure that our support supports people along that path and that's what you will see on Wednesday [at the budget]."
Asked if the government will be removing the £20 increase in universal credit, he says that people should wait for the budget to see the details of the next stage of the government's response.
Updated
at 4.03am EST
The Philippines is due to receive its first batch of Covid-19 vaccine Sunday, AP reported, making it among the last countries in south-east Asia to secure the critical doses despite having the second-highest number of coronavirus infections and deaths in the hard-hit region.
President Rodrigo Duterte and top Cabinet officials will welcome the arrival of 600,000 doses of China-donated vaccine in a ceremony at an air base in the capital that will underscore their relief after weeks of delays, officials said. Vaccinations initially for health workers are scheduled to start Monday.
Aside from the donated vaccine from Sinovac Biotech Ltd., the government has separately ordered 25 million doses from the China-based company. An initial 525,600 doses of Covid-19 vaccine from AstraZeneca were also scheduled to arrive Monday, presidential spokesperson Harry Roque said.
The initial deliveries are a small fraction of at least 148m doses the government has been negotiating to secure. The bulk of the vaccine shipments are expected to arrive later this year.
Coronavirus has infected more than 574,000 people in the Philippines and killed at least 12,289. Lockdowns and quarantine restrictions have also set back Manila's economy in one of the worst recessions in the region and sparked unemployment and hunger.
"Although we are still a long way from herd immunity, the arrival of the initial supply of vaccine provides hope that our road to normalcy has finally begun," Padilla told the Associated Press.
Duterte's administration has come under criticism for lagging behind most other Southeast Asian countries in securing the vaccines, including much smaller and poorer ones like Cambodia, Myanmar and Laos.
Updated
at 3.43am EST