A demonstration in Tel Aviv against the Israeli government's handling of the pandemic, which we reported on earlier, has resulted in violent clashes between protesters and police.
This from the journalist Louis Fishman:
My colleagues Robin McKie and James Tapper have written a piece on whether England might follow the lead of 120 other countries and make mask wearing mandatory in public spaces.
US president Donald Trump has appeared in public wearing a mask for the first time during a visit to the Walter Reed National Military Medical Center outside Washington, where he was set to meet wounded soldiers and front-line health care workers.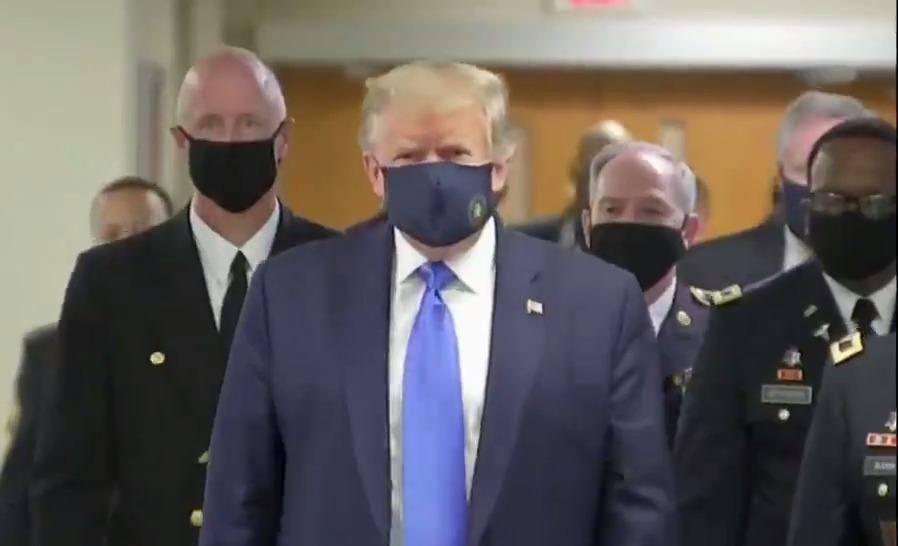 Trump had previously refused to wear masks at public engagements, although pictures showing him in a mask during a tour of the Ford Rawsonville Components Plant in Ypsilanti, Michigan, where ventilators, masks and other medical supplies are being manufactured, emerged in May.
A state attorney general had called Trump a "petulant child" because he allegedly refused to wear the covering during the tour.
Trump later claimed he had worn a mask behind the scenes, saying: "I wore one in the back area. I didn't want to give the press the pleasure of seeing it."
Updated
at 6.05pm EDT
Highest single-day rise in cases in Texas
Infections in the US state of Texas rose by 10,351 on Saturday to 250,462 in total, the highest single-day increase in the state since the pandemic started.
Current hospitalisations in Texas rose by 81 to a record high of 10,083 on Saturday, the state health department said.
The New York Times reported earlier that in the popular beachfront vacation spot of Corpus Christi hardly any new infections were recorded in early June, before out-of-towners brought the virus back.
Now the city of 325,000 has one of the fastest-growing outbreaks in Texas.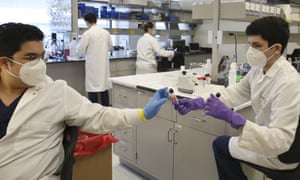 Updated
at 5.13pm EDT
Canada's oil-producing province of Alberta, hard-hit by lockdowns caused by the coronavirus pandemic, is counting on National Hockey League (NHL) games to provide a badly needed boost to morale and business, Reuters reports.
Edmonton, the provincial capital and home to the NHL's Edmonton Oilers, will be a hub city with Toronto when games resume on 1 August, the first since the league suspended the season in March.
Each city will host 12 teams, sequestering players in so-called bubbles that encompass arenas, hotels and select restaurants. Fans will not attend the games.
The spread of coronavirus has eased in Canada, allowing the two cities to beat out rivals such as Las Vegas, which has seen increased infections, for the chance to host the games.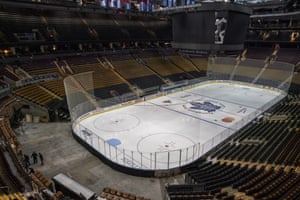 Alberta premier Jason Kenney said hosting games could generate C$60m ($44.16m) in economic activity.
"That alone is not going to turn around our economy, but it's a great shot in the arm," he said.
Oilers and Toronto Maple Leafs officials abruptly postponed news conferences on Saturday to discuss the hub cities, citing incomplete talks between the Canadian government and the league.
NHL commissioner Gary Bettman told reporters the league needed to finalise "a couple of details" with Ottawa.
Alberta's unemployment rate was the second-highest in Canada in June as a crash in oil prices this spring forced energy companies to lay off workers and some businesses remained closed due to the pandemic.
Alberta's chief medical officer has reassured the public that arriving hockey players will not accelerate the spread of the virus if they abide by certain conditions, which include daily testing and restricted movement.
Updated
at 5.11pm EDT
Covid-19 has killed at least 561,551 people since the outbreak emerged in China last December, according to a tally from official sources compiled by AFP on Saturday.
At least 12,580,980 cases of coronavirus have been registered in 196 countries and territories. Of these, at least 6,706,700 are now considered recovered.
The tallies, using data collected from national authorities and information from the World Health Organization (WHO), probably reflect only a fraction of the actual number of infections.
A group of 14 doctors in France called on Saturday for stricter rules on the wearing of masks to ensure there was no resurgence of the coronavirus, Agence France-Presse reports.
In an open letter published in the daily newspaper Le Parisien-Aujourd'hui, the doctors, from a range of disciplines, noted that people were beginning to neglect the basic social distancing precautions.
"It would be most unfortunate if these effective and accessible methods were not used," they added.
They recommended the compulsory wearing of masks inside public buildings, social distancing as much as possible and the regular washing of hands.
While acknowledging that masks could be uncomfortable to wear, they insisted on their importance. "Wearing a mask is not only to protect yourself, but also to prevent the spread of the virus; as long as everyone wears it," they wrote.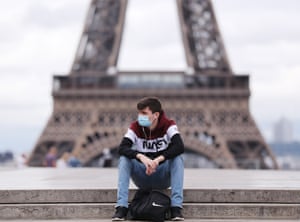 Their message echoed Friday's appeal by the prime minister, Jean Castex, and the health minister, Olivier Veran, as the first wave of holidaymakers prepared to set off this weekend.
They called on people to stay vigilant and to keep wearing masks to avoid a second wave of the coronavirus.
France's health authority noted on Friday that the level of infections had begun to pick up again even if, for the moment, the numbers remained low.
France's total Covid-19 death toll rose above 30,000 on Friday.
Updated
at 3.47pm EDT
The British government has drawn up a list of 20 councils in England facing the worst coronavirus outbreaks, with Bradford, Sheffield and Kirklees identified as areas needing "enhanced support", according to a classified document leaked to the Observer and the Guardian.
As evidence mounts that the relaxation of lockdown rules is leading to a resurgence of Covid-19 in some of England's most deprived and ethnically mixed areas, councils fear the data will be used to enforce more local lockdowns of the kind imposed in Leicester, where all but essential shops must stay shut, schoolchildren have been sent home, and pubs and restaurants remain closed.
My colleague Juliette Garside has more.
Updated
at 3.35pm EDT
Lebanon sees new daily infection record
Lebanon's number of new coronavirus infections increased for a third consecutive day to a record 86, the government said on Saturday.
Lebanon has recorded 2,168 infections and 36 deaths since February.
The health minister, Hamad Hassan, told Reuters on Friday the spike was partly due to expatriates who came after the airport was reopened on 1 July.
One infected 12 people at a wedding and another infected 12 at a funeral, he said.
A second cluster of infections had appeared among nurses and doctors and a third among refuse collectors, Hassan added.
Updated
at 3.16pm EDT
Thousands attend protest in Israel
Ten thousand Israelis are protesting in Tel Aviv on Saturday against the government's handling of the economic crisis caused by the coronavirus pandemic, the Haaretz newspaper reports.
On Friday, leaders from hospitality, tourism, transportation, arts and culture industries declined an invitation by the prime minister, Benjamin Netanyahu, to discuss the situation.
"The Israeli government and its leader are responsible for the failure in implementing aid programs," said the organisers, who called on the government to amend its financial aid packages.
"I have 40 workers with no income, no money," said Michal Gaist-Casif, vice president of a sound and lighting company, according to Reuters.
"We need the government to pump in money until we're back to normal. We haven't been working since mid-March through April, May, June and July, and August is looking to be a catastrophe."
On Thursday, Netanyahu and the finance minister, Yisrael Katz, announced that Israel's self-employed will receive an immediate grant of 7,500 shekels ($2,150).
Organisers of the demonstration asked that those attending the protest not give the police a reason to stop the event, urging them to comply with health ministry guidelines.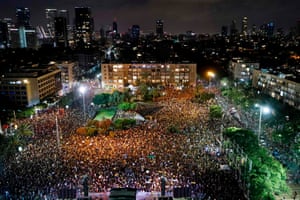 Updated
at 3.15pm EDT