Shops and pubs, restaurants and cafes with outdoor service have started to reopen in Northern Ireland on Friday after four months of lockdown.
Gyms, swimming pools and self-contained tourist accommodation such as caravan sites also reopened, broadly aligning the region with the rest of the UK.
Rules on outdoor meet-ups have been relaxed to allow 15 people from three households to meet in a private garden.
Shoppers in Derry and Belfast formed long queues outside stores from early morning.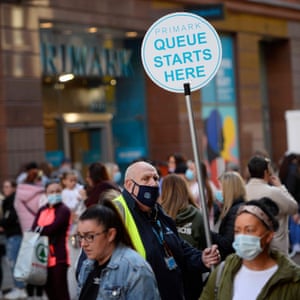 The region's health minister, Robin Swann, urged the hospitality industry to not court cross-border business from the republic, which lags Northern Ireland in vaccinations.
The Irish government has announced a reopening plan for the south. From 10 May hairdressers can reopen and people can travel across county lines. On 17 May all shops can reopen and on 2 June hotels, guesthouses and self-catering accommodation can reopen.
Leo Varadkar, Ireland's tanaiste, or deputy prime minister, told RTE the plan had an "emergency brake" to reimpose restrictions if the Covid-19 virus surged out of control.
Economy minister Diane Dodds welcomed the relaxations on an early morning visit to Belfast's Victoria Square shopping centre.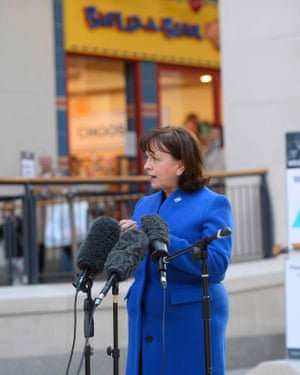 PA report that Dodds also highlighted that the Stormont Executive's delayed high street voucher scheme is set to start operating at the end of the summer, with every adult in Northern Ireland eligible for a £100 prepaid card to spend in the local retail sector.
"Today's a really good day for the economy," she said. "Our shops are opening, our hospitality is able to open outdoors, our self-contained accommodation is opening, we're announcing the high street voucher scheme."
As noted earlier, health minister Robin Swann has also announced that the region's vaccine programme is now open to the 30-34 age group.
Don't forget that Andrew Sparrow has fuller coverage of today's developments in the UK over on our politics live blog…