2.01am EDT02:01
New Delhi has sent a team of experts to Kerala in south India to help stem the surge in cases that has persisted for weeks and is now causing alarm. The state registered 22,064 cases on Thursday, almost half the nationwide figure of 44,230 new daily infections.
Kerala was once applauded as a model state in containing the virus. Now, with an active caseload of 140,000, the state accounts for 37.1% of the total active cases in India.
A lockdown is to be imposed over the weekend to control the explosion in cases. The state government's decision last week to relax Covid restrictions for three days to allow people to celebrate Eid provoked sharp criticism, particularly as other states banned festivals.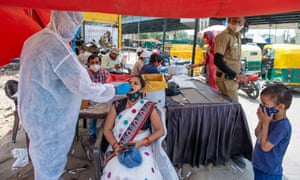 Experts have said the reasons for Kerala's high numbers could be its high population density (double the national average), a large number of elderly residents, and a high incidence of diabetes and hypertension.
Another possibility is that Kerala's containment measures in the earlier waves were successful, with the result that many people still remain vulnerable to the virus.
The latest antibody survey showed that only 44% of people in Kerala have been infected, compared to the national average of 67%.
Updated
at 2.09am EDT