In the UK, Public Health Wales said a total of 923,615 first doses of the Covid-19 vaccine had now been given in Wales, an increase of 7,279 from the previous day.
The agency said 96,408 second doses had also been given, an increase of 7,355. In total, 91.2% of over-80s in Wales have received their first dose, along with 93.4% of those aged 75-79, 93% of those aged 70-74, 77% of those aged 65-69, 28.4% of those aged 60-64, 21.7% of those aged 55-59 and 19.3% of those aged 50-54.
For care homes, 86% of residents and 83.5% of staff have received their first dose of the Covid-19 vaccine.
Public Health Wales said 86.3% of health care workers had received their first dose, along with 87.7% of people in the clinically extremely vulnerably category and 16.4% of those in clinical risk groups.
Jordanian ministers sacked for coronavirus breaches
Jordan's interior and justice ministers were sacked on Sunday for breaching health regulations to stem the spread of coronavirus.
The pair were asked to step down by the prime minister, Bisher al-Khasawneh, a move immediately endorsed by King Abdullah II, according to a statement from the royal palace reported by AFP.
They are accused, according to a government source, of "having violated the emergency law" put in place to curb Covid-19.
The Jordanian news website Ammon claimed interior minister Samir Mobaideen and justice minister Bassam Talhuni had attended a dinner in a restaurant in Amman with a total of nine people, when the law allowed a maximum of six.
Following a surge in virus cases, Jordan toughened this week its Covid-19 restrictions, returning to rules imposed in March last year, and which were only eased last month.
Jordan, which began vaccinations last month, has officially recorded more than 386,000 novel coronavirus cases and 4,675 deaths out of a population of 10.5 million people.
Updated
at 7.40am EST
In Santiago, John Bartlett reports on Chile's rapid vaccine rollout, which stands in stark contrast to other countries in the region. He reports:



Having initially endured heavy criticism over its handling of pandemic restrictions, Chile has moved quickly to secure vaccines from a range of suppliers and aims to have 80% of its population immunised against the virus by June. It has already vaccinated 16% of its 19 million citizens at hospitals, schools, stadia and municipal buildings throughout the country.
You can read the story here:
Czech Republic's prime minister, Andrej Babiš, said on Sunday the country could use Russia's Sputnik V coronavirus vaccine even without approval by European Union's EMA drugs agency, Reuters reported.
The Czech Republic has been struggling with the resurgent Covid-19 pandemic in the past weeks, ranking among the worst-hit countries in the world in terms of infections and deaths from the global virus.
On 10 February, Babiš has said Czechs would wait for the approval by EMA before using the vaccine. France is expected to provide 100,000 doses of the Pfizer/BioNTech vaccine to the Czech Republic by mid-March.
Updated
at 6.41am EST
Hungary's prime minister, Viktor Orbán, has been vaccinated with a coronavirus jab developed by China's Sinopharm, Orbán announced on his official Facebook page on Sunday.
"Vaccinated," Orbán said, with photos of him receiving the shot and a doctor showing the vaccine's packaging box.
Updated
at 6.23am EST
Iran's health ministry said the country's coronavirus fatalities went past the 60,000 mark on Sunday, as the Islamic republic battles the Middle East's worst outbreak of the illness.
"Sadly in the past 24 hours, 93 people lost their lives to Covid-19, and total deaths from this disease reached 60,073," health ministry spokeswoman Sima Sadat Lari said in a televised address reported by AFP.
Iran has registered a total of 1,631,169 infections, according to the ministry.
In Germany, several states called on Sunday for unused AstraZeneca coronavirus vaccines to be given to younger people, Reuters reported, as concerns about side-effects and efficacy, as well as a recommendation it be used only for under-65s, have meant low take-up of available doses.
The German health ministry said this week it had administered only 15% of the AstraZeneca shots it has available, confirming concerns that Germans were being selective, slowing vaccination efforts.
Elderly people are first in line to be vaccinated, but Germany has recommended that the AstraZeneca vaccine be given only to people aged 18 to 64. EU regulators have declared it safe for all.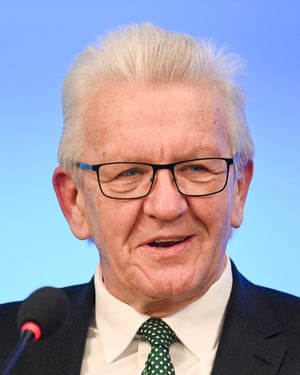 "We cannot afford the vaccine sitting around and not being used because some of those entitled reject it", Baden-Wuerttemberg's prime minister, Winfried Kretschmann, told Welt am Sonntag. Bavaria's Markus Soeder made similar remarks to Bild am Sonntag and Saxony's Michael Kretschmer to Frankfurter Allgemeine Sonntagszeitung.
The recommendation that the vaccine go only to people under 65 came from Germany's expert panel on vaccine use (Stiko). Stiko's head, Thomas Mertens, said on Friday that it would update its recommendation very soon. "Somehow the whole thing went kind of badly," he told broadcaster ZDF.
Updated
at 5.37am EST
Mexico expected to ask Biden to share US vaccine supply
Moving away from UK politics to Mexico, where Reuters reports that president President Andres Manuel López Obrador is expected to ask Joe Biden to consider sharing part of the US coronavirus vaccine supply at a virtual summit on Monday.
Biden is open to discussing the matter as part of a broader regional effort to cooperate in the fight against the Covid-19 pandemic but will maintain as his "number one priority" the need to first vaccinate as many Americans as possible, a White House official told Reuters on condition of anonymity.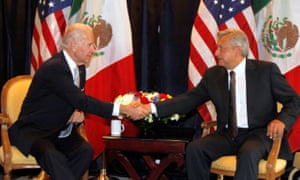 López Obrador has been one of the most vocal leaders in the developing world pressing the richest countries to improve poorer nations' access to the vaccines. He has called the current distribution system "totally unfair".
"We fully expect that to come up," the White House official said when asked whether López Obrador was likely to raise a request for shared vaccines when the leaders hold their first virtual meeting since Biden's 20 January inauguration.
A Mexican official said López Obrador would ask for a loan of the US vaccine supplies, to be paid back when vaccines that Mexico has contracts for are delivered later in the year.
López Obrador's office did not immediately respond to a request for comment, Reuters said.
The White House official made clear that while Biden is focused on "getting jabs in the arms" of Americans, the US recognises the need to forge a strategy to assist its neighbours since national borders cannot seal it off from the pandemic.
"Once we actually get the pandemic under control, the economic recovery is one where we're going to have to eventually open our borders," the official said. "But we cannot open our borders if Canada and Mexico have not similarly addressed the pandemic. So collaboration with Mexico is a top priority."
Updated
at 5.17am EST
Sunak says the £20 increase in Universal Credit is "just one part" of the government's help to people, and seems to be paving the way for its removal at the budget by emphasising other parts of the government's support package.
"I'm proud of our actions over the last twelve months … there will be more support to come at the budget," he says. "We've already announced things for next year like the national living wage and the local housing allowance. … there's lots we're doing to help those who need our help the most."
On the self-employed, he says that the government doesn't have perfect information about the self-employed, but that the approach of focusing support on those earning the majority of their income through self-employment was more generous than many suggested, with others proposing a threshold of 60% or two thirds.
He says that we have to keep "a watchful eye" on coronavirus variants and that he has seen no evidence that more variants are circulating.
He is also presented with a video of him serving people food without a mask last summer as part of promotion for the Eat Out to Help Out scheme, and asked about whether the plans were a mistake and if the same is planned for this summer. He says "lots of things we do cause transmission and we have to balance all of these things". He rejects the suggestion that the scheme was a mistake and notes that young people, women and those on lower incomes work in hospitality and it was a matter of "social justice". He declines to say whether the same support will be in place this year.
He says there are "complicated ethical practical issues" with a vaccine certificate, saying not everyone will be able to take a vaccine and there will be verification issues. But he says the prime minister has established a review to look at these questions and it is "a potentially very relevant question for helping us reopen".
He again says that there is no prospect of the dates already set out by Boris Johnson being moved forward and talks about "a cautious but irreversible one-way ticket". And that, after a couple of questions about Brexit and the City, is that.
Updated
at 5.17am EST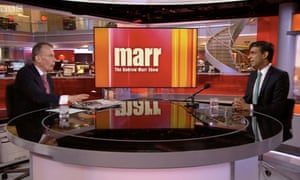 Sunak is now on Marr. He acknowledges that the national debt is sensitive to interest rate increases and says that he was only able to respond to the current crisis because of the strength of the public finances. He reiterates many of the same points he made on Sky News, again saying that he wants to "level with people" about the steps that need to be taken.
Should businesses which have done well during the pandemic be paying some of that back in tax, Marr asks? Sunak points to the existing digital services tax and says he is working through the G7 and G20 on how to tax large multinational digital companies properly. He declines to comment on his view of a windfall tax in principle.
Asked if David Cameron and Keir Starmer are right that now is not the right time for corporation taxes to rise he says: "Now is the time to keep supporting the economy … that's what I have been doing and that's what we'll continue doing … but it's right to level with people about the challenges we face in the public finances". He says "it's not obvious that the Labour party even know what their position is".
He again says he doesn't recognise reports that he told backbench MPs that he will look to reduce taxes ahead of an election and refuses to answer any questions about specific tax rises.
Updated
at 5.17am EST