8.15am EDT08:15
Due to his self-isolation, Johnson will have to lead a government press conference about England's lifting of most coronavirus restrictions later today virtually. Britain's chief scientific adviser Sir Patrick Vallance and England's deputy medical officer Professor Jonathan Van-Tam, meanwhile, will take part from Downing Street.
8.12am EDT08:12
British prime minister Boris Johnson has tested negative for coronavirus and is not showing any symptoms, his spokesman said today.
Johnson, who is double-vaccinated, is self-isolating at his country residence Chequers until July 26 after coming into close contact with health minister Sajid Javid, who said on Saturday that he had tested positive.
7.46am EDT07:46
New lockdown in Tehran as Covid cases soar
Tehran will go under a fresh week-long lockdown tomorrow as Iran struggles to contain another surge in Covid cases.
From tomorrow all bazars, market places, public offices, cinemas, gyms and restaurants in the capital and neighbouring province Alborz will close, reports AP.
Iran recorded 25,441 new cases and 213 deaths today, bringing the total to over 3.5m and 87,374 respectively.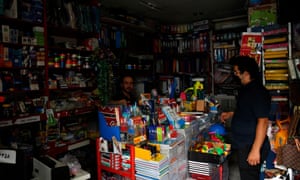 7.35am EDT07:35
Tourists in Spain are ignoring Catalonia's curfew rules as hundreds party on Barcelona's beaches, reports El País.
As of Friday, the region is under a new curfew between 1am and 6am.
But on the same night, the municipal police had to move on 4,350 people who continued to party – most of them tourists – reports the newspaper, and parties have been continuing on the beaches of Barceloneta.
"The majority of the participants are French, German, Italian and Dutch. All of them are young, and very few are wearing masks," reports the paper.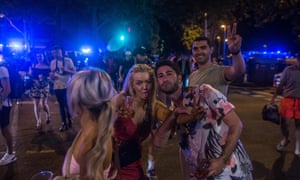 For more on the subject, in May 2020, the Guardian reported on Barcelona without tourists:
7.19am EDT07:19
Olympics organisers warn participants off going to restaurants and drinking
Tokyo Olympics organisers have warned participants not to visit restaurants that open after 8pm or that serve alcohol to avoid "grave reputational risk", reports Reuters.
It comes after Japanese media reported that accredited Games participants were spotted drinking in downtown Tokyo or violating quarantines.
"These incidents have also been raised in the National Diet, and have the potential to severely damage the reputation of the Tokyo 2020 Games and your organisations," organisers said in a note sent to Covid-19 liaison officers at the Games.
"Even after your first 14 days in Japan, this will be perceived as visiting a business that operates illegally and could constitute a grave reputational risk to yourself, your organisation, and the Tokyo 2020 Games," it added.
Tokyo will remain in a state of emergency throughout the Games and spectators are barred from nearly all events amid fears over Covid infections. There have already been reports of outbreaks among athletes (see 10:32 and here).
6.58am EDT06:58
A French Holocaust survivor has denounced anti-vaccination protesters who compared themselves to the Jewish people who were persecuted under Nazi Germany during marches over the weekend, reports AP.
It comes after more than 100,000 people marched against the French government's vaccine rules on Saturday, with some demonstrators wearing yellow stars and carrying signs that made reference to the Auschwitz death camp.
Joseph Szwarc, a survivor of the Holocaust who was deported from France by the Nazis, said: "You can't imagine how much that upset me. This comparison is hateful. We must all rise up against this ignominy."
"I wore the star, I know what that is, I still have it in my flesh," Szwarc added. "It is everyone's duty to not allow this outrageous, antisemitic, racist wave to pass over us."
France's secretary of state for military affairs also condemned the protesters' as "intolerable and a disgrace for our republic".
The International League against Racism and Anti-Semitism said the protesters were "mocking victims of the Holocaust".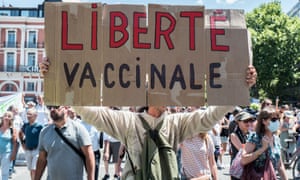 6.30am EDT06:30
Kazakh President Kassym-Jomart Tokayev has ordered his cabinet to investigate the possibility of importing and locally producing the Russia's Sputnik Light vaccine, reports Reuters.
6.23am EDT06:23
Cuba has highest rate of contagion per capita in whole of Latin America
Cuba has the highest rate of contagion per capita in the whole of Latin America and more than any other country in the Americas for its size.
The country, which has a population of 11 million, reported close to 4,000 confirmed cases per million residents last week – nine times higher than the world average, Reuters reports.
It comes as the country's healthcare system has come under severe strain and an explosion of protests on the Communist-run island.
State media has broadcast images of patients in beds in corridors and doctors reporting shortages of vital supplies including oxygen, ventilators and medicines.
Cuban American historian Daniel Rodriguez, author of a book on medical politics in post-independence Havana, said: "The government has consistently made the case that one of the main accomplishments of the revolution is its world-class medical sector".
He added: "When the pandemic began spiralling out of control a couple of weeks ago, it appeared increasingly the revolutionary government was no longer able to protect Cuban lives, and the result was an extraordinary repudiation of the revolution itself."
Hi, I'm taking over the liveblog from Martin. Any tips or suggestions, please email: [email protected]
Updated
at 6.25am EDT
6.02am EDT06:02
Today so far…
Saudi Arabia citizens will need two Covid vaccine doses before they can travel outside the kingdom from 9 August. The ministry of interior said the decision was made based on new waves of infection globally, new mutations, and the "low efficacy of one vaccination dose against these mutations."
Thousands of face-masked pilgrims performing Islam's annual haj pilgrimage gathered on Mount Arafat on Monday. Saudi Arabia has barred worshippers from abroad for a second year running and has restricted entry from within the kingdom under special conditions to guard against the coronavirus and its new variants.
Thailand reported on Monday 11,784 new coronavirus cases, the fourth consecutive day of record infections. Police have used teargas, rubber bullets and water cannon to disperse hundreds of anti-government protesters who held a rally in Bangkok despite coronavirus restrictions banning gatherings of more than five people.
The European Medicines Agency has said this morning that it was evaluating an application to use immunosuppressant drug Kineret to treat Covid-19 in adult patients with pneumonia who are at risk of developing severe respiratory failure.
England has essentially dropped most Covid restrictions today, on a day that had been billed as "freedom day", but on which the British prime minister Boris Johnson is self-isolating having been exposed to a positive Covid case.
Scotland has moved to the lowest level of their Covid restrictions today. First minister Nicola Sturgeon said: "Please continue to stick to limits on gatherings, observe appropriate distance, wear face coverings, ventilate rooms and wash hands."
Frontline NHS staff in England who are fully vaccinated will, in "exceptional circumstances", be permitted to carry on working if they are "pinged" by the Covid contact tracing app, the government has announced.
Covid cases are increasing in every state in the United States, while millions remain unvaccinated against the highly contagious Delta variant, the US surgeon general warned.
The reimposition of curfew measures to curb the spread of Covid cannot be excluded in France if infections continue to climb, junior European affairs minister Clément Beaune said. He also criticised the UK's imposition of restrictions on travellers from France, saying "We don't think that the United Kingdom's decisions are totally based on scientific foundations. We find them excessive."
Tokyo 2020 Olympics sponsor Toyota will not run Games-related TV commercials amid lacklustre public support for the Olympics, with two-thirds of Japanese doubting organisers can keep the Games safe during the Covid pandemic, according to a local media poll.
There's another Covid case at the Olympics which isn't helping – a player from the Czech Republic's beach volleyball team has returned a positive result.
In Australia, people in the state of Victoria will stay confined to their homes after the state's five-day lockdown failed to stamp out an outbreak of the "wildly infectious" Delta coronavirus variant.
In Australia, a woman in her 50s from south-western Sydney has died of Covid with police investigating what is the fifth death linked to the current Delta outbreak.
Andrew Sparrow has the UK live blog, Miranda Bryant will be here shortly to take you through the rest of the day's global Covid news.
5.58am EDT05:58
Indonesia sets a new record for daily Covid deaths
Indonesia reported a record 1,338 new coronavirus deaths on Monday, data from its Covid-19 task force showed, taking the total number of fatalities to 74,920.
Reuters report that the number of new infections on Monday was 34,257, the data showed, the lowest daily number since 6 July.
5.35am EDT05:35
EMA to assess use of immunosuppressant drug Kineret in adult Covid patients
The European medicines regulator has said this morning that it was evaluating an application to use immunosuppressant drug Kineret to treat Covid-19 in adult patients with pneumonia who are at risk of developing severe respiratory failure. In a statement, it says:



Kineret is an immunosuppressant (a medicine that reduces the activity of the immune system) currently authorised for the treatment of a number of inflammatory conditions. Its active substance, anakinra, blocks the activity of interleukin 1, a chemical messenger involved in immune processes that lead to inflammation. It is thought that this could also help reduce the inflammation and tissue damage associated with Covid-19.

EMA will communicate on the outcome of its evaluation, which is expected by October unless supplementary information is needed.
Updated
at 5.52am EDT
5.32am EDT05:32
Another Covid case has been reported at the Olympics. This time, Reuters reports that it is a player from the Czech Republic's beach volleyball team who has returned a positive result.
Incidentally, while we are on the subject, from later this week I'll be writing our Tokyo 2020 daily briefing – you can sign up for that here.
Updated
at 5.53am EDT