Australia's coronavirus hotspot of Victoria state reported two new Covid-19 cases on Wednesday after posting no infections in the previous two days, as state capital Melbourne emerged from more than three months of a hard lockdown.
Restaurants and cafes in Melbourne – home to 5 million people – can reopen from Wednesday and limits on social gatherings at homes have been eased, allowing two adults and dependents from one house to visit another household.
Melbourne, the Australian city most affected by the virus, was put into lockdown in early July after a second-wave outbreak that pushed daily case numbers to more than 700 in early August.
Australia has recorded just over 27,500 Covid-19 infections, far fewer than many other developed countries.
Victoria, the second most populous state, has accounted for more than 90% of the country's 907 deaths. It reported two deaths in the past 24 hours.
Summary
Here's a quick recap of the latest coronavirus developments over the last few hours.
French ICU units to hit record saturation in two weeks without new measures. The number of Covid-19 patients in French intensive care units could reach the same level as during the peak of the first wave in April in two weeks without new measures, a government spokesman said.
Nearly 200 airports in UK and Europe could go bust due to collapse in air travel. Airports Council International Europe, which represents airport operators, said it estimated that 193 out of Europe's 740 commercial airports face "insolvency in the coming months if passenger traffic does not start to recover by the year-end".
Canada's Justin Trudeau predicts 'tough winter' and says pandemic 'sucks'. As a second wave of Covid-19 infections engulfs much of the country, Trudeau called the pandemic a horrific national tragedy in a rare show of emotion and frustration from the prime minister.
US coronavirus cases surge in midwest as Trump heads there in campaign push. Trump travelled to a rally in Michigan and planned to go on to events in Wisconsin and Nebraska the same day, on a pre-election blitz across three states where cases are rising most steeply.
Obama ridicules Trump over Covid media coverage complaints at Florida rally. He mocked the president for his complaints about the media closely covering the national coronavirus crisis, saying "He is jealous of Covid's media coverage."
Barack Obama ridiculed Donald Trump at a Florida rally for the president's complaints about the media closely covering the national coronavirus crisis.
The 44th president has recently abandoned traditional decorum where a former president refrains from publicly criticising his successor, lambasting the 45th president in recent speeches for his response to the coronavirus pandemic, in particular.
At a drive-in rally in Orlando to boost support for his former vice-president and now Democratic nominee for the White House, Joe Biden, Obama took a tone combining mockery of Trump with indignation.
He spoke of record numbers dying of coronavirus in the US and asked rhetorically of the president: "What is his closing argument?" with the election just a week away.
"That people are too focused on Covid. He said this at one of his rallies 'Covid, Covid, Covid', he is complaining. He is jealous of Covid's media coverage," Obama said with mock incredulity as the crowd laughed.
At a rally on Saturday in North Carolina, Trump did say those words and complained that the media was paying too much attention to coronavirus, even as he claimed record case numbers are exaggerated and downplayed the death rates.
Obama said:



If he had been focused on Covid from the beginning, cases would not be reaching record highs across the country this week, the White House would not be having its second outbreak in a month.
Staff working for Mike Pence, the vice-president, have come down with Covid, it was revealed at the weekend, just a few weeks after Trump, his wife and youngest son all had coronavirus and multiple prominent people tested positive after the event at the White House to nominate Amy Coney Barrett to the supreme court.
Italian police have fired teargas at demonstrators protesting virus restrictions for the second night running, as dire figures on global tourism and investment highlighted the devastating economic impact of the pandemic.
Thousands protested again in Italian cities with the cry of "freedom" punctuated by clashes with police, with many traders and employees fearing a second wave economic slump as much as the rising virus numbers.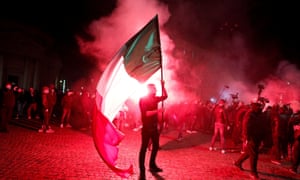 The protesters are upset at the mandatory early closure of restaurants and other businesses. Some of the rallies have turned violent, particularly in Milan and Turin on Monday night, where angry youths threw petrol bombs and stones at police cars and smashed up shop fronts.
The clashes are "a black page" in Turin's history, said local police chief Giuseppe De Matteis, "which cannot be attributed to social discontent but… to orchestration by individuals dedicated to crime".
Late on Tuesday, the Italian government announced the release of €5bn ($5.9bn) of funding for the worst hit businesses, including restaurants, taxi drivers and live entertainment venues.
However, unhappiness over the measures in Italy and elsewhere in Europe – once again the global centre of the pandemic – is palpable among the business owners and residents who are once again facing lengthy restrictions as economies struggle to recover.
The United Nations has cancelled all in-person meetings at its New York headquarters for the rest of the week after five people in Niger's UN mission were infected with Covid-19.
After largely operating virtually since New York became a global Covid-19 hotspot in March, the 193-member world body had been holding some in-person gatherings again, with precautions such as requiring diplomats to wear masks, social distancing and restricting the number of people at meetings.
In a letter to UN general assembly president Volkan Bozkır, secretary-general António Guterres said that "out of an abundance of caution and following medical advice" all in-person meeting should be suspended for the rest of this week "to allow for a better understanding of the extent of the exposure and for full contact tracing".
Niger is a member of the 15-member Security Council, which last met in person on Thursday. Diplomats said people who attended Thursday's meeting were being tested and an in-person meeting on Syria planned for Tuesday was instead held virtually.
President Emmanuel Macron will give a televised address on Wednesday evening, as French authorities explore fresh restrictions to curb the spread of Covid-19.
The Élysée palace did not say what Macron's address would be about, but such televised statements have in the past been the occasion to announce new anti-virus measures.
The French leader has held meetings to review the state of the epidemic in recent days.
The French government has been exploring bringing in a national lockdown from midnight on Thursday, BFM TV reported, albeit a slightly more flexible one than the two-month shutdown that began in mid-March.
Schools could remain open even as restrictions on people's movements become more severe, BFM TV added.
Sources told Reuters earlier this week that options being envisaged for some areas included confining people to their homes at weekends, closing non-essential shops and starting curfew measures earlier.
France imposed a daily curfew on major cities two weeks ago that runs from 9pm to 6am.
Nearly 200 airports in UK and Europe could go bust due to collapse in air travel

Rupert Neate
Nearly 200 airports across the UK and Europe are at risk of going bust within months due to the dramatic collapse in air travel caused by the coronavirus pandemic, the European airports trade body has warned.
Airports Council International Europe (ACI Europe), which represents airport operators, said it estimated that 193 out of Europe's 740 commercial airports face "insolvency in the coming months if passenger traffic does not start to recover by the year-end".
The trade body said the at-risk airports employed 277,000 people and generated collective annual revenues of €12.4bn (£11.2bn).
Olivier Jankovec, the director general of ACI Europe, said the figures "paint a dramatically bleak picture" for the future of the aviation industry, which has already suffered tens of thousands of job losses.



Eight months into the crisis, all of Europe's airports are burning through cash to remain open, with revenues far from covering the costs of operations, let alone capital costs.

Governments' current imposition of quarantines rather than testing is bringing Europe's airports closer to the brink with every day that passes.
Nearly half a million people in the US have contracted Covid-19 in the last seven days, according to a Reuters tally, as cases and hospitalisations set fresh records in hot spots in the Midwest.
More than 5,600 people died from the virus nationwide in the last week, with hospitalisations shooting up 13%, a Reuters analysis showed.
Illinois, which has emerged as a hot spot in recent weeks, reported over 31,000 new cases in the last seven days, more new infections than any other state except Texas.
Pennsylvania, a hotly contested battleground state in next week's election, on Tuesday reported a fresh record in new daily coronavirus cases.
US president Donald Trump, facing a tough re-election battle on 3 November, lashed out again at reports that the coronavirus is surging, and reiterated his claim that the country is "rounding the turn" in its battle with the virus that has killed more than 226,000 people.
Speaking to reporters at the White House on Tuesday, Trump struck a defiant tone, saying once again his administration had done "a really good job in battling the pandemic".
"We did the ventilators and now we're doing all of the equipment and now we're doing vaccines, we're doing therapeutics. We've done a great job, and people are starting to see."
To try and contain the surge, Illinois governor J.B. Pritzker imposed fresh rounds of restrictions in six of 11 regions.
Indoor dining in bars and restaurants will be suspended by Wednesday and gatherings will be limited to 25 people. The affected areas include some Chicago suburbs.
Updated
at 4.52pm EDT
Russia has applied to the World Health Organization for accelerated registration and pre-qualification of its Sputnik V coronavirus vaccine, the country's sovereign wealth fund said.
Russia announced in August that it had registered the world's first coronavirus vaccine, named after the Soviet-era satellite.
On Tuesday, the Russian Direct Investment Fund, which finances the vaccine, said that accelerated registration would make Sputnik V "available globally in a shorter time frame than usual procedures".
"The Russian Federation has become one of the first countries to apply to WHO for pre-qualification of its vaccine against the novel coronavirus infection," RDIF said in a statement.
When contacted by news agency AFP, the WHO said such requests were "confidential".
According to the Russian statement, "successful pre-qualification will enable Sputnik V to be included in the list of medicines used by international procurement agencies and countries to guide bulk purchasing of medicines".
Some Western scientists have expressed concern over the Russian vaccine, warning that moving too quickly could be dangerous.
So far, the WHO said, it "has not yet pre-qualified a vaccine for Covid-19, nor published any emergency use listing".
Updated
at 5.23pm EDT