Hospitals in Texas are overwhelmed with more than 13,500 coronavirus patients after the Republican governor rejected lockdowns.
Read more here: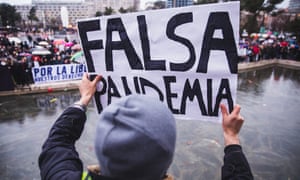 The overnight curfew in the Madrid region of Spain will be brought forward an hour from today, running from 10pm until 6am.
Private gatherings of people from different households will also be banned as the regional government once again tries to curb the spread of the coronavirus.
Restaurants, cafes and bars – which had been allowed to stay open until 10pm – will also have to close an hour earlier.
Pharmacies, vets, petrol stations and other essential businesses will be open to stay open later.
On Friday, Spain reported 42,885 new cases and 400 deaths. The country's 14-day average of cases per 100,000 people rose from 796 on Thursday to 828 on Friday.
The third wave of the virus is once again putting hospitals and intensive care units under huge pressure.
Across Spain 36% of intensive care unit beds are occupied by Covid patients, but in two regions – La Rioja and Valencia – the percentage rises to 60% and 57% respectively. In Madrid, the figure stands at 46%.
To date, Spain has recorded 2,499,560 Covid cases and 55,441 deaths. More than 1.1 million of Spain's 47 million people have been vaccinated since the end of December.
Dutch PM condemns Covid riots
Updated
at 4.49am EST
Australia has suspended its travel bubble with New Zealand for three days after a case of the South African variant was identified in a woman who had been out and about in the community.
The 56-year-old is likely to have contracted the virus from someone on the same floor of the Pullman hotel in Auckland, where they were both quarantining.
New Zealand health authorities are concerned because the woman had left the hotel after serving her full quarantine period and after producing two negative test results.
It was only later that she developed symptoms and returned a positive test – raising concerns she may have unknowingly spread it to others in Northland and Whangarei.
Read more here:
Updated
at 4.49am EST