Melbourne is waking up under lockdown today, the first of 42 days under restricted social distancing rules.
That means last night was spent out at restaurants, bars and places which won't be able to host customers for at least another six weeks.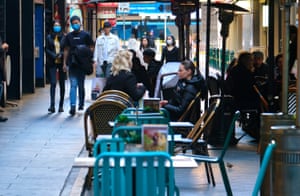 Thank you Victoria, particularly those in lockdown, for what you are doing. We know it's not easy and this second time around must be even harder. We're thinking of you.
Today we'll hear from the NSW premier about what the thinking is for the border towns, and whether or not NSW is still thinking about placing those areas under the same sort of lockdown Melbourne is experiencing. Yesterday, Gladys Berejiklian said there was a better than average chance the virus had crossed into NSW from the Victorian outbreak:



The probability of contagion in NSW given what's happened in Victoria is extremely high," she said.

… We are monitoring this situation every few hours … we are in a high-risk situation.
It's not just the border communities at risk though – we know passengers from a Melbourne Jetstar flight were able to disembark in Sydney without health screening from NSW Health. They have all been asked to go into self-isolation.
We also know that three people in the ACT have been diagnosed with Covid-19 – the first positive cases the territory has had in a month – linked back to the Melbourne outbreak.
They are also in self-isolation, and authorities seem to think the risk of spread beyond their household is low. But the people I was talking to at the hairdresser last night were very, very worried about the news.
AAP reports that than 50,000 exemption permits were issued on Tuesday and Wednesday for people living in NSW-Victoria border communities, allowing them to cross between the two states.
I've heard from a couple of truck drivers (freight) who are having a little bit of trouble because the permit wants an for them address in NSW, even though they are just passing through. It's not often I hear that "Queensland did it better" but it sounds like there are a few teething problems, although I see police have set the checkpoint about 500m from the Victorian border, meaning there are now two-lane checkpoints, which seems to be making things a little easier – at least compared to yesterday.
And Scott Morrison is holding a virtual conference with his Japanese counterpart today – the in-person summit was cancelled because of the bushfires, and then there was a pandemic, so fancy Zoom meeting it is.
We'll keep you updated on all the day's events. You have Amy Remeikis with you for most of the day. If you're reading us from a locked-down zone, feel free to let us know how you are feeling in the comments, and what you need. You can also reach me here and here.