At the peak of the UK's Covid pandemic, Sir Chris Whitty, who should have reasonably been the most harried man in England, was seen treating patients at a London hospital.
It was the 2020 Christmas weekend, the country was in the midst of its second and most deadly wave of the coronavirus and England's chief medical officer was spotted working in his capacity as a practising doctor on the respiratory ward at University College London hospitals trust.
Contrast this image with one of Boris Johnson raising a glass at a lockdown leaving do and there is little wonder the Guardian's sketch writer John Crace labelled Whitty "the country's de facto prime minister".
"There's no one who wouldn't rather listen to a few minutes of Whitty than half an hour of Boris's bullshit," Crace wrote.
As the pandemic unfolded, Whitty fast emerged as the calm voice of authority, the clear-headed expert at the helm of the nation's strategy to fend off coronavirus.
He embodied the return of the expert to the national conversation almost four years after the then Vote Leave campaigner Michael Gove declared: "People in this country have had enough of experts."
Such was the U-turn on this populist view, there was rarely a press conference held when Whitty or his deputies were not at the side of the prime minister or his cabinet representatives. As a result, a man who had enjoyed relative obscurity in the wider public eye was now a household name. You could even buy a mug with his face on it.
Despite polls showing overwhelming trust in Whitty over Johnson and his cabinet, the public attention did turn sour on occasion. As well as protests outside his private home, he was subject to an assault in St James's Park in June 2021. Two men were convicted in relation to the incident, which was filmed and shared on social media.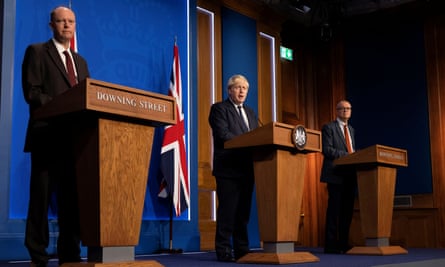 Whitty spent much of his childhood in northern Nigeria. His father, who worked for the British Council, was shot dead in Athens when Whitty was a teenager, in an apparent case of mistaken identity.
In 2008, he was awarded $40m (£31m) by the Bill and Melinda Gates Foundation for malaria research in Africa.
A year later, Whitty, a doctor and epidemiologist – a scientist who studies the pattern of diseases – was appointed chief scientific adviser to the Department for International Development (DfID).
Beyond his medical, research and teaching commitments – students are said to regard him as an excellent lecturer – he gained a law degree and an MBA in his spare time.
While the pandemic placed Whitty in the spotlight, he had previously had high-profile experience when as the chief scientific adviser to the Department of Health he doubled up as acting chief scientific adviser to the government when the military nerve agent novichok was used on the streets of Salisbury.
Whitty studied at Pembroke College, Oxford, Wolfson College, Oxford, the London School of Hygiene & Tropical Medicine , Northumbria University, Heriot-Watt University and the Open University (DipEcon in Economics).
He has previously given evidence to the first module of the Covid-19 public inquiry, in which he said the UK "did not give sufficient thought" to stopping Covid in its tracks as he listed multiple problems with preparedness.
Whitty said the "big weakness" was a lack of "radicalism" in thinking before the crisis took hold. He said government scientific advisers would not have thought to have considered national lockdowns without it being requested by a senior politician.
He also warned of a weakness in future defences, noting the scientific advisory committee Nervtag, which looks at new respiratory viruses, does not cover other possible pandemic threats such as sexually transmitted diseases.
The inquiry has also heard that Whitty privately referred to Rishi Sunak's "eat out to help out" scheme in summer 2020 as "eat out to help out the virus", and he is likely to face questions about the initiative at the inquiry.