People in China have been warned against travelling to visit their elderly relatives during the lunar new year holiday, as Covid spreads rapidly through cities and into regional and poorer areas.
On Thursday Prof Guo Jianwen, a member of the state council's pandemic prevention team, urged people "don't go home to visit them" if elderly relatives had not yet been infected.
"You have all kinds of ways to show you care for them, you don't necessarily have to bring the virus to their home," Guo said.
The holiday period, which begins on 21 January, was supposed to be a return to festivities and travel after the lifting of most restrictions in December, but instead it is coinciding with a wave of infections.
Health authorities said this week the peak of infections had passed in several big provinces and cities including Beijing and Shanghai. But there are serious concerns for regional areas where health resources are more limited and older people are more likely to be unvaccinated.
"The situation in rural China is very murky," said Dr Chen Xi, an assistant professor specialising in ageing and public health at Yale University. "We have strong reasons to believe rural China will get much worse as the spring festival approaches."
The Guardian has heard reports from people in rural areas across China of mass infections, deaths, and healthcare woes, including areas where authorities say infections are yet to peak. One woman in Shandong said her parents had not been vaccinated because they did not trust Chinese vaccines, and now feared going outside as the virus spread through their village. Villagers in Guangdong province reported shortages of medication and oxygen supplies. In Shaanxi a musician who played at funerals reported being busier than ever, while a woman returning to her small Hunan village decried at least six new customary funeral sheds – temporary structures built for people to mourn an individual.
One person in Henan said last week that their father was a rural doctor who was "busy from morning until night", adding: "There are quite a lot of people with fever in the village, several households have them, but it is hard to get fever-reducing medicines."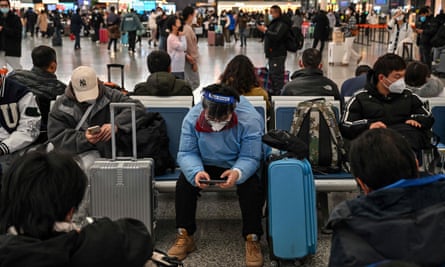 As well as urging people not to travel, regional authorities have been ordered to ensure the supply of pandemic materials, including at least two weeks' worth of medication. The Global Times also said communities were advised to arrange village teams of drivers to transport patients "when ambulances from medical institutions cannot arrive in time".
China's outbreak has probably been worsened by the low vaccination rates among elderly people and the more limited health resources outside top-tier cities. Online community groups have crowdsourced over-the-counter medication for hard-hit villages. Protracted government negotiations with pharmaceutical companies have also made it difficult for people to get antiviral medications.
"It's been a total mess," a doctor in Anhui province told Agence France-Presse after a wave of infections hit in December. "Things were better when the government kept us all locked down."
Dr James Wood, a professor of infectious disease dynamics and interventions at the University of New South Wales in Sydney, said the virus was spreading quickly and he expected no more than two to four weeks between peaks in major cities and "the most remote locations".
"China is a vast country but it is still highly connected and once significant numbers of cases occurred in the major centres that would have quickly have seeded infections in all smaller cities and towns," he said.
Health experts have criticised China's management of the virus after abruptly ending its zero-Covid policy last month, saying it did not appear to have prepared for the expected increase in cases. Hospitals and crematoriums in big cities were quickly overwhelmed, with widespread reports of staff and medication shortages.
Officially, fewer than 40 people have died of Covid in the last month, but external analysis suggests the true figure is far higher, with predictions of as many as 1 million deaths by the end of the year.
The disconnection between the government's claims and the reality on the ground has caused frustration and confusion. In response to Guo's advice to stay home for the holidays, one popular response on social media said: "To be honest, it is one of the few useful suggestions put forward during this period."
"Do you know how many elderly people around you have been taken away by the coronavirus?" said another. "Don't you think it's too late to say this now?"
The Chinese government stopped publishing most infection data since the sharp rise began, and holds an extremely limited definition of Covid-related deaths, counting it only if the patient died of respiratory failure.
The World Health Organization last week criticised the new definition as too narrow and underrepresenting the true impact of the outbreak. But Chinese authorities responded that it was not necessary to attribute every death.
"The key task during the pandemic should be treatment," a senior government health official, Liang Wannian, said on Wednesday.
Despite global and domestic criticism, Beijing's propaganda machine is pushing a narrative of success against the virus.
"Contrary to speculation by some western media and politicians who labelled the recent policy shift as 'a U-turn', the latest optimisation was a result of China's scientific assessment of the current pandemic and based on prudent planning, as well as a timely response to the yearnings of the people," the official news outlet Xinhua said on Thursday.