Social care campaigners have backed TV presenter Kate Garraway after she revealed she was "battling the system" to secure essential care for her severely ill husband, Derek Draper.
The Good Morning Britain presenter said at the weekend that she feared her husband could lose the support he needed and that she was getting just four hours sleep a night.
Draper, a former New Labour adviser, needs 24-hour help after being hospitalised with Covid in 2020. After months in intensive care and more than two years largely bedbound at home after catching the virus in spring 2020, the family faces an imminent adjudication on what care he will be eligible for in the future.
It could be significantly reduced to a single carer or removed altogether, Garraway fears. She said she now wanted to stand up for "millions of others struggling" to get the right care.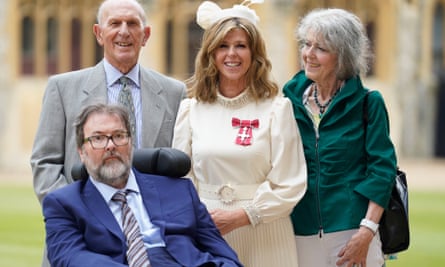 Care Rights UK, which supports people needing social care, said on Monday that the family's experience was "all too familiar" and its helpline received daily calls from families "struggling to get the care they need to live with dignity".
Shortages of care workers mean that 165,000 posts are vacant in England and a budget squeeze on councils is contributing to a care waiting list of about 430,000 people.
"It simply isn't safe for him to be left unattended, and I don't know what will happen at that point," Garraway told the Sunday Times. "Even if I gave up my job and became his sole carer, I would have to stay awake 24 hours a day, and I don't have the specialist skills he needs. But I am determined to keep battling the system. Not just for Derek, but for the millions of others struggling."
Families needing care help from the state must ask their local council for a "care needs assessment" after which a care package may or may not be allocated. If it is, it will be subject to a means test. For relatives with "ongoing significant health needs" families can also apply to the NHS for "continuing care", which, if granted, means the NHS covers the costs.
"We hear about problems with assessments, delays and inappropriate care packages putting people's rights at risk," said Helen Wildbore, the director of Care Rights UK. "This is also placing a huge strain on families who are expected to fill the gaps in support. This must change. We must create a care system where people's basic rights are respected."
Caroline Abrahams, the charity director at Age UK, said Garraway "has done us all a favour by lifting the lid on a totally unacceptable situation". She added: "We often hear of older people and their families being fobbed off and because the process for claiming help is so complicated we fear that many simply give up and never receive their due."
Garraway married Draper in 2005 and they have two teenage children. She has recently been going through care assessments for her husband and has box files full of documents from submissions and appeals. "They have standardised tests, and I get why," she said. "They need to ration resources. But the box-ticking exercises don't work for a patient whose needs fit into none of the boxes."
Draper became ill with Covid in March 2020 and spent more than a year in hospital, including 10 weeks on a ventilator in intensive care. His kidneys failed and his liver, heart, lungs and brain were all affected by the virus. He is now cared for on the ground floor of the family's north London home. He needs respiratory rehab and repeatedly develops serious infections.
Asked what percentage of his healthcare administration had worked over the last 18 months, Garraway said "less than five, certainly".
She has written a second book about her family's predicament called The Strength of Love and said she wanted to "share the reality of life for millions of people". "Yes, Derek's condition is unique in many ways and that presents a huge challenge but so many others are going through similar," she said.