Vallance's diary provides Covid inquiry with multiple examples of Boris Johnson struggling to understand scientific advice
O'Connor asks about Boris Johnson's understanding of scientific concepts. He shows the inquiry a series of extracts from Vallance's diary which provide evidence of this.
This extract, from May 2020, describes Johnson as being "clearly bamboozled" by modelling on schools.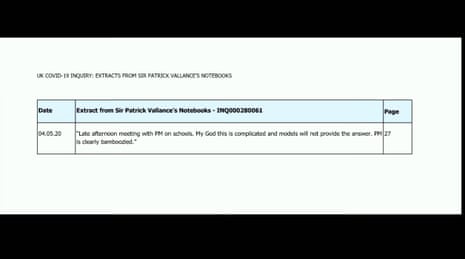 Here is another extract from May 2020 describing Johnson as being "confused" about different types of tests.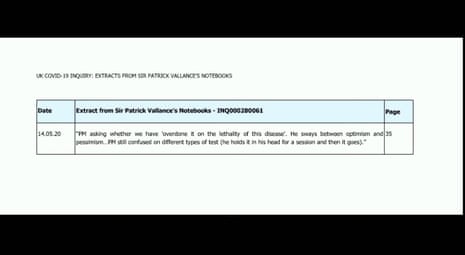 In this extract, from June 2020, Vallance says it is "awful" watching Johnson trying to understand statistics and that he finds the difference between absolute and relative risk "almost impossible to understand".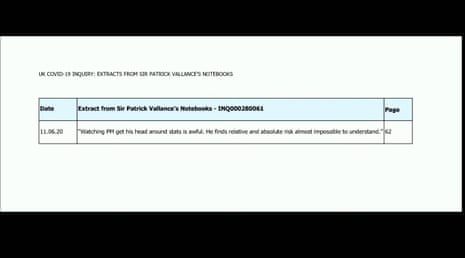 In this extract, from July 2020, Vallance says Johnson did not understand the concept of doubling times.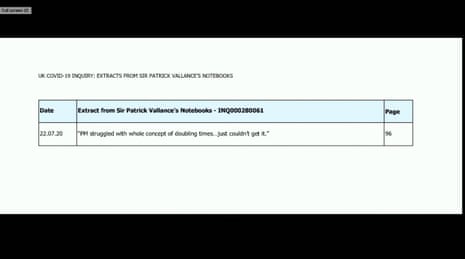 And this one, from September 2020, says it is difficult getting Johnson to understand graphs – even when he has seen them before.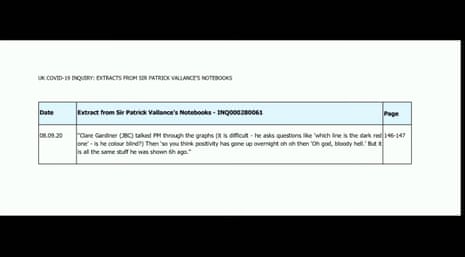 Key events
Inquiry sees diary entry quoting Dominic Cummings saying 'Rishi thinks just let people die' as second lockdown debated
The "good innings" and "lack of leadership" extract from Vallance's diary shown to the Covid inquiry (see 3.05pm) also quotes Vallance quoting Dominic Cummings (DC), the PM's chief adviser at the time, saying, "Rishi [Sunak] thinks just let people die and that's okay."
This was 25 October 2020. Sunak was chancellor at the time.
'They've had a good innings' – how Johnson argued against second lockdown by saying he could accept more deaths
O'Connor is now asking about the events leading up to the second lockdown in the autumn of 2020.
He shows several extracts from Vallance's diary in which Vallance describes Boris Johnson resisting pressure for tougher measures.
O'Connor refers to Johnson talking about being willing to let Covid rip. Asked if that was accurate, Vallance accepts that – but points out that Johnson may well have said the following day that he wanted no deaths at all.
In one extract for 25 October 2020 Vallance quotes Johnson as saying it does not matter if more elderly people die because "they've had a good innings". Vallance recalls feeling, at the end of a meeting with Johnson, there was a "complete lack of leadership".
Q: Is that still your view now?
Vallance says it must have felt as if there was a complete lack of leadership. Reading the extract, he says it "feels like quite a shambolic day".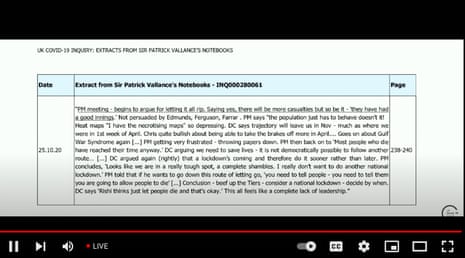 Vallance says Matt Hancock had habit of saying things during Covid crisis that weren't true
Back at the inquiry O'Connor quotes an extract from Vallance's diary in which Vallace says Matt Hancock "explained things well for once".
Several witnesses to the inquiry have been bitterly critical of Hancock, health secretary at the time. O'Connor says there are many references to Hancock in Vallance's diary. He says he does not want to go through them all, but he says other witnesses found Hancock untrustworthy and unreliable, and he asks Vallance what he thought of Hancock.
Vallance replies:
I think he had a habit of saying things which he didn't have a basis for.

And he would say them too enthusiastically, too early, without the evidence to back them up, and then have to backtrack from them, days later. I don't know to what extent that was over-enthusiasm versus deliberate. I think a lot of it was over-enthusiasm, but he definitely said things which surprised me because I knew the evidence base wasn't there.
Q: So he said things that were not true?
Yes, says Vallance.
David Cameron, or Lord Cameron of Chipping Norton, has just taken his seat in the Lords. Sky News has the clip.
O'Connor also showed the inquiry an extract from Vallance's diary in which Vallance accused the Treasury of "pure dogma".
On 26 October 2021 Vallance wrote:
Economic predictions. HMT [the Treasury] saying economy nearly back to normal and plan B would cost £18bn. No evidence, no transparency, pure dogma and wrong throughout. I did think there was a lack of transparency on the economic side and it was difficult to know exactly what modelling had been done and what input there had been to various assertions and comments made.
O'Connor shows the inquiry an extract from Vallance's diary in which Vallance says the key lesson from lockdown was that you needed to go earlier and harder than you would want to.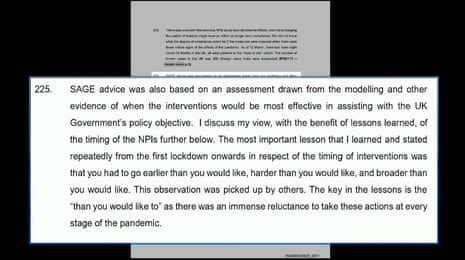 O'Connor is now asking about the No 10 press conferences.
He shows the inquiry an extract from Vallance's diary in which Vallance says he did not seek to have a role at press conferences.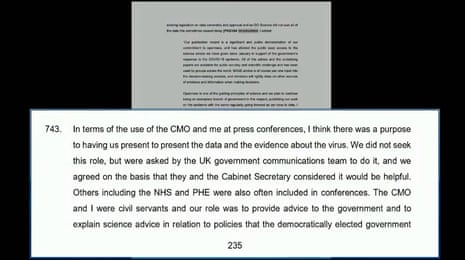 Q: Were you concerned this compromised the quality of your advice?
Vallance says he thought it was helpful for him to be there explaining the science. But he says he became concerned when questions were asked about policy. Normally ministers would answer the policy questions, he says. But he accepts that people may have assumed the advisers were there to endorse the policy.
He says, on balance, he thinks it was probably beneficial overall having him and other science advisers there.
But if he had been told he could not do any more press conferences, "I would not have lost any sleep over it," he says.
Vallance rejects suggestions Sage should have included economists, but says separate 'economic Sage' could be helpful
The Covid inquiry's afternoon session has started. Andrew O'Connor, counsel for the inquiry, is asking about suggestions that there should have been an economic version of Sage (the Scientific Advisory Group for Emergencies) to conduct economic modelling.
Sir Patrick Vallance, the government's former chief scientific adviser, says he thinks there should be an academic centre for pandemic preparedness in the UK. It should be very multi-disciplinary, he says. It should include economists, who could model the economic impact of interventions like lockdowns, he says.
But he says he would not be in favour of getting Sage to do economic modelling itself. He says that would lead to it having to take decisions, balancing health and economics, which involved trade-offs which should be determined by ministers. And, given the uncertainties in pandemic modelling and economic modelling, what would come out would be "one almighty uncertainty".
But he says he would be in favour of having a standalone "economic Sage", providing advice on the economic impact of pandemic measures. He says he would be in favour of that, if the Treasury wanted it.
In the morning session the Covid inquiry was also shown an entry from Sir Patrick Vallance's diary for 20 September 2020 in which he records Boris Johnson complaining about people wearing masks and speculating about people (Britons? human beings? – it is not clear) being "too shit to get our act together".
It says:
5 hr of meetings with the PM. He came back from Battle of Britain memorial service and was distressed by seeing everyone separated and in masks – 'mad and spooky, we have got to end it'. Starts challenging numbers and questioning whether they really translate into deaths. Says it is not exponential etc etc. Looked broken – head in hands a lot. 'Is it because of the great libertarian nation we are that it spreads so much?' 'Maybe we are licked as a species'… 'We are too shit to get our act together.' We went round in circles and then the famous whiteboard emerges. Discussed Package A (mild [increase] measures) and Package C (full lockdown) and when and how to do a circuit breaker… eventually sort of agree circuit breaker and stricter measures… but PM keeps clutching at straws.
Sunak says he will cut taxes 'over time' as he announces new economic priorities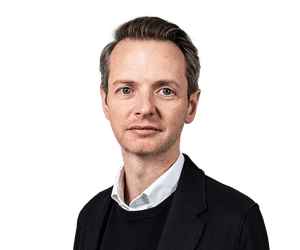 Ben Quinn
Rishi Sunak has pledged to cut taxes "over time" in a speech that risks incurring the wrath of Conservative MPs impatient to see personal tax cuts announced as early as this week.
However, the prime minister's announcement of what are intended to be five new key economics priorities almost went unnoticed at an event that was overshadowed by questions about the scale and type of tax cuts the chancellor, Jeremy Hunt, may make in Wednesday's autumn statement.
Britain faced a choice between a "big government" of high spending and taxes, which Sunak said was necessary in recent years, and a change in approach which would see an attempt to grow the economy through the "dynamism" of the private sector.
Now that inflation had been halved, he said, the government would take long-term decisions as part of the "next phase" of the government's economic plan following a fall in inflation to 4.6% in October.
He listed them as reducing debt, cutting tax and rewarding hard work, building domestic and sustainable energy, backing British business and delivery world class education.
The priorities went largely unnoticed by the media until journalists approached Downing Street afterwards and were told that they were intended to be a significant moment.
They do not replace Sunak's "five priorities" – ranging from halving inflation to "stopping the boats" – but were outlined in a speech at a north London college where the Conservative leader previewed the ways in which he is likely to differentiate his party from Labour in an election campaign.
As Hunt and a range of other ministers listened in the front row, Sunak used the speech to hint at business tax cuts to boost economic growth, promising to reduce the tax burden "carefully and sustainably".
Sunak said:
Now that inflation is halved and our growth is stronger, meaning revenues are higher we can begin the next phase, and turn our attention to cutting tax.

We will do this in a serious, responsible way based on fiscal rules to deliver sound money and alongside the independent forecasts of the Office for Budget Responsibility.

And we can't do everything all at once. It will take discipline and we need to prioritise. But over time, we can and we will cut taxes.
After the speech to an audience of local business and community leaders, Sunak claimed that the welfare system is not currently "sustainable" when asked about a possible squeeze on welfare payments in the autumn statement.
Declining to "pre-empt" any announcements on Wednesday, the PM said:
Our view on the welfare system is that it should be compassionate, it should be fair and it should be sustainable …

With over 2 million people of working age who are not currently working, that isn't a good situation. It's not sustainable for the country, for taxpayers. It's not fair. But it's also not compassionate to write people off.
In other section of his speech, Sunak sought to portray Labour as being in the pockets of trade unions and attempted to contrast his own and Hunt's experience of being in business to his opponents, who he said "have no experience whatsoever over running a business".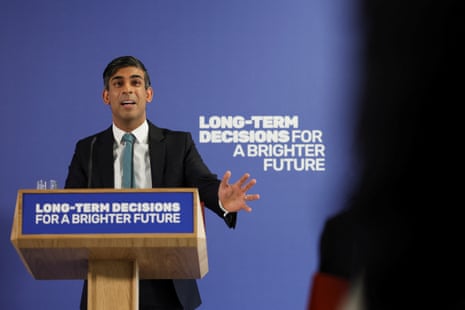 Vallance says he's surprised by Sunak telling Covid inquiry he can't recall scientists having concerns about eat out to help out
Just before the hearing broke for lunch Andrew O'Connor, counsel for the inquiry, asked about eat out to help out (EOTHO) – the Treasury subsidy for restaurants in the summer of 2020, which was subsequently blamed for helping to spread the virus.
Patrick Vallance, the government's chief scientific adviser at the time, said that he and other scientists were not asked about it in advance. If they had been, they would have advised against, he said. "I think our advice would have been very clear on that."
O'Connor presented an extract from Vallance's witness statement in which he says it would have been "obvious to all involved" that scientists would have said, if they had been asked, that the scheme would increase infections.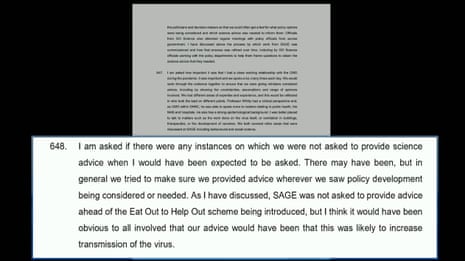 O'Connor then presented an extract from Rishi Sunak's witness statement, in which he claims that government scientists did not raise any objections with him to the EOTHO scheme.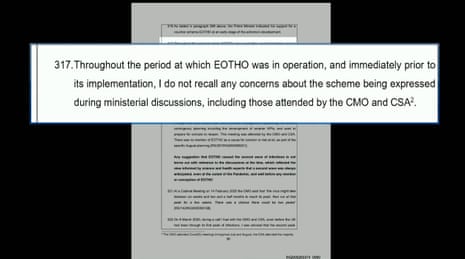 O'Connor put it to Vallance that there was "a certain inconsistency" between Vallance saying it was obvious that scientists would not have backed the scheme, and Sunak saying no one raised objections.
Vallance replied:
Well, we didn't see it before it was announced and I think others in the Cabinet Office have also said they didn't see it before it was formulated as a policy. So we weren't involved in the run-up to it.

And around that time lots of measures were being released. You'll see repeated references in various minutes and notes and emails, and in my private notes, to our concern that people were piling on more and more things and this would come to drive R [the reproduction number] above one. I think that was discussed at cabinet as well.

So I think it would have been very obvious to anyone that this was likely to cause, inevitably would cause, an increase in transmission risk. And I think that would have been known by ministers.
O'Connor asked if Sunak would have known this too.
Vallance said he could not recall which meetings Sunak attended. But he went on:
I'd be very surprised if any minister didn't understand that these openings carried risk.
Vallance recorded in his diary how No 10 wanted science 'altered', inquiry hears
O'Connor then presented extracts from Vallance's diary in which he describes ministers trying to sideline the scientists.
In this extract, from June 2020, he says No 10 did not understand the 2- metre rule.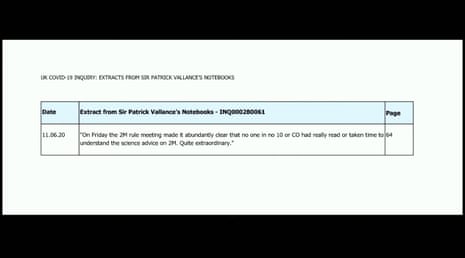 In this extract, also from June 2020, Vallance recalls an issue where he says No 10 wanted the science "altered".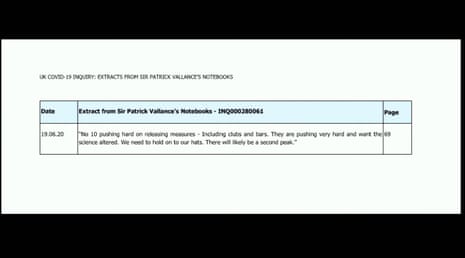 And in this extract, from July 2020, Vallance recalls Rishi Sunak, the then chancellor, talking in a meeting about the need to manage the scientists, not the virus. Sunak did not realise Chris Whitty was in the meeting too. Vallance says:
In the economics meeting earlier today they didn't realise CMO (chief medical officer Sir Chris Whitty) was there and CX (then-chancellor Rishi Sunak) said 'It is all about handling the scientists, not handling the virus'. They then got flustered when the CMO chipped in later and they realised he had been there all along. PM blustered and waffled for five mins to cover his embarrassment.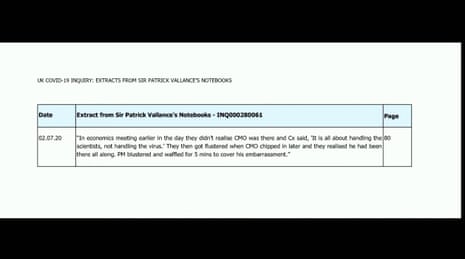 Asked about these interventions, Vallance played down the significance of them, suggesting that that was just what politicians did. He says generally the scientists were listened to.
UPDATE: Vallance said:
I think there were definitely periods when it was clear that the unwelcome advice we were giving was, as expected, not loved.

And that meant we had to work doubly hard to make sure that the science evidence and advice was being properly heard.

Now, it doesn't surprise me that there were meetings that we were not included in, that's normal.

We were, as I said, in No 10 probably for 45 minutes or an hour, and there were things going on all day, and political decisions as well, so it's not surprising that we were not invited to things sometimes.
Vallance told the inquiry he favoured publishing the Sage minutes. O'Connor presented him with evidence from his diary showing that, when the Cabinet Office realised minutes were being published, it stopped posing questions to Sage for discussions at meetings because it did not want the public to know those options were being considered. Vallance said he favoured openness.
Johnson provoked 'incredulity' at meeting as he commented on what Covid graphs might mean, inquiry hears
O'Connor then showed some more extract from Vallance's diary about Johnson.
In this one, from February 2021, Vallance says it was a "real struggle" to get Johnson to understand graphs from the Covid dashboard.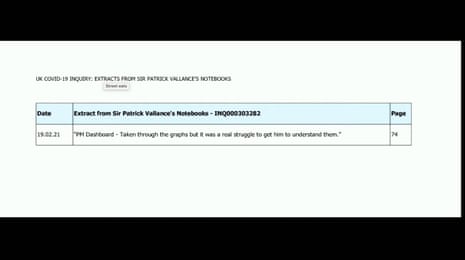 And in this extract, from September 2020, Vallance records "incredulity" in the room as Johnson described the graphs as a "mirage" in a meeting.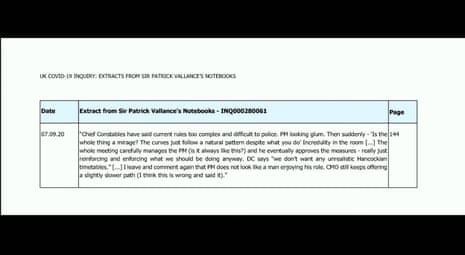 Vallance says it is 'not unusual' for leaders in western democracies to have poor understanding of science
Vallance told the inquiry that Boris Johnson gave up studying science at the age of 15. He said Johnson would be the first to admit that science wasn't his strong point.
But he said it is not unusual for politicians to have a poor grasp of science. He recalled a conversation with fellow scientists from other countries where one of them spoke about how hard it was to get their minister to understand exponential curves. They all laughed, because they had all had the same experience, he said.
Vallance said he thought Johnson may have deliberately pretended to misunderstand things, just as a means of checking his comprehension.
But he also said a poor understanding of science was "not unusual amongst leaders in western democracies".