DATA UPDATE: Germany's Ifo Index shows a drop in business confidence in January.
The index dropped to 90.1 compared to consensus estimates for a reading of 91.8.
The measure is down from 92.1 in December, as the country suffers the effects of Germany's second Covid-lockdown.
ITV's business and economics editor notes how Lyttle has dodged questions about how many Debenhams jobs might be saved:
Lyttle says Boohoo will start reaching out to some of Debenham's suppliers and partners in the coming days, to sort out whether they will maintain their ties with the brand following the takeover:



In terms of the third party relationships, we'll be looking to work with the existing third party partners who are working with debenhams.com, and obviously we will be starting those conversations this week.
Boohoo CEO John Lyttle is giving a presentation to analysts on the Debenhams deal.
He seems to be leaving the door open for further deals as opportunities arise. It might not take long for more brands to come up for sale, as the high street continues to be battered by Covid lockdowns and the major shift to online shopping.
Lyttle says:



This [Debenhams deal] will be funded from our existing cash reserves, which stood at £387m on 31 of December, leaving a significant remaining cash balance to support further M&A opportunities as they arise
Lyttle adds that Boohoo will not take immediate control of the Debenhams website, letting stock run down before taking over:



The administrator will continue to operate the website for the next couple of months, while the inventory clears. And then we anticipate moving debenhams.com onto our platform to go live can just a couple of months.
The World Economic Forum's annual meeting has had to ditch the Swiss mountains of Davos and move online this year.
Organisers have still managed to line up some heavy hitters, with today's programme featuring European Commission president Ursula von der Leyen, German chancellor Angela Merkel and and Goldman Sachs CEO David Solomon.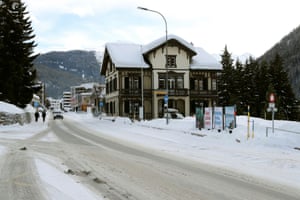 The full schedule can be found here, but these are the highlights:
10.00am GMT: Special address by EU Commission president Ursula von der Leyen
11.00am GMT: on climate with Alok Sharma
12.00pmGMT: Address by Angela Merkel
2.00pmGMT: Address by Emmanuel Macron
4.15pm GMT: Restoring Economic Growth, with: Christine Lagarde, Volkswagen CEO Herbert Diess, Goldman Sachs CEO David Solomon, French economy minister Bruno Le Maire, and Germany's economy minister Peter Altmaier
Updated
at 3.44am EST
Boohoo shares jump nearly 4% after Debenhams deal announced
Investors are jumpin gon Boohoo shares following the Debenhams announcement, pushing its stock price up 3.7%tot 348.7p per share.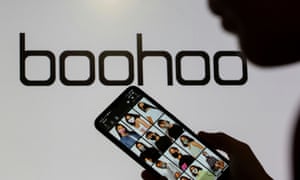 Asos is also on the rise, up 0.88% at 4,891p per share, after revealing its own talks with Arcadia Group administrators.
European markets are broadly higher at the start of trading.
The FTSE 100 is up 0.2%, while the more domestically focused FTSE 250 is up more than 0.5%.
The French CAC 40 is up 0.4%, while Spain's IBEX has jumped 0.6% and Italy's FTSE MIB opened higher by 0.6%.
Germany's DAX is up 0.5%.
The pan-European Stoxx 600 is also up 0.5%.
Boohoo is set to hold an investor and analyst call around 8:30am, so we'll bring you updates as we get them. Stay tuned.
Boohoo's executive chairman Mahmud Kamani is hoping the Debenham's deal will give his group an edge in new areas including beauty, sport and homeware:



Our ambition is to create the UK's largest marketplace. Our acquisition of the Debenhams brand is strategically significant as it represents a huge step which accelerates our ambition to be a leader, not just in fashion eCommerce, but in new categories including beauty, sport and homeware.
Meanwhile, Boohoo's CEO John Lyttle said the group was taking advantage of the huge shift to online shopping:



The acquisition of the Debenhams brand is an important development for the group, as we seek to capture incremental growth opportunities arising from the accelerating shift to online retail.

We have developed a successful multi-brand direct-to-consumer platform that continues to disrupt the markets that we operate in.

The acquisition represents an exciting strategic opportunity to transform our target addressable market through the creation of an online marketplace that leverages Debenhams' high brand awareness and traffic through the development of beauty and fashion partnerships connecting brands with consumers.
Introduction: Boohoo to buy Debenhams in £55m deal
Good morning, and welcome to our rolling coverage of the world economy, the financial markets, the eurozone and business.
We start this chilly Monday morning with news that online retailers Boohoo and Asos are swooping in on two of Britain's major high street brands.
First up, Boohoo confirmed that it is snapping up the Debenhams brand in a £55m deal that excludes the retailer's remaining stores, meaning they will be wound down once they are in a position to re-open.
The deal – which will see Boohoo relaunch Debenhams' online site in 2022 – will inevitably lead to job losses at the high street stalwart, which went into administration in December 2019 with 143 stores and 12,000 staff.
Meanwhile, Asos put rumours to rest and said it was in exclusive talks with administrators of Arcadia Group to buy up the Topshop, Topman, Miss Selfridge and HIIT brands.
Asos said:



The board believes this would represent a compelling opportunity to acquire strong brands that resonate well with its customer base.

However, at this stage, there can be no certainty of a transaction and ASOS will keep shareholders updated as appropriate. Any acquisition would be funded from cash reserves.
We're likely to see a jump in Boohoo and Asos shares when trading starts 8am GMT, with European markets expected to open broadly higher this morning:
Not much on the economic calendar today, but we'll keep you posted on how business confidence is faring in Germany when Ifo data comes out at 9am.
Today also marks the start of the annual meeting of the World Economic Forum, which is taking place virtually due to Covid, rather than in the Swiss mountain village of Davos (much to the disappointment of its mayor, Philipp Wilhelm).
The agenda:
9.00am GMT: German Ifo business climate index for January
Updated
at 3.11am EST