A man has died after falling into floodwaters in western Queensland after the region was swamped by heavy rainfall.
(Via AAP:)
The 45-year-old was with family when he fell into floodwater at the Lloyd Jones Weir on Barcaldine-Isisford road, east of Longreach, just after 6pm Thursday, police said.
The man's body was found by search crews just hours later, about 200m downstream.
The man's death was not suspicious and a report would be prepared for the coroner, police said.
Major flood warnings remain in place for the region with floodwaters continuing to flow through the interior.
Queensland reports six covid deaths
Queensland has reported its covid figures for the past 24 hours. Sadly, six people have died, with 4,477 new cases.
It's been passing strange electricity prices haven't featured more in this election campaign since it's been clear for some time that they are on a steep rise.
The Australian Energy Market Operator helpfully laid out how much wholesale prices have risen in the March quarter (141% up from the same quarter a year ago, and two-thirds up since the start of the year).
We explore more of that detail here:
(But we also flagged it here about 10 days ago, coincidentally published on the day the Morrison government dropped its "modelling" on the costs of Labor's main climate policy.)
Anyway, one key takeaway is that renewables continue to look more and more attractive as the cost of fossil fuels keep rising (and coal plants keep failing).
Another is that Australia's decision to link east coast gas markets to the global price continues to cause grief. Yes, blame Russia now, but both major parties own that decision.
Gas prices averaged about $10 a gigajoule for the quarter, a two-thirds increase from a year ago that also feeds into higher power prices when gas plants kick in.
The higher wholesale prices will take time to feed into retail prices but when they do, households and businesses will be unhappy – with no equivalent of a temporary fuel excise cut to plead for. Victorians, with their relatively high use of gas for space heating, face an extra hit.
And, as it happens, Aemo's March quarter report on wholesale prices looks positively cheap at $87 a megawatt hour. Future prices for most states are already double that for June, including $200 in NSW and Queensland.
How prepared are we for war?
Peter Dutton tried to make that a campaign issue on Anzac Day – but Daniel Hurst has taken a look at exactly what Australia's defences look like at the moment.
Let's hope, for so many reasons, not least war is heinous and the cost to humanity is always, always too high, that we never have to put it to the test.
Peter Hannam has also taken a look at the coming weather.
The wet weather that has triggered record floods and filled dams across much of eastern Australia looks set to extend well into winter and beyond, global models indicate.

While autumn is typically the most difficult period to make season-ahead predictions, conditions favouring increasing cloud formation off north-western Australia look likely, even as rain-inducing weather from the Pacific recedes.

According to the Bureau of Meteorology's latest climate driver update, the dominant La Niña pattern in the Pacific is continuing to break down. In its stead, though, are signs that a negative phase of the Indian Ocean Dipole – a gauge of relative sea-surface temperatures on the west and east of that ocean's basin – will again take hold.
Peter Hannam has covered off the wholesale power price increases:
I'm not sure voters are overly concerned with the leaders' debates either.
Q: On monetary policy, you said the political pressure was amped up by Josh Frydenberg before. If there is a rate hike next Tuesday, are you concerned there will be a further escalation in political pressure on the RBA's independence?
Jim Chalmers:
I think the independence of the Reserve Bank should be protected and cherished at all costs. At every opportunity – it could have been the easiest thing in the world for me, frankly, in the last two days to make political commentary about the work of the Reserve Bank and I haven't done that because I think that the Reserve Bank should make its decisions free from political interference, from current and former treasurers. That is an important principle and an important convention.

You will all draw your own conclusions about a prime minister who tried to play politics at the end of last year with interest rates and it is at risk of blowing up in his face. Our beef with the government is about a decade now of attacks on wages and job security which have made it harder, if not impossible for Australians to get ahead.

The government wants to raise the white flag on inflation and they want to go after peoples' wages and they want to pretend that they haven't been in government for much of the last 10 years in office. These inflationary pressures didn't just show up when Russia invaded Ukraine. They showed up when the Coalition started attacking wages and job security in our economy. That is the issue here. The government, and particularly the prime minister, has to take responsibility for once.
Q: You have been critical of the government's inflation. Given international pressures, what will you do in the short-term to help people before the end of the financial year should you get elected? In your home state of Queensland, the message on the ground is they don't like Scott Morrison but they are not trusting Anthony Albanese and they are not shifting their vote. How do you cut through to people that still don't trust your leader with three weeks to go to polling day?
Jim Chalmers:
Firstly, on international comparisons, Australians who are doing it tough couldn't care less what the inflation rate is in the US or the UK. Australians know that their real wages are going backwards and they feel it every time they come to supermarkets and shops like this one. I think that is the most relevant thing.

When it comes to Queensland, Anthony has a natural affinity with Queenslanders and that is because he has been showing up there even before this election campaign.
Q: [People don't trust him]
Chalmers:
I don't agree with that.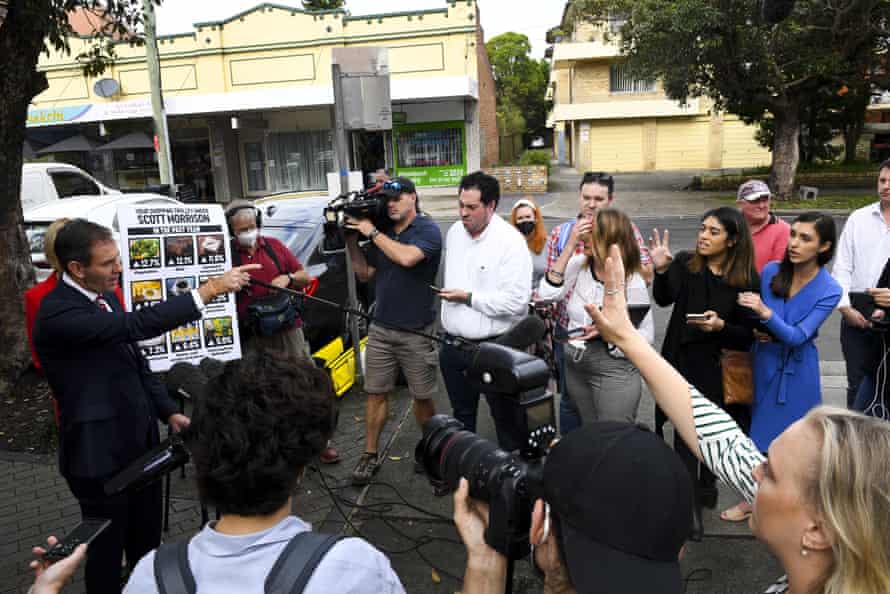 Q: I have been in Queensland for the past four days and I can tell you people up there don't trust Anthony Albanese. [I don't know which journalist this is, but the PM's campaign has been in Queensland, and campaigns go to businesses and areas where they are popular]
Jim Chalmers:
I live and work in Queensland and it hasn't been my experience. My experience is when the floods were happening and when the pandemic was at its worst, Scott Morrison turned his back on Queensland and Queenslanders.

Scott Morrison flies into Queensland, bags our premier and our efforts to combat the virus. He sells us short on flood relief. Turns around and has a photo with a tinny and a XXXX and flies off again. That is not what we need in Queensland. Anthony shows up in Queensland and I am confident that we will give a good account of ourselves here.
Q: A couple of questions, first off, it has been a huge couple of years when it comes to issues affecting women. We are not seeing the person responsible for that portfolio, Tanya Plibersek, with us on the campaign. It is so important, I would like to know why and why wasn't she there on Sunday? Secondly, Peter Costello said in comments in The Australian today saying the RBA should have acted earlier and they are behind the curve. I know they are independent and you can't tell the RBA what to do. Do you agree or disagree with Peter Costello's comments?
Jim Chalmers:
Firstly, Tanya Plibersek has been doing as much, if not more media than most of our colleagues.

She is making an outstanding contribution to this campaign. I speak to her regularly and see her performances in the media and they are outstanding. She is a massive part of our campaign. Any objective observer …
Q: Why is she not …
Chalmers:
Any objective observer could conclude that. I will answer the second part of Sarah's question.
Q: I don't think the first question was answered. Why is she not here in an official capacity and why hasn't she been campaigning in Sydney when we have been in Sydney …
Chalmers:
Tanya Plibersek has been campaigning right around Australia [not just] in Sydney.

… She has been doing a heap of media … I will answer the second part of Sarah's question. Peter Costello made comments about the Reserve Bank. You're right, I am going to say that the Reserve Bank is independent and rightly so. We don't second guess it and we don't preempt its decisions.

I was frankly disappointed to see Josh Frydenberg trying to exert some political pressure, I thought, on the independent Reserve Bank. The bank should make its decisions independent of any political pressure, whether it is from current treasurers or former treasurers and that is appropriate.
Q: A question for senator Keneally. On the Australian Border Force's newest video, the 30 second one, do you concede that Operation Sovereign Borders has had to put out a deterrence campaign in people smuggling markets because Labor has been sending mixed messages about border policies during this campaign?
Kristina Keneally:
No, in fact I welcome the navy's video today. I welcome it because it confirms, no matter the outcome of this election, Operation Sovereign Borders remains the firm policy of Australia. Labor's support for Operation Sovereign Borders is clear. Boat turnbacks, where safe to do so, regional resettlement and offshore processing.

Let me be clear again – if you attempt to come to Australia by boat, you will be turned back or sent to Nauru, you won't make it.
Q: Which third country would you send refugees and asylum seekers to if you need to look to regional resettlement for people who …
Keneally:
I answered this question yesterday.
Q: Which countries?
Keneally:
I answered this question yesterday.
Q: You didn't.
Keneally:
I made it clear yesterday with this question.
Q: On power prices, wholesale power prices are going up. The Labor Party mass … has a plan to bring them down by 2025. But what are you going to do in the two years before then, when families are feeling pressure now?
Jim Chalmers:
Power prices are going up. Healthcare is becoming harder to access and harder to afford. Groceries are going through the roof and petrol. There are cost of living pressures and this is a cost of living crisis on Scott Morrison's watch. Now, one party – please let me finish – one party has got a plan to add cheaper and cleaner energy to the system.

And to transmit it more effectively, more efficiently and more cheaply. The other side is having a barney about whether or not they believe in net zero. And so our plans to get cleaner and cheaper energy into the system will bring power prices down by 2025, $275 a year, and that is more than what our political opponents are promising.
Q: On cost of living, you have got markets saying interest rates will head towards 3% within a matter of 12 months, perhaps. You can't control the price of petrol because that is globally demanding. There [are] worries about the price of wheat because of what is happening in Ukraine and Russia. How much will families be better off overall under a Labor government when so many things are not under your control?
Chalmers:
Let me give you a couples of examples where government policy makes a big difference. Cheaper…
Q: How much will we be better off? In 12 months, how much more money will I have in my pocket?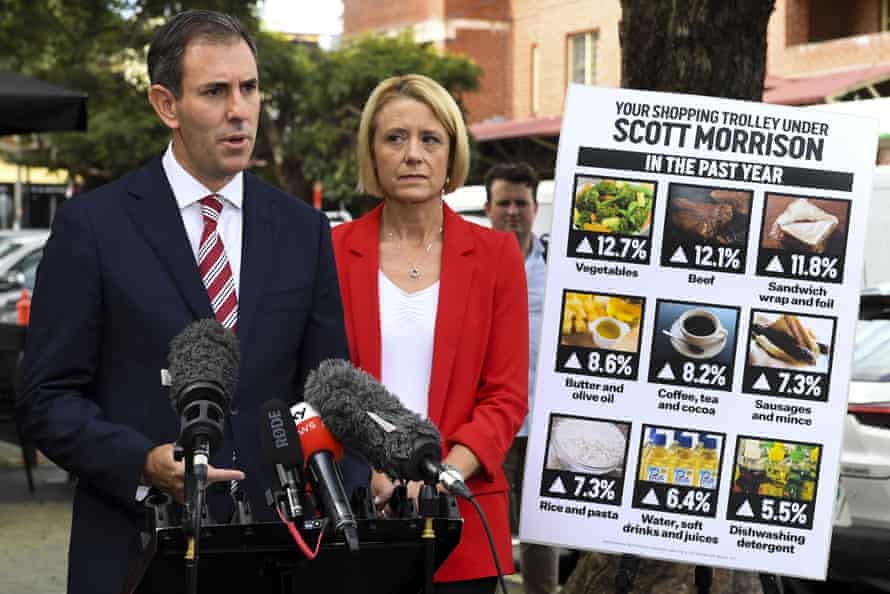 Chalmers:
Let me answer the question. For example, in child care, if you are on $120,000 as a family and you are accessing it five days, it will be more than $80 a week. If you are on $150,000 and you are averaging three days, it will be more than $70 a week and that policy comes in next year. It will be in the first Budget if we're successful that we hand down before the end of the year. That is one example.

I have given you an example on power prices. When it comes to wages, Australians understand that if you train people for higher wage opportunities, they will earn more. Australians understand if you make it easier, through the child care system, to work more and earn more, that will have an impact on wages. Australians understand the invest in the care economy, the digital economy and advanced manufacturing, you will create more, well-paid secure jobs.

The difference between Labor and Scott Morrison is Scott Morrison has completely washed his hands of this cost of living crisis and Labor takes a different view. Our policies are all about recognising where we can make a meaningful difference, not overpromising and underdelivering, but working out where we can make a meaningful difference.

You ask me about interest rates. Most of the market, commentators, analysts expect interest rates will go up next week or next month. That is a matter for the independent Reserve Bank, independent of political interference from Josh Frydenberg or anybody else.
We then move on to a debate about the debates.
Q: Mr Chalmers, both yourself, Mr Albanese and Kristina Keneally have accused the prime minister of going missing, saying that he's avoiding scrutiny … But your leader, despite having said he would debate the prime minister every day … [has not agreed to a debate on Nine]. Isn't he doing what you accuse the prime minister of doing?
Jim Chalmers:
Well, Anthony Albanese is not reluctant to debate the prime minister, and the last time they had a debate, Albo cleaned him up.
Q: Why not commit to…
Chalmers:
If you [would] just let me finish my answer. There are negotiations that happen in every election campaign that I can recall. Those negotiations involve broadcasters, they involve the two parties …
Q: You say the prime minister won't hold a hose, but at the minute you won't hold a debate.
Chalmers:
Well, what's happening here is the usual negotiation that is happen in the usual way with the broadcasters, and with the major political parties. You know, I think …
Q: Everyone has agreed except Anthony Albanese. Why?
Chalmers:
Well, this is part of the usual conversation that happens.
Q: What is he scared of? What is Mr Albanese scared of?
Chalmers:
He's not.
Q: What is he doing next Thursday?
Chalmers:
I don't have his diary here.