Key events
Elizabeth Watson-Brown, the Greens MP for Ryan has a question for Jim Chalmers:
My question as to the Treasurer. We are in a… cost of living process but corporations are making record profits in the gas corporations are gouging us all. In the upcoming budget when you place a windfall tax on these excess profits to invest in universal services like getting dental into Medicare and bring down the cost of living for everyone?
Chalmers:
Thank you very much. I think the Member for Ryan for her question and congratulate her on her election to display. It is not the government's intention to apply a windfall tax to the gas companies.

Obviously, we listen respectfully to the views put to us from right around the country about the best ways to deal with this combination of cost of living pressures which are a big part of which are skyrocketing cost of energy.

We listen respectfully to the proposals put to us but we are not currently working up a windfall tax or anything that looks like that as we deal with the complex combination of economic circumstances that we have inherited as a new government.

We do have a policy on multinational taxes which is part of making sure that multinationals pay their fair share of taxi in Australia so that we can invest that money and some of those areas that the Member for Ryan is right to identify whether it be Medicare, whether it be childcare, investments and educational skills. All of these important areas.

One of our defining tasks as a government, that we have embraced the finance minister and I and the whole Cabinet and party room, is how do we take money which has been spent on unproductive purposes for a political dividend and how do we redirect that money in the interests of the Australian people into areas which does deliver whether it is a social dividend or economic dividend as well as the creators of Medicare, as the creators of so many programs that we cherish, we are looking for ways to more responsively fund those priorities.

When it comes to the energy market in particular, we have said today indeed the minister for Resources has said today and others have said today, the Prime Minister, our focus on the energy market is on security and affordability stomach some of the issues which have been raised by the a triple tea in the report that I released overnight which go to making sure that Australians can access the energy that they need at affordable prices.

That is a big reason why inflation is what it is because energy prices are going through the roof. That we are conscious of that and I working to ensure that we can responsibly addressed that but the proposal that the Member for Ryan has respectfully put to us is respectfully not something – not a part that we are going down.
Katter: I identify as a First Australian but whether I am or not is 'irrelevant'
Labor's dixers are on the Indigenous Voice to parliament. Bob Katter stands up:
As the minister for Queensland the state with the biggest population of Indigenous Australians, you will hear me identify myself as a First Australian. Whether I am or not is irrelevant. It is an important point I make. It is an important serious point I make.
Speaker Milton Dick asks him why he is on his feet. Are you asking a question?
Katter:
I'm sorry I was commenting, point of order on the last question, if I am out of order I will resume seat.
There is no point of order. Katter sits down.
Dutton: why isn't Labor extending the fuel excise? Albanese: you set the end date
As commentators pointed out, the danger of the opposition asking about cost of living, is that so much can be turned back on the previous government. But points for asking about something relevant to people. Baby steps.
Peter Dutton:
To the prime minister, under your government … households are facing rising power bills [and] your plan to address this is in disarray. Will your government compound the pressure on household budgets by not extending the fuel excise relief? Why is Labor making a bad situation worse?
Anthony Albanese:
Did that just happen? Thanks, Mr Speaker. I thank the leader of the opposition for his question. I point to the fact that he was in the cabinet that put together the budget; it had the end date for the measure he talks about.
To be fair, things have changed again and while the previous government did put in the end date, Labor has the power to extend it.
Albanese: former government locked in these higher power prices
From that to the questions.
Peter Dutton to Anthony Albanese:
My question is to the prime minister. ABS data shows electricity prices increased on average by 12.9% per year when Labor was last in government compared to just 0.3% during the previous Coalition government. Given the prime minister has dumped his promise to cut our prices by $275 for Australian families, can the prime minister cut the hubris and tell families with a prior power prices will be higher or lower when they get their next bill?
Albanese (following in the tradition of recent prime ministers of asking for hands up during question time):
I thanks so much the leader of the opposition for this question which goes to whether Australians will have higher power prices when they get their next bill, and I'm happy to outline for the benefit of the house what the circumstances are when they get their next bill, because we have course did have a policy we announced on 3 December last year.

On the 31 March this year, the governor general signed a determination to delay the publication of the default market offer for energy prices. On 6 April, the determination to amend paragraph 17-2C of the industry code was registered and published. On the 7 April, the determination with the delayed date came into effect and guess when the election was called? The 10 April. So three days before the election was called, this minister, this minister went to the [governor general and] put in a determination to change the industry code to keep it secret.

On the 11 April, parliament was prorogued and caretaker commenced. On the 1 May … the previous publication date was the date [of] the default market offer.

21 May was election day and guess when they published it, was it before or after the 21 May? What do you think? Hands up those who think it might have been before the election? Hands up those who think it was after the election?
(Paul Fletcher tries to have a point of order, but he is denied.)
Albanese:
Those people who said it was after the election were spot on. On the 26 May … the default market offer was finally published by the Australian energy regulator, and the new default price that will feed straight into people's power bills came into effect on 1 July.

The default market price … that this former government tried to hide from the Australian people. What we know is that renewables will lead to cheaper power prices. We stand by our modelling, those opposite … couldn't even be straight with the Australian people about the higher power prices that they locked in.
Anthony Albanese is on his feet, paying tribute to Archie Roach (his family has given permission for his name to be used)
Albanese:
May his family draw consolation that maybe Archie just walks in another place with his beloved Ruby once more. While we grieve his death, we will try to heed his words. We will not cry, we will lift our spirits high up to the sky. We will hold onto everything that Archie Roach gave us and celebrate him and all that he created. What a remarkable man. What a privilege that our lives overlapped with his. May he rest in peace.
Peter Dutton also spoke in tribute.
The house had a moment's silence in honour of Archie Roach.
Brave
Liberal MP not interested 'in a political debate' on previous government's energy policy
James Stevens was asked on the ABC whether or not there is merit in the "inherited this mess" line from the Labor government on gas.
He said:
Look, I don't think that we should turn this into a political debate about what the previous government and current governments and how long they've had to act.

The point is that we're hearing now about these challenges. There are mechanisms that are in place already. If there needs to be tweaks to that, then we're going to support the government in having all the tools and policy levers they need to ensure that a country with an enormous number of reserves of natural gas and other critical minerals, etc, that we never have a situation where domestically, we can't provide enough gas for the needs of our own industry and households.

So, I think that the blame game is completely pointless in this. I think that the current government and the current minister needs to focus on doing whatever they need to do to put that security in place. And if there needs to be further legislative change, I'm keen to support them in doing so.
National Covid summary: 19 deaths reported
Here are the latest coronavirus numbers from around Australia today, as the country records at least 19 deaths from Covid-19:
ACT
Deaths: 0
Cases: 616
In hospital: 165 (with 2 people in ICU)
NSW
Deaths: 7
Cases: 9,471
In hospital: 2,323 (with 69 people in ICU)
Northern Territory
Deaths: 0
Cases: 229
In hospital: 49 (with 1 person in ICU)
Queensland
Deaths: 0
Cases: 4,303
In hospital: 782 (with 24 people in ICU)
South Australia
Deaths: 5
Cases: 2,389
In hospital: 350 (with 12 people in ICU)
Tasmania
Deaths: 3
Cases: 690
In hospital: 139 (with 8 people in ICU)
Victoria
Deaths: 3
Cases: 7,678
In hospital: 773 (with 50 people in ICU)
Western Australia
Deaths: 1
Cases: 2,816
In hospital: 411 (with 13 people in ICU)
Question Time approaches
We are getting closer to Question Time, or, as it has been known from last week, CFMEU/ABCC time.
Surely the Coalition has moved on by now, but who knows! That is the excitement of question time.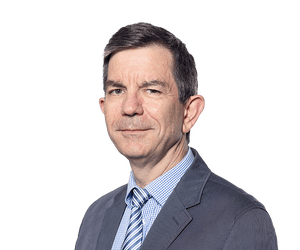 Peter Hannam
Latest RBA rate decision due tomorrow
This time tomorrow (well, 2.30pm, Canberra time) we'll have the RBA's rate decision after its August board meeting. Everyone is pencilling a rate hike, not least because inflation is already running at the highest in two decades and might well nudge 8% by the year's end.
Should the cash rate target be elevated to 1.85% – the closest thing to a consensus call – the extra 50 basis point increase will add an extra $140 to your monthly repayment bill per $500,000, according to RateCity.com.
It's worth remembering that the RBA lifting its cash rate remains something of a novelty. Before they moved during the official election campaign (awks), you had to go back to November 2010 for the previous increase (Americain won the Melbourne Cup that day, since you asked).
And you have to go even further back to find a comparable series of rate rises. From August to December of 1994 (who knows whose music led the charts at the time?), the RBA lifted rates by 75 basis points and then two bouts of 100 basis points. Makes you wonder why they didn't smooth things out a bit.
Of course, we're much smoother these days, although the Morrison government and the soon-to-be-trounced treasure Josh Frydenberg might wonder why they didn't get a bit more warning about that May move. One for the memoirs perhaps.
Anyway, here's what those pesky investors are predicting … including about 200 basis points more increases (including tomorrow's move) before the RBA will pause and then start cutting.
Here is the moment Greens senator Lidia Thorpe made her thoughts known in the Senate during her swearing in: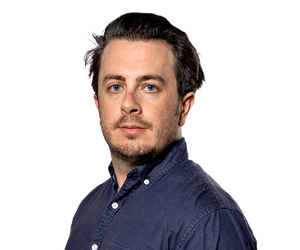 Josh Butler
Sophie Scamps: the secret to overcoming a century of party-dominated politics was listening
Mackellar MP Sophie Scamps claims "politics in this country may never be the same" after the unprecedented wave of new independent members who won office at the May election.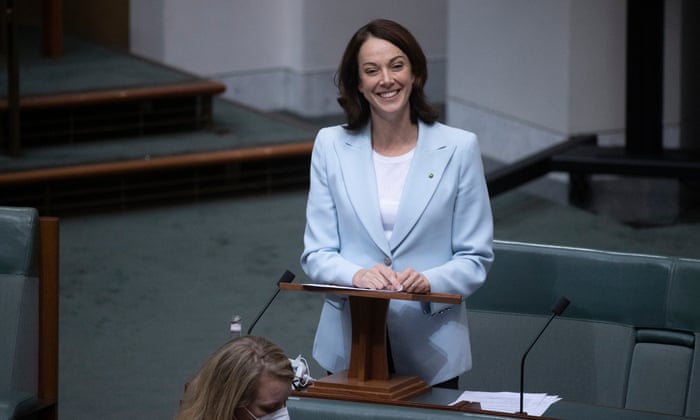 In her first speech to parliament on Monday afternoon, Scamps – one of half-dozen new MPs partly supported by Climate 200 – described the trend as a "wave of change".
What was the "secret"? How did someone like me – a GP never previously active in politics – overcome more than a century of party-dominated politics?

The key, the power, I believe, was simply listening. Like my other crossbench colleagues, I listened to my community.
Scamps spoke of watching the election results in 2019, when Zali Steggall won Warringah from Tony Abbott, and had a "lightning bolt" moment that year courtesy of a friend of her 12-year-old son.
I have long been troubled about the impact that climate change will have on the health and wellbeing of children and future generations. This day, my son and his friends were asking me about climate change – and I responded – that they would one day need to act on it.

[My son's friend] Mathias looked up at me earnestly and said, "Yes, because you adults have failed us." His comment found its target. I listened – and decided to act.
Scamps said she was previously "horrified" of public speaking, saying it wasn't easy to choose to run for parliament. Referencing Gandalf from the Lord of the Rings, she made a plea for others to work together on climate change: "I urge you too, to step on to the road and join me in this journey."
Scamps spoke of visiting flood victims in Lismore and of her concern over extreme weather events. She also blasted "all-too-frequent acts of corruption in our politics" in stressing the importance of a national integrity commission, and the importance to "keep our democracy strong".
We must ensure that political appointments to government agencies are independent, merit-based – and that this is enshrined in law.
Scamps also mentioned her desire to see youth mental health services expanded, her support for Labor's plans to bolster aged care standards, and backed the Uluru Statement From the Heart.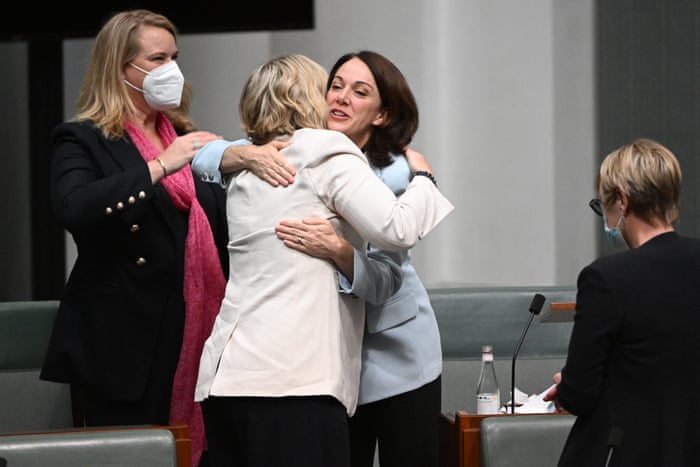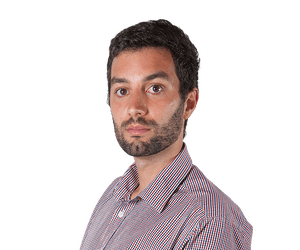 Paul Karp
Prediction: Labor will be pressured to allow industry-level wage bargaining
Steven Amendola, partner at employment law firm Kingston Reid, has suggested that Labor will come under pressure to allow industry-level bargaining to lift wages.
Amendola told an online forum about IR reform on Monday:
Whilst Labor has said previously that they don't favour sectoral or industry bargaining, the only way that I see enterprise bargaining as broadly impacting wage growth … is if they allow a broad based industry or sector bargaining, so that might get revisited.
This is an interesting observation because although Labor's 2021 platform promised to "improve access to collective bargaining, including where appropriate through multi-employer collective bargaining", it wasn't something that featured in their election policies, a sore spot for the Australian Council of Trade Unions.
Amendola noted the Fair Work Act already allows multi-enterprise agreements for industries with low bargaining power, but it "hasn't worked terribly well if at all".
To stimulate more wages growth, you want it to be more broadly based.
Amendola cited deals struck in the construction sector, where the CFMEU negotiates for "pattern agreements" that have "strong" terms and conditions for employees. Allowing unions to seek similar agreements among cleaners, aged care and other sectors where they are not traditionally as strong could lift wages.
Stephen Smith, the head of workplace relations at Australian Industry Group, said it had fought "tooth and nail" against industry level bargaining and would do so again.
He noted Labor's platform referred specifically to low-paid industries, arguing that and supporting industry-level bargaining by unions like the CFMEU and AMWU was like chalk and cheese.

I can't see Labor being foolish enough to go down that path.
Some truly wonderful pictures in this gallery: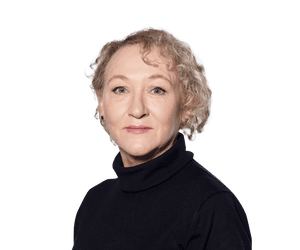 Kelly Burke
Byron writers' festival moves location from North Byron Parkland after Splendour in the Grass washout
The Byron writers' festival has abandoned its venue for this year's events, after the Splendour in the Grass music festival was washed out on the same ground late last month.
The three-day writers' festival, opening on 26 August, was to have taken place at the privately-owned North Byron Parklands in Yelgun, 23km north of Byron Bay. But after months of rain, the sodden grounds turned the Splendour festival into a mud-fest last weekend, with thousands of concertgoers taking to social media to complain and demand refunds.
The Byron writers' festival has announced it will pitch its five marquees closer to the township, on a plot of land adjacent to the luxury resort Elements of Byron.
The festival's artistic director, Zoe Pollock, said in a statement the last-minute change of venue had been "expedited" by the resort and Byron Shire Council, the majority of whose councillors have always been against the use of the North Byron Parklands for major events that attract tens of thousands of people.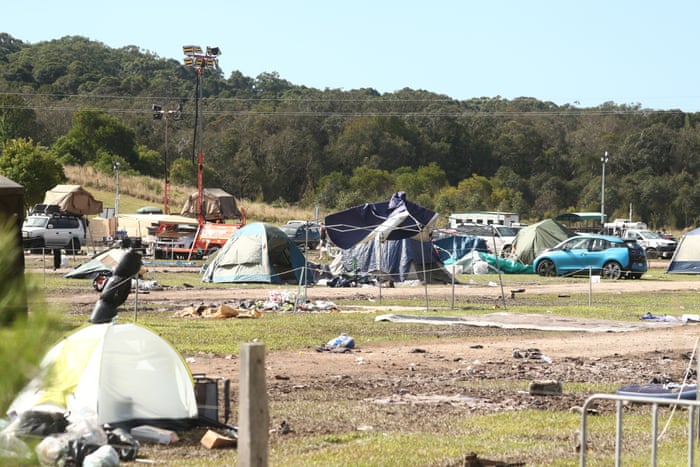 As descriptions of the Queen and the institution she represents go, "coloniser" is not inaccurate.