Climate bill passes the House of Representatives
The votes are in:
Ayes: 89
Noes: 55
"Hear, hear!"
"The bills as amended have been agreed to," the Speaker Milton Dick says.
There are cheers in the chamber. The bill has passed the lower house.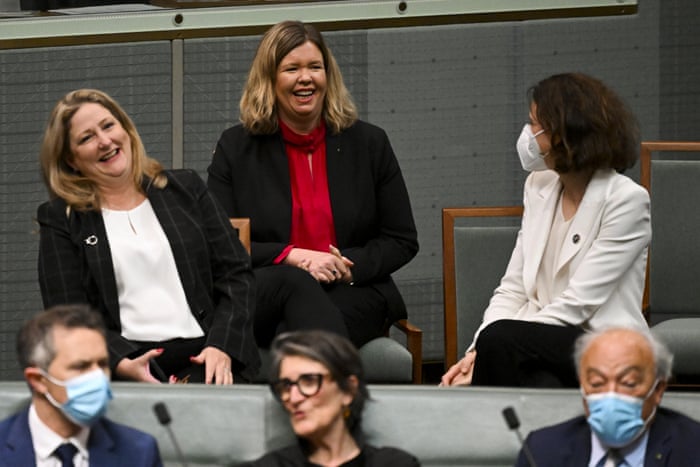 Key events
Sussan Ley to Julie Collins:
My question is to the Minister for Small Business. Can the minister confirm that small businesses will see a $275 reduction in their energy bills by 2025?
Collins:
I thank the member for her question and we all know that small businesses are facing challenges and one of them is rising electricity prices because you didn't have the guts to tell them prior to the election that you were going to put up their electricity prices. The former minister over here actually hit it deliberately, made a deliberate decision not to tell small businesses that the power prices were going to increase because of your government's inaction over the last decade.
Milton Dick:
The minister will resume her seat and remind her to direct comments through the chair. I give the call to the Deputy Leader of the Opposition.
Ley:
A point of order on relevance. It was a very narrow question. It specifically asked will small business see a $275 reduction in their energy bills?
Dick says Collins is allowed a preamble but draws her to the question.
Collins:
Thank you Mr Speaker. I think I have answered the question. Those opposite are the ones that hid increases in electricity prices from small business prior to the election (she sits down)
(The Coalition gets upset)
Ley:
I seek leave to table the Labor Party's powering Australia plan mentioned twice already by the Prime Minister in Question Time which specifically refers to $275 a year in relief. I seek leave.
Dick:
I thank the Deputy Leader of the Opposition. She may resume her seat. Order! Just so all members are clear, particularly new members, if a document is to be tabled, the minister must refer to that document. She didn't refer to that in her question so that is not a point of order.
The chamber moves on
The first dixer is on the climate legislation and the 'decade of climate denial and inaction' and of course the answer brings forth another point of order from Paul Fletcher.
Anthony Albanese:
Remember when the Liberal Party used to have a relationship with business? Remember that? What we saw today was just them isolated and alone, stark in the same old trench fighting a fight that has passed them by, by themselves with their arms crossed just saying "No, no, no". The Coalition of yesterday, the noalition of today. Just saying no to absolutely everything.
Fletcher:
Mr Speaker, under the rulings you have made it is not in order for the Prime Minister to engage…in unstructured sledging of this side of the house.
There was no point of order.
Albanese:
If he is offended by that heshould see what the business community are saying about them in private. He should have a chat to the National Farmers Federation or the Australian Industry Group about manufacturing or the Australian Chamber of Commerce and Industry, or the Business Council of Australia about how irrelevant they have become. I haven't always been close on all issues to those on the cross benches, but I tell you what, I am prepared to engage constructively and behave with more maturity than those who call themselves the alternative government.
Peter Dutton to Anthony Albanese:
"I refer to the prime minister's promise to the families of Longford in Lyons that "We have looked at measures that make a real permanent difference to cost of living. Our powering plan will reduce household prices by $275" a promise repeated at least 15 times. Will the Prime Minister apologise to Australians he has misled?"
Albanese:
I thank the leader of the opposition for the question. In Longman, in electorates around Australia, people are struggling with higher power bills and they are higher because of the failure of those opposite over 10 long years to implement.

To implement a policy. We stand by our plan to put more renewables into the system which will drive down power prices. And we note those opposite voted against lower power prices today. They voted against it again and again and again. They voted against it consistently.

One of their final acts in government was actually to hide the power price increases that were coming in in July 1.

They didn't just hide it by not telling people, they hid it by changing through a regulation, going to the Governor-General in the dying days of a dying government, the dying days of a dying government, they went to the Governor-General and changed the rules so that Australians would not know when they voted on May 21 that there were already baked in increases in power prices coming on July 1.
Paul Fletcher has a point of order
The point of order is on relevance. The people of Longford don't care about their excuses. They want to know if they are going to get the promised power cut of…
There is no point of order.
Albanese:
Whether it was in Tasmania or whether it was in Queensland, or whether in South Australia, or whether in Western Australia, in the city or a regional town, we had the same message. That message was backed by this morning an alphabet soup of business leaders. These are the groups that called upon the Coalition to back the legislation that went through the House of Reps earlier today. AICD, ACSI, IGCC, ACF, BCA, AIG, ACCI, ACSI, RIAA, GIA, the Minerals Council of Australia…Calling upon them to vote for certainty. That is what business wants because if business – I will give you the big tip, if business has certainty, they can invest and it's investment in cheaper, cleaner energy that will drive down power
The condolence motion moves to the federation chamber, and the questions begin.
Questions are delayed by a condolence motion for Senator James Webster.
Anthony Albanese has spoken and now David Littleproud is paying tribute.
We are just getting ready for question time – so now is the time to grab that cuppa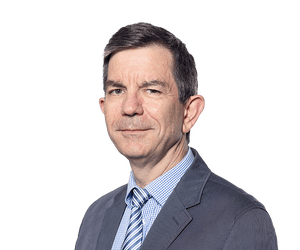 Peter Hannam
APRA releases survey of banks and lenders on climate risks
Perhaps on cue, given the passage in the House of Representatives of the Albanese government's emissions bill, the Australian Prudential Regulation Authority has just released the findings of its survey of 64 members on climate change.
Climate risk "remains an emerging discipline compared to other traditional risk areas, with only a small portion of survey respondents indicating that they have fully embedded climate risk across their risk management framework", APRA said. (Narrator: We've been aware of the basic science pointing to a rising threat for decades.)
Other key observations from the self-assessment include:
four out of five boards oversee climate risk on a regular basis, while just under two-thirds of institutions (63%) have incorporated climate risk into their strategic planning process;
almost 40%t of institutions said climate-related events could have a material or moderate impact on their direct operations;
nearly three-quarters of institutions (73%) said they had one or more climate-related targets in place, however 23% of institutions do not have any metrics to measure and monitor climate risks; and
over two-thirds of institutions (68%) said they have publicly disclosed their approach to measuring and managing climate risks, with 90% of those aligning their disclosure to the Taskforce for Climate-related Financial Disclosures framework.
APRA deputy chair Helen Rowell said the findings were encouraging but there was more work to do.
Climate change and the global response to it are creating financial risks for banks, insurers and superannuation trustees, whether it be the physical damage from floods or bushfires, or asset price volatility as consumer and investor demands evolve, APRA Deputy Chair Helen Rowell, said.
Question time is in 10 minutes.
Julian Assange's father John Shipton and brother Gabriel will be present in the Senate gallery.
Nigel Farage to speak at Cpac conference in Sydney
The conservative conference Cpac is back on, with the usual guests, including "the most eloquent of political campaigners" Nigel Farage.
Make sure you rush out and get your tickets before they sell out.
Here are the latest coronavirus case numbers from around Australia on Thursday, as the country records at least 85 deaths from Covid-19:
ACT
Deaths: 3
Cases: 641
In hospital: 147 (with 4 people in ICU)
NSW
Deaths: 33
Cases: 14,387
In hospital: 2,213 (with 60 people in ICU)
Northern Territory
Deaths: 0
Cases: 358
In hospital: 56 (with 1 person in ICU)
Queensland
Deaths: 31
Cases: 5,585
In hospital: 745 (with 25 people in ICU)
South Australia
Deaths: 3
Cases: 2,933
In hospital: 356 (with 12 people in ICU)
Tasmania
Deaths: 4
Cases: 856
In hospital: 95 (with 5 people in ICU)
Victoria
Deaths: 9
Cases: 8,785
In hospital: 723 (with 37 people in ICU)
Western Australia
Deaths: 2
Cases: 3,852
In hospital: 367 (with 17 people in ICU)
Australian Federation of Aids Organisations welcomes monkeypox vaccine announcement
Heath Paynter, acting CEO of AFAO, commended the commonwealth for securing the vaccines:
The swift procurement of these vaccines is a very positive step. While local transmission of Monkeypox has so far been limited, we can't rely on that to continue. Cities such as London, Montreal, Lisbon and Madrid are all dealing with significant community transmission.

The availability of MPX vaccine for people who need it is a critical forward defence against transmission. It will help people look after their own health as well as that of people they are intimate with.

Gay and bisexual men are already taking Monkeypox very seriously, monitoring for symptoms and regularly seeking medical advice. This is a very welcome additional tool.
'When it comes to black lives [in Australia], no one cares': Lidia Thorpe
Lidia Thorpe follows Dorinda Cox's announcement and gives a damning assessment of the system, the police and the media, when saying why an inquiry is even needed in the first place:
Well, do black lives matter in the lucky country of Australia?

Do black lives matter?

We have an inquiry to look at missing and murdered black women and children in this country.

Why – why do we even have to do that?

Why isn't black lives in this country respected and reported on, like white people in this country?

When a black woman dies, when a black woman is murdered, you don't hear about it.

When a white woman dies, or a white woman is murdered, it's a front page. There's rallies.

There's documentaries.

But when is a black woman, you don't want to know about it. So you all need to put a mirror up to yourselves and ask yourselves why you're not reporting on black women who have been murdered and missing and children – why aren't we reporting on these deaths?

On these murders?

We have to have an inquiry to call you all out, including the police, including all the racist systems that keep us oppressed in this country.

Including the media.

We have an inquiry where Aboriginal people will be able to speak in language, use art forms, use poetry, use song, and use dance to tell their story. We have Aboriginal people across this country ready to tell their story.

We have a list of missing and murdered black women and children. You don't have that list. And that list, since we came out with this inquiry, has grown and it's growing every day.

So it's time this country starts looking at the real issues in this country like black lives. Because black lives matter. They do.

And we need you all to commit to reporting on every black death in custody, every murdered black woman, and every missing black child.

In WA, we know they've even stopped looking for black children. Because it's too hard for the police.

Does the country know that?

Because when there's a white kid that goes missing, the heart – the heart of this country comes out.

But when it comes to a black life, no-one cares.

And that has to stop.

Because black lives matter.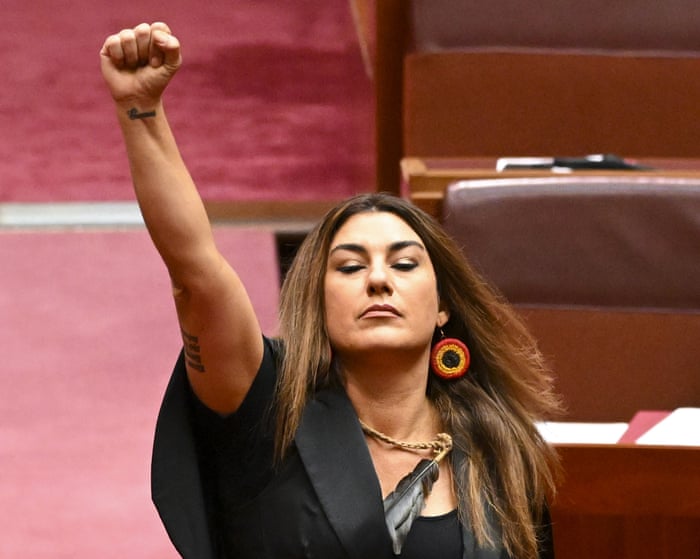 Greens confirm inquiry into missing and murdered Indigenous women and children
Senator Dorinda Cox is speaking on an inquiry the Greens have established, looking at missing and murdered First Nations women and children:
On this day the national First Nations children's Day and national missing persons weeks I'm really overcome with happiness to announce that the inquiry into missing and murdered First Nations women and children has been re-triggered in the Senate.

This inquiry is from a co-signed motion from Senator Thorpe and I in the 46th Parliament last year in November.

An important inquiry that will look into the nationally harmonised data that is collected by research across the country and law enforcement.

It will look into why we're not honouring and respecting the lives of First Nations women and children in the country and the role of the media in that. This important motion – I met with the legal and constitutional affairs committee yesterday to make sure they had all of the background information due to the change in government.

I'm happy to be working with the Labor government in order to find resolutions. It's an important component of being in the Senate to make sure that we use inquiry and debate and to also legislate. So we are looking forward to the outcomes of this inquiry which will end on 31 July 2023.