Plibersek flags refusal of Clive Palmer-owned coalmine near Great Barrier Reef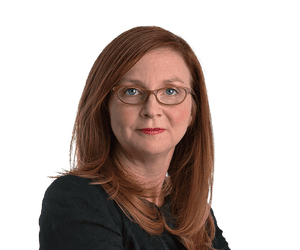 Katharine Murphy
The environment minister Tanya Plibersek has proposed to refuse approval for the billionaire Clive Palmer's controversial proposal to build an open cut coal mine 10km from the coast of the Great Barrier Reef. This is the new environment minister's first decision in the portfolio (as opposed to a delegate of the minister making decisions).
In a statement to Guardian Australia, Plibersek said:
Based on the information I have available to me at this stage, I believe that the project would be likely to have unacceptable impacts to the Great Barrier Marine Park and the values of the Great Barrier Reef World Heritage Area and National Heritage Place. The available evidence also suggests that the project would be likely to have unacceptable impacts on water resources in the area.
The Queensland government last year deemed the Central Queensland coal proposal by a subsidiary company of Palmer's flagship entity, Mineralogy, "not suitable" and said it posed "a number of unacceptable risks" due to its location, the prospect of polluted water discharge and a lack of effective mitigation measures.
The decision is now subject to a 10-day consultation process.
Key events
GPs hail new monkeypox vaccine as 'breakthrough moment'
The Royal Australian College of General Practitioners has welcomed the announcement that Australia has secured a new monkeypox vaccine.
The first delivery of approximately 22,000 doses will arrive in Australia later this week with the remainder to arrive later this year and into 2023.
The RACGP vice-president, Dr Bruce Willett, welcomed the news:
This is a breakthrough moment in the fight against the monkeypox virus.

Fortunately, we have not had many cases in Australia and by rolling out this vaccine we can limit community transmission and stop the virus taking hold. The Australian Technical Advisory Group on Immunisation or Atagi has recommended key groups to be vaccinated.

The states and territories will receive the vaccine and be responsible for managing the rollout within their jurisdictions and that includes prioritising access to the initial doses based on who is at greatest risk of exposure or severe illness and their local context. So, stay tuned for further details about when you can get vaccinated.
Willett urged Australians to remain calm and listen to expert health advice:
Given everything we have been through over the last two-and-a-half years, it's natural for people to be anxious or concerned about a new virus entering our shores called monkeypox. You can be reassured that this virus is not nearly as easy to contract as Covid-19 and although it is a 'cousin' of smallpox it is not anywhere near as deadly.
Hello everyone, this is Cait – I will be with you for the rest of the day. First up, a big thank you to Amy for guiding us through the day so far.
First up, I have this important yarn from Benita Kolovos and Nino Bucci about a push to reform Victoria's bail laws so children aren't affected by parental incarceration.
Amy Remeikis signing off until 5 September
On that note, I am going to hand the blog over to Cait Kelly to guide you through the evening, as I pop off to record the video wrap of the week.
The whole Canberra team will have more for you on all the day's events, so make sure you check back on the site for more on the parliamentary goings on.
A very, very big thank you and all of the love to Mike Bowers who has. not. stopped this entire sitting week and is still out in the hallways (after a visit into the wet) to record this day for you.
The politics live blog is not possible without Katharine Murphy's guidance and leadership, Paul Karp, Sarah Martin, Josh Butler and Tory Shepherd's tenacity and patience, and the entire Guardian crew, including those without bylines, who keep it all ticking over and informed.
And of course, to all of you who stay with us throughout the day. You are just brilliant and we adore you.
I'll be back on the politics live blog when parliament resumes on 5 September. You'll still have blog action though, with the daily live news blog back tomorrow to keep you up to date with all the news.
Thank you – and please, take care of you.
In case you missed it, here is Bridget Archer being welcomed by the crossbench as she crosses the floor to vote yes to passing the climate legislation, as captured by Mike Bowers.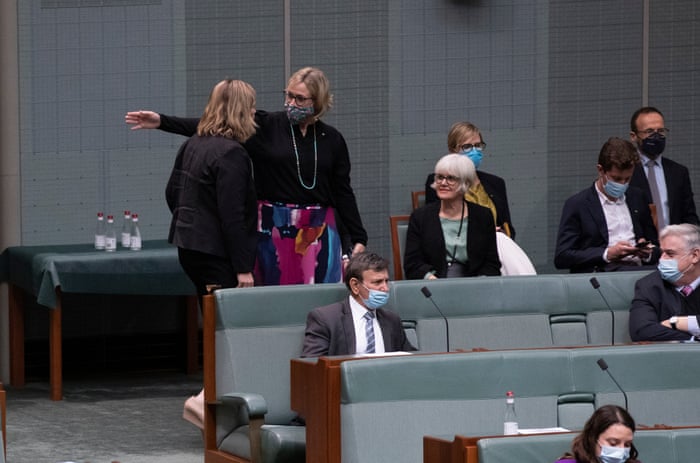 Morrison skips out before the end of QT, sources say
Friends of the blog in the House tell us that Scott Morrison left the chamber before the end of question time – just as Anthony Albanese got up to answer his last dixer.
I'd love to skip dixers too, but alas, I have a job to do.
More women than men going hungry around the world, report finds
Care Australia has a new report out today about how more women are going hungry than men worldwide, as aid agencies call for $150m from the federal government to be spent on tackling global hunger crises.
Care Australia CEO, Peter Walton, said:
We know food prices are going up at home and abroad, we know there's a real risk of unprecedented famine, but what's rarely talked about is how unequally and unfairly this is experienced by women. This is the food security statistic you rarely hear about, and it's getting worse, fast."
The Asia region — which includes Australia — is reflective of the global picture. In 2021, around 13% of women and around 10% of men in the region were severely food insecure.
More women than men go hungry for the same reason more women than men live in poverty — they're denied their fair share of resources and opportunities. The pandemic has exacerbated this, with women bearing the brunt of job losses and income losses because they're overrepresented in insecure work, amongst other reasons," Mr Walton said.
'This is an historic day': independent Sophie Scamps on climate bill
The independent MP for Mackellar, Dr Sophie Scamps has released a statement on the climate legislation passing through the house:
Today I voted in favour of passing the Government's Climate Change Bill in the House of Representatives. Australia has wasted two decades in a pointless debate led by vested interests, and we are now taking action.

The Government's Bill could be more ambitious, and it should be more ambitious – but it's a huge step in the right direction. This is an historic day.

Climate Change was the number one issue for the people of Mackellar at the last election, while the people of Australia voted for strong climate action at the last election. By working in good faith with the Albanese Government I believe I have been able to strengthen and improve this legislation. I want to thank Minister Bowen for his consultative approach and for working with my crossbench colleagues and I in good faith.

I hope this collegiate and consultative approach continues throughout the term.

As part of my discussions with Minister Bowen I, along with my crossbench colleagues, urged him to alter the language used around the government's 2030 emissions target. Instead of the 43% target being described as a ceiling to Australia's ambition, we now have, enshrined in law, a minimum 2030 emissions target of 43%.

I will now be working with the government to ensure that the right policies and programs are in place to beat this target so we achieve closer to the 50% reduction in emissions that the science says the world must reach by 2030. I will hold the government to account on this and will continue to push for ambitious economy-wide climate action.

In addition, I urged the government to amend their draft Bill to ensure there is a statutory review of the legislation after five years and then every decade thereafter and that the Bill has clear foundational objectives that anchors the Act to the Paris Accord to hold this and all future governments to account. I am pleased that all of these suggestions have been accepted by the Albanese Government.
Question time ends on a busy day in Canberra
Well, that was quite the afternoon, to follow quite the morning.
The rain has not let up all day in Canberra, which has left some MPs and staffers anxious they might be delayed flying out of the capital – and there is a bit of a hurried vibe to the afternoon proceedings.
The next sitting isn't until 5 September and everyone seems very keen on waving Canberra goodbye, at least in the short term.
Conservationists welcome Plibersek's move to block Clive Palmer mine
The Queensland Conservation Council has welcomed the news Murph reported that Tanya Plibersek plans to block Clive Palmer's application for a new coal mine.
The council's director Dave Copeman says:
This is a victory for Queensland and the Great Barrier Reef.

Building a new thermal coal mine 10km from the Great Barrier Reef World Heritage Area was an extreme, dangerous proposal, even for Clive Palmer.

This is a sensible application of the Environmental Protection Biodiversity Conservation Act. This mine would have impacted on dugong and turtle habitats, and been another unacceptable risk to the Great Barrier Reef.

This prompt decision is a welcome change from the delayed and questionable decision-making approach of the previous Morrison Government."

It looks like we now have a Minister that understands the science, is willing to listen to community concerns, and act accordingly.
Abortion provider apologises to First Nations people over forced contraceptions
MSI Australia – formerly known as Marie Stopes – has apologised to First Nations people for colonial violence and reproductive injustice.
The organisation's managing director Jamal Hakim said:
Forced and coerced sexual and reproductive procedures, including contraception, abortion and sterilisation, have inflicted profound grief, suffering and loss.

We apologise for these reproductive injustices.

We apologise especially for forced sexual and reproductive procedures on Aboriginal and Torres Strait Islander people with disability, and those who are LGBTIQ+.

For the pain, suffering, and hurt experienced by Aboriginal and Torres Strait Islander people, their families, and communities, we say sorry.
Manager of psychosocial health, Alison Fonseca, explained the name change:
Marie Stopes (1880-1958) was known for her contributions to family planning, but she was also a eugenicist.

The name change is an important gesture to move away from ties to eugenics, colonisation, racism and paternalism for which family planning services were known.