Here's an update on the flood situation in New South Wales, via AAP:
Residents from Lismore to the Lower Macleay in northern NSW are under evacuation orders even as floodwaters recede in other parts of the region.
The State Emergency Services received 652 calls for help and performed 23 rescues in the past 24 hours.
Already drenched areas could see flash flooding, with saturated soil increasing the risk of falling trees, the SES warned on Friday.
NSW Police believe they have found the body of aged care nurse Anita Brakel, who went missing in floodwaters south of Lismore three days ago.
The body of the 55-year-old woman, recovered on Thursday night, is yet to be formally identified but police believe it is Brakel.
Gusts nearing 100km/h have been recorded across the state with the Bureau of Meteorology warning of possible 9 metres waves along coastal areas.
Heavy swells forced Sydney transport authorities to shut down the Manly to Circular Quay ferry on Friday.
The rain that has battered the north for most of the week is easing, as Lismore and Byron Bay reel from another round of flooding.
Wilsons River at Lismore peaked at 11.4 metres, below expectations of 12 metres, with waters now below the 10.6 metre height of the city's levee.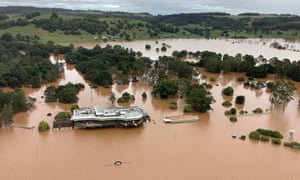 Victorian and South Australian SES teams are flying into flooded areas to help with rescue and recovery efforts.
In Lismore, the Rapid Relief Team charity was donating tonnes of hay to flood-affected farmers.
"Very, very devastating to come through Lismore and see what they've been through," charity director Lester Sharples said.
"To see it again a second time, it's gut-wrenching, really. It's important to get these farmers back online."
Thirty truckloads of hay were driven north from the Cowra and Griffith regions, with flooded roads adding hours to drivers' journeys.
The charity has set up at Lismore's airport where it's doling out food while other agencies offer mental health and financial support.
With two low pressure systems colliding over the state's southeast, rainfall is hitting Newcastle and Sydney on Friday, and is expected to extend down to the Victorian border into the weekend before easing on Sunday.